Background
In February 2020, the US and the Taliban signed an agreement aimed at ending the war in Afghanistan, though neither the Afghan government nor the extremist Islamic State Khorasan Province (IS-KP) group are direct parties to the pact. In January, the US announced it had reduced its military presence in Afghanistan to c.2,500 personnel. US military forces were to completely withdraw from Afghanistan by 1 May as part of the agreement with the Taliban; however, the US government has pushed back its withdrawal date to 31 August. As part of the drawdown operations, the US has deployed B-52 bombers to the Middle East and an aircraft carrier to the Arabian Sea to support military forces departing Afghanistan.

During the lead-up to the escalation of the Taliban offensive in August, Osprey issued 12 alerts in July regarding the aviation security and airspace operating environment within the country.
Since 6 August, the Taliban have taken control of 33 of 34 provincial capitals in Afghanistan. On 15 August, Afghan president, Ashraf Ghani, reportedly flew out of the country and the Taliban claimed control of Afghanistan. A statement issued by the Taliban on 15 August indicates its fighters had entered Kabul to occupy police stations and government buildings in order to prevent chaos and theft.
Airport Operations
During mid-August, the US announced it would temporarily deploy 7,000 military personnel within the Afghan capital to secure the Kabul International Airport (OAKB/KBL) and US embassy during drawdown operations through 31 August. In addition, the UK and Canada will reportedly deploy an approximate combined total of 1,000 military personnel to Kabul to assist in contingency operations through 31 August in support of diplomatic activities. A NOTAM issued on 17 August indicates that Kabul International Airport (OAKB/KBL) in the Afghan capital is now open for VFR military and commercial flights via PPR (OAKB A0002/21). 

Traditional media outlet reporting from 16 August indicates that the Taliban has "taken over the civilian side of the airport" while the US armed forces will control the military side of Kabul International Airport to conduct evacuation operations. Separately, talks remain ongoing surrounding an enduring Turkish military presence in Afghanistan aimed at securing Kabul International Airport, along with providing security support to international diplomatic activities in the Afghan capital after 31 August; however, no agreement has yet been publicly announced.
As the US remains in control of the military areas of Kabul International Airport, a US-made counter-rocket, artillery & mortar (C-RAM) battery reportedly remains deployed at the installation. C-RAM systems are capable out to 3.5km (2.2 miles) and up to FL150. The Taliban has taken control of the following main airports in Afghanistan: Kandahar (OAKN/KDH), Herat (OAHR/HEA), Jalalabad (OAJL), Mazar-i-Sharif (OAMS/MZR), Konduz (OAUZ/UND) and Farah (OAFR/FAH). In addition, the Taliban has taken control of Shindand Air Base (OASD/OAH) in Herat, Bagram Air Base (OAIX/OAI) in Parwan as well as Helmand's Camp Bastion (OAZI/OAZ) and Camp Dwyer (OADY/DWR).
Airspace Impacts
On 16 August, France issued a NOTAM valid through 31 August requesting operators avoid FIR Kabul (OAKX), superseding the current advice in its conflict zone AIC (LFFF F1296/21, France – AIC A 07/21). At 0739 UTC on 16 August, a NOTAM was issued for Afghan airspace stating that due to security reasons Kabul ACC is released to military control; no ATS will be available and aircraft transiting through FIR Kabul (OAKX) will be flying in uncontrolled airspace at their own risk (OAKX A0630/21). Further reporting indicates that US military forces have taken control of ATC service provision at Kabul International Airport as Afghan government ATC workers in the capital have reportedly abandoned their posts. The reported US military provision of ATC services at Kabul International Airport is likely to be a temporary measure, lasting only through the completion of withdrawal operations.
Osprey Flight Solutions issued an alert on 14 August – two days prior to the above NOTAMs – which stated the following:
"Inadequate ATC service provision is a notable safety-of-flight concern, and rerouting of civil aviation from airports in Afghanistan and in Afghan airspace remains a credible emerging operational constraint should the security situation in Afghanistan deteriorate further. Operators should remain prepared for a loss of access to FIR Kabul (OAKX) and/or severe disruption to flight schedules at Afghan airports both prior to and/or after the 31 August timeframe amid the Taliban offensive. As a precaution, conduct operational risk-based identification of divert and alternate airports for flight schedules with planned stops at aerodromes in Afghanistan or with overflight of the airspace. Operators are advised to ensure flight plans are correctly filed, attain proper special approvals for flight operations to sensitive locations and obtain relevant overflight permits prior to departure."

Summary
On 13 August, prior to the Taliban takeover of Kabul, Osprey raised its airspace risk levels for Afghanistan to HIGH at all altitudes. This was immediately preceded by the Osprey system issuing multiple proactive notifications to our analysis team from 2-12 August. These are based on AI-enabled predictive data analytics and in these instances indicated that levels of conflict zone dynamics and conventional military activity within Afghanistan had passed thresholds of historical norms.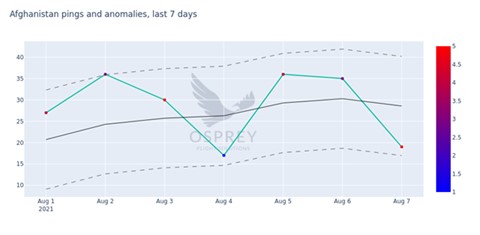 Since 1 August, Osprey Flight Solutions issued 17 alerts regarding the airport and airspace operating environments in Afghanistan in order to keep the aviation industry informed of the dynamically changing security situation in the country.
At least five leading international commercial airlines – including KLM, Singapore Airlines, United, Virgin Atlantic and British Airways – have indicated that their aircraft will avoid overflight of Afghan airspace in the near term due to concerns over the continuity of ATC provision in FIR Kabul (OAKX). Several aviation authorities – including the US, the UK, EASA, France, Germany and Canada – have issued advice and direction to operators in the past year regarding flights within FIR Kabul (OAKX).