Background
Al-Shabab, also known as 'Harakat al-Shabaab al-Mujahideen' or 'Movement of Warrior Youth', is an al-Qaeda-affiliated violent non-state actor (VNSA) group, which aims to oust the central Somali government – and supporting foreign military presence – and establish an Islamic state in Somalia. In recent years, neighbouring Kenya and Djibouti have been subject to threats and attacks by the group due to the countries' military interventions and participation in the African Union Mission in Somalia (AMISOM), a peacekeeping initiative.
The group has become a formidable force in the region with considerable resources acquired via extortion as well as trafficking of people, drugs and weapons, and over the last two years, the group's intention to target aviation has been emphasised as a significant concern. However, despite previously conducting a complex attack on a military airbase in Lamu County, Kenya, in January 2020, the group's current intent and capability to conduct an attack on civil aviation – with its multiple layers of security – is unclear.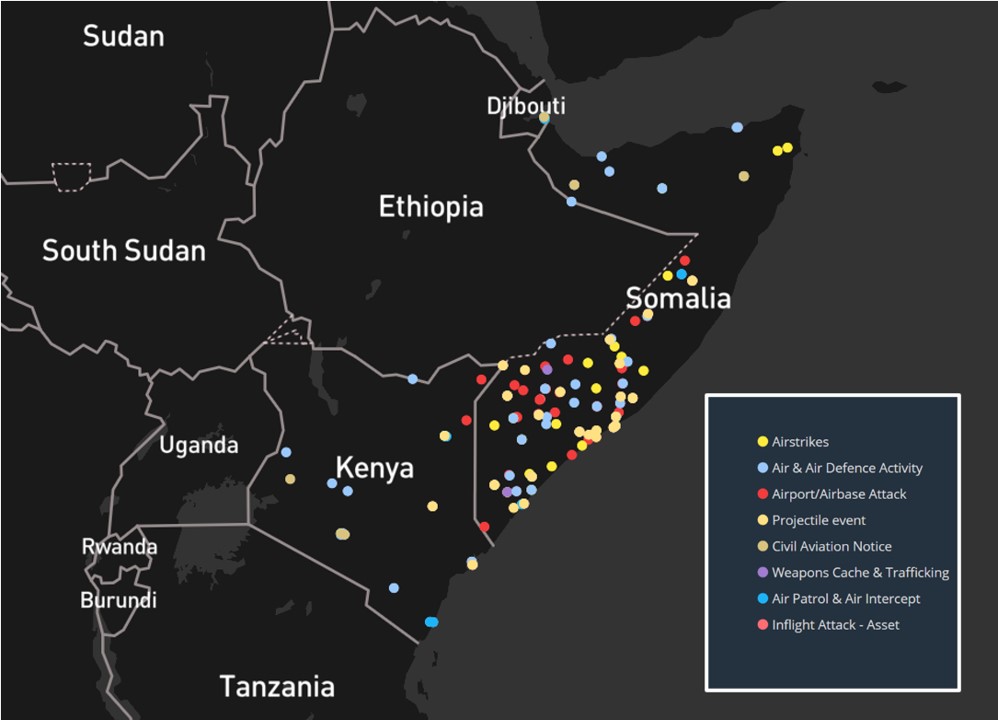 Osprey Alerts
Osprey Flight Solutions has been closely monitoring the situation in East Africa and has issued a series of alerts featuring in-depth analysis of events as they have occurred in Kenya and Djibouti, as well as recommendations to operators in the region:
5 January 2020: Al-Shabab launched a complex attack in Kenya on Manda Bay Airstrip at Camp Simba, a military base in Lamu County used by US troops, in which three US nationals were killed and several aircraft destroyed. Three days later, al-Shabab released a statement in which the group announced its intention to attack tourists in the country, as well as military installations and government facilities.
17 December 2020: Osprey issued an alert on the US indictment against Kenyan al-Shabab operative Cholo Abdi Abdullah, who was detained in July 2019 in the Philippines where he received pilot training alongside another operative, Rashid Mwalimu. Abdullah was charged with six counts of terrorism-related offences, including conspiring to hijack an aircraft, allegedly to conduct a 9/11-style attack on an unknown target in the US.
30 March 2021: Osprey issued an alert after Kenyan police appealed for information on the whereabouts of Rashid Mwalimu. According to Kenyan police at the time of the appeal, Mwalimu was in Somalia and was planning "to sneak back into Kenya", potentially to conduct an attack.
31 March 2021: Osprey highlighted a video statement released by al-Shabab in which the group's leader appealed to Djiboutian al-Shabab supporters to carry out attacks in Djibouti against the interests of countries deemed to have "waged a war against the Muslims of Somalia", highlighting 'lone wolf' attacks in France in recent years as examples to follow.
Osprey has also issued several alerts notifying clients of extensions to conflict zone NOTAMs issued by the US and UK aviation authorities warning of the risk to aviation overflying Kenya below FL260 (US) or 25,000 feet above ground level (UK) from dedicated anti-aviation weaponry.
Looking Forward

Since the US withdrawal of its combat forces from Somalia – completed in January – there has been an increase in militant activity in the country by an apparently emboldened al-Shabab. However, it remains unclear whether this will extend into Kenya and Djibouti. While Al-Shabab has demonstrated the pedigree for terrorist attacks against aviation, the group's current capabilities and specific intent to carry out attacks of this nature remain unclear. However, in October 2016, a UN report noted that the group established a training camp during 2015 in Somalia to train operatives in attacking civil aviation targets. In February 2016, the group claimed an attack on a Daallo Airlines flight from Mogadishu to Djibouti using an improvised explosive device concealed in a laptop, taken on board by a passenger facilitated by an airport insider.
More recently, the alleged plan to hijack a flight in a 9/11-style attack in the US would represent an escalation in the group's ambition. While it is unclear from where the operatives had intended to commence their hijack plans, Kenya's high levels of air connectivity with the rest of the world would make the country an attractive target, particularly given that the operatives were Kenyan nationals.
However, the level of security at Kenyan aviation facilities is considerably higher than at Somali airports, as demonstrated by Kenya's Category 1 designation under the US FAA IASA programme. Additionally, hijacking a commercial airliner is a significant undertaking requiring considerable resources. While at least one operative is still at large having received some pilot training, it is unknown if aviation remains his intended target or whether he has a support network that could enable him to defeat Kenyan aviation security.
In Djibouti, no specific threat has been made against aviation, but the video released by the group in March 2021 called for al-Shabab sympathisers to carry out attacks in the country, highlighting 'lone wolf' attacks in France as examples to follow. 'Lone wolf' attacks typically require fewer resources and lower levels of organisation; therefore, should such an attack be perpetrated against aviation in Djibouti, it would likely target public areas with lower levels of security, e.g. landside areas of a terminal.
Osprey Flight Solutions will continue to monitor the situation in East Africa and issue alerts on situations as they develop.