Background
Crime and corruption in Mexico are endemic, and activity reported at main international airports, including Licenciado Benito Juarez International (MMMX/MEX), serving Mexico City, and Cancun International (MMUN/CUN), emphasises that aviation facilities are particularly vulnerable. Although corruption among aviation personnel and law enforcement is not a new phenomenon, national media has increasingly highlighted the issue since President Andres Manuel Lopez Obrador (AMLO) came to power in December 2018; he has since pledged to tackle corruption as one of his main priorities.  
Osprey Flight Solutions has collected data and issued alerts on various significant issues impacting airports in Mexico. These include airport workers being accused of facilitating or participating in crimes, including luggage theft, the extortion, bribery and illegal detention of arriving foreign passengers, human trafficking, the shipping of illicit goods or substances via air cargo, and the sharing of passengers' personal information to criminal groups to facilitate "express kidnappings". 
Airport Crime, Corruption and Aviation Security
As demonstrated by the Osprey:Explore chart below – which shows crime, corruption and aviation security levels over the majority of AMLO's administration – there has been a documented rise in criminal activity at Mexico City and Cancun international airports between August 2021 and January 2022. 

Mexico City's airport – which is the busiest Mexican airport in terms of passenger traffic, followed by Cancun – has the highest number of crime and aviation security-related incidents. Osprey recorded fewer aviation security and crime-related incidents, or 'pings', throughout 2020, largely due to the global COVID-19 pandemic, which prompted travel restrictions that significantly affected air travel. However, incident levels have increased, almost returning to pre-pandemic levels over the past year as travel restrictions have begun to ease.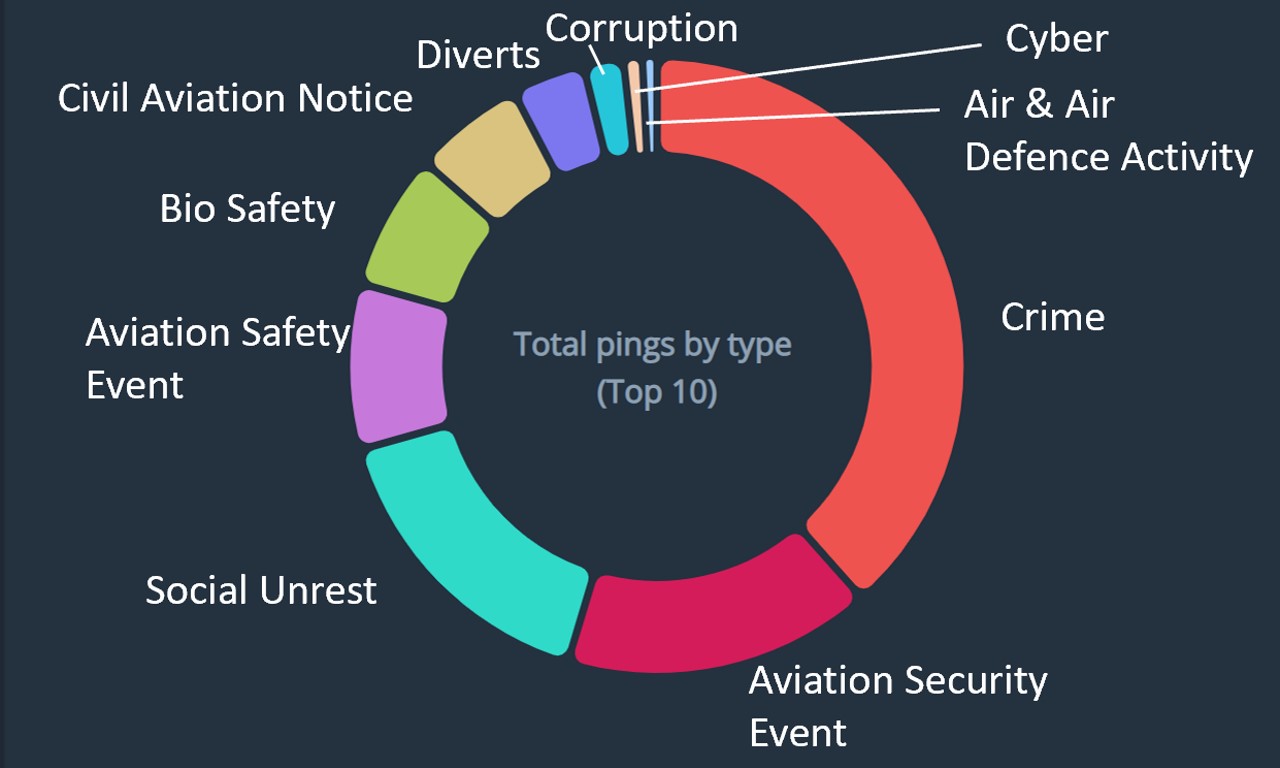 Crime 
As seen in the Osprey:Explore pie chart above, crime-related pings make up the largest portion of activity recorded at Mexico City and Cancun airports. These include illegal goods and substances seizures by airport customs, and thefts inside or near the terminals. In January and February 2022, Osprey issued alerts highlighting "follow-home robberies" and "express kidnappings" by criminal groups targeting passengers arriving at Mexico City.  
Aviation Security and Social Unrest 
Aviation security and social unrest incidents account for significant portions of activity at the two airports. Aviation security incidents recorded by Osprey include immigration issues such as the detection of passengers possessing counterfeit or illegally obtained travel documents. Airports in Mexico have also frequently been used as stages for protests; in 2021, Osprey issued a total of seven alerts highlighting potential disruption due to protests at Mexico City's airport.  
Corruption 
Corruption is a significant concern at Mexican airports. In January 2022, Osprey issued two alerts highlighting complaints made against personnel at Mexico City. These included baggage handlers accused of stealing personal effects from passengers' luggage and immigration personnel accused of migrant smuggling and illegally detaining and demanding bribes from passengers. 
Outlook
Osprey assesses that aviation security and crime-related incidents are likely to continue to be reported at airports across Mexico, including Mexico City and Cancun, over the coming months, particularly as flight operations increase in line with the further easing of travel restrictions globally. Despite AMLO officially refusing to militarise Mexico as his predecessors did (and for which they were criticised as security failed to improve), the president has implemented several measures since July 2020 to place both the army and the navy in charge of customs controls, ports and, more recently, airports to tackle corruption and counter illicit goods smuggling and trafficking.  
On 19 January 2022, the federal government announced that the navy would take control of security at seven international airports in Mexico. The navy will also oversee security at the new Santa Lucia Felipe Angeles International Airport (MMSM/NLU), which will serve the federal capital and is due to be inaugurated on 21 March 2022. Ultimately, the Yucatan director of the Secretariat of Infrastructure, Communications and Transportation (SICT) commented that the navy would operate at all airports nationwide, with AMLO confirming that the move seeks to curb extortion and organised crime at airport facilities and expedite immigration processing of passengers, among other reasons. 
Nevertheless, despite possible security gains at airports where the navy has assumed control over the last month, widespread corruption among authorities could limit the potential improvement of the security environment in those facilities. Additionally, other airports countrywide remain under the control of the National Guard, which is primarily composed of military officers who have faced criticism regarding their lack of training and experience in terms of aviation security.