North Korea's ongoing development and testing of ballistic missiles poses a unique challenge to aviation. Therefore, the analysts at Osprey Flight Solutions have been closely monitoring activity in this region in order to provide support to operators. 
Background
In June 2018, the leaders of North Korea and the United States, Kim Jong-un and Donald Trump, met in Singapore for talks – the first ever between the two countries – aimed at "defusing tensions and nuclear disarmament". However, any potential for de-escalation in the region was short-lived. As the US refused to move on the issue of sanctions, North Korea promptly resumed its hostile rhetoric and missile tests without warning, despite having submitted just six months earlier to the demands of the International Civil Aviation Organization (ICAO) for compliance with international aviation standards, which require advance warning of "activity hazardous to aviation".
North Korea has since failed to issue advance warning of missile test launches into the Sea of Japan throughout 2019 and in March, April and July of 2020. This significant threat to aviation prompted the German, French and UK civil aviation authorities to extend their NOTAMs relating to North Korean airspace, and the US FAA also extended its Special Federal Aviation Regulation (SFAR) for North Korean airspace through 18 September 2023.
Despite the continued hostile rhetoric and posturing by North Korea, no confirmed missile launches have been reported since July 2020. However, the analysts at Osprey Flight Solutions have been closely monitoring activity in this region, including that of neighbouring countries South Korea and Japan, via Osprey:Explore. This allows the assessment of changes in activity levels by displaying data on advisory notices, air patrol and defence activity, as well as recent and historic missile launches and weapons tests.
Data Analysis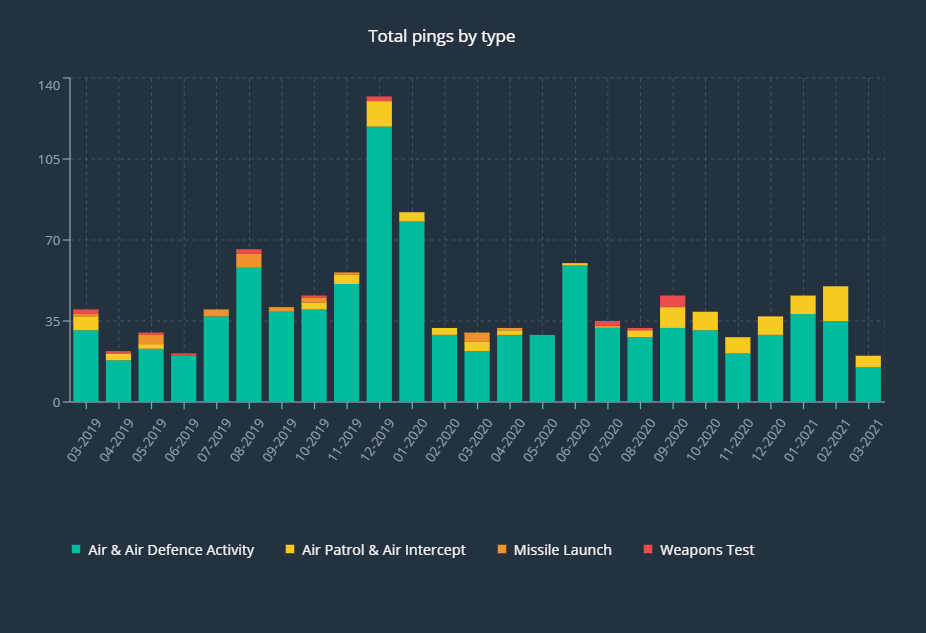 Osprey Flight Solutions documented at least 35 unannounced cruise missile, short-range ballistic missile (SRBM) and submarine-launched ballistic missile (SLBM) tests conducted by North Korea between May 2019 and the end of July 2020. Significantly, the initiation of each series of test launches, which are shown in orange on the bar chart above, coincides with the start of the new training cycle of the Korean People's Army (KPA) in April, representing a certain level of regularity and therefore predictability.
Looking Forward
Since November 2020, we have seen a steady increase in air defence and air patrol activity in the region, including statements issued by states on the subject of North Korea's potential nuclear capabilities. The upward trend seen over the last few months closely resembles that seen prior to the flurry of test activity in 2019.
Osprey analysis of open-source data indicates that following a period of relative quiet – likely due to North Korea entering a phase of weapons development – the possibility of further unannounced missile launches in the area will significantly increase through April, May and June of 2021 as a new KPA training cycle is initiated. In the event of further missile launches, Osprey will provide support to operators via our alerts, which offer detailed analysis of the situation as it emerges.
Head of Analysis at Osprey, Matthew Borie, commented:
"Osprey:Explore gives Osprey analysts and clients alike the ability to monitor levels of conventional military activity over time and allows for trends or patterns to be identified. In the case of North Korea, the lull in missile launch activity since mid-2020 is consistent with historical norms, as is the recent increase in conventional military activity by Pyongyang into early 2021. Based on the current data, coupled with our historical understanding of North Korean weapons development, we assess Pyongyang will conduct a series of missile test launches during spring and summer of 2021. Such missile tests are expected to predominantly occur without the issuance of NOTAMs prior to the launches with the Sea of Japan portion of North Korean airspace being the primary area affected."