Human trafficking, or trafficking in people (TIP), is defined by the United Nations Office on Drugs and Crime (UNODC) as the "recruitment, transportation, transfer, harbouring or receipt of people through force, fraud or deception, with the aim of exploiting them for profit" and has been an enduring concern for the aviation industry from security, social responsibility and financial perspectives. Over the last few years, airlines, airports and regulatory bodies have taken significant steps to address the issue. From public awareness campaigns, victim identification training for staff, the implementation of effective reporting methods and increased communication with government agencies, the aviation industry is becoming a significantly more hostile operating environment for those wishing to exploit it for the illegal transport of men, women and children.
Osprey Flight Solutions contributes to the global movement countering human trafficking and associated crimes through the monitoring and reporting of incidents involving aviation. Between January and October 2021, Osprey identified 503 incidents involving irregular migration by air globally, including activity relating to human trafficking, migrant smuggling and travel document fraud. In the same period, Osprey issued a total of 41 alerts highlighting significant incidents, providing updates and analysis of regional trends and routes. Osprey alerts also provide practical advice to assist those on the front line in identifying indicators of human trafficking in aviation operating environments.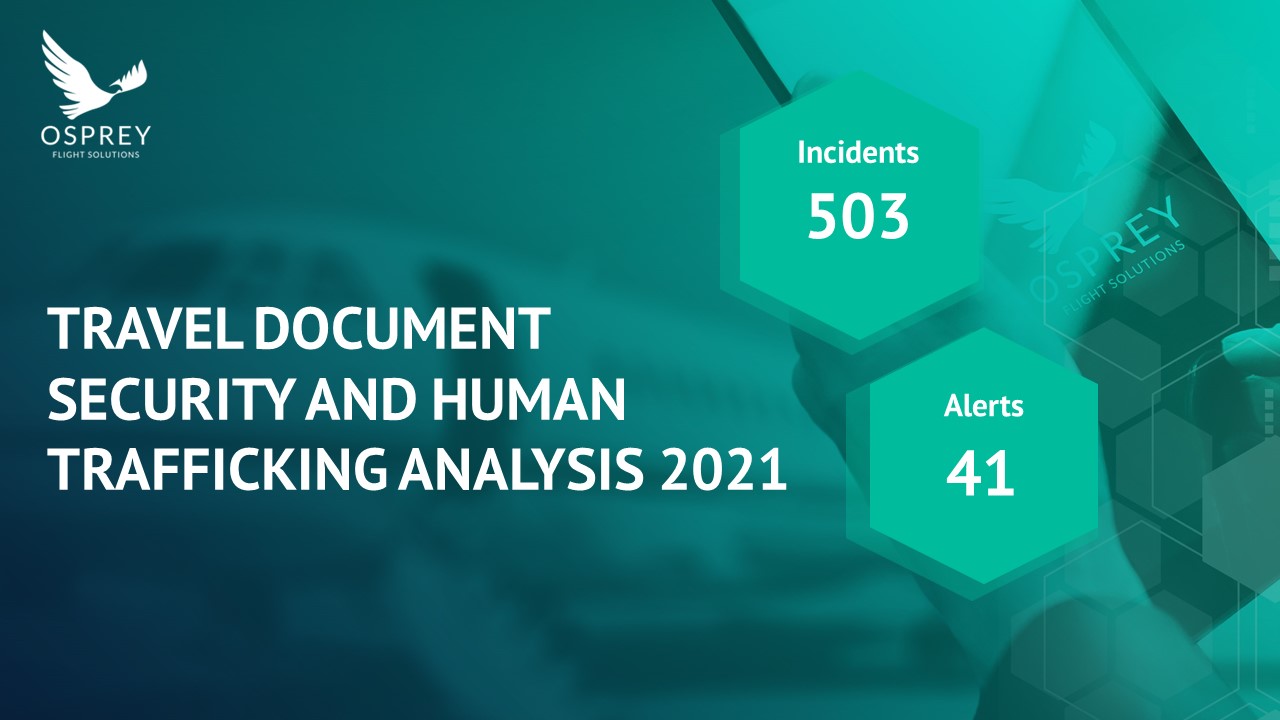 Osprey has been tracking developments relating to a number of trafficking and migrant smuggling routes and has issued a series of updates to our clients. Below are a few examples of the routes that have been monitored by Osprey analysts in 2021:
Birsa Munda Airport to Delhi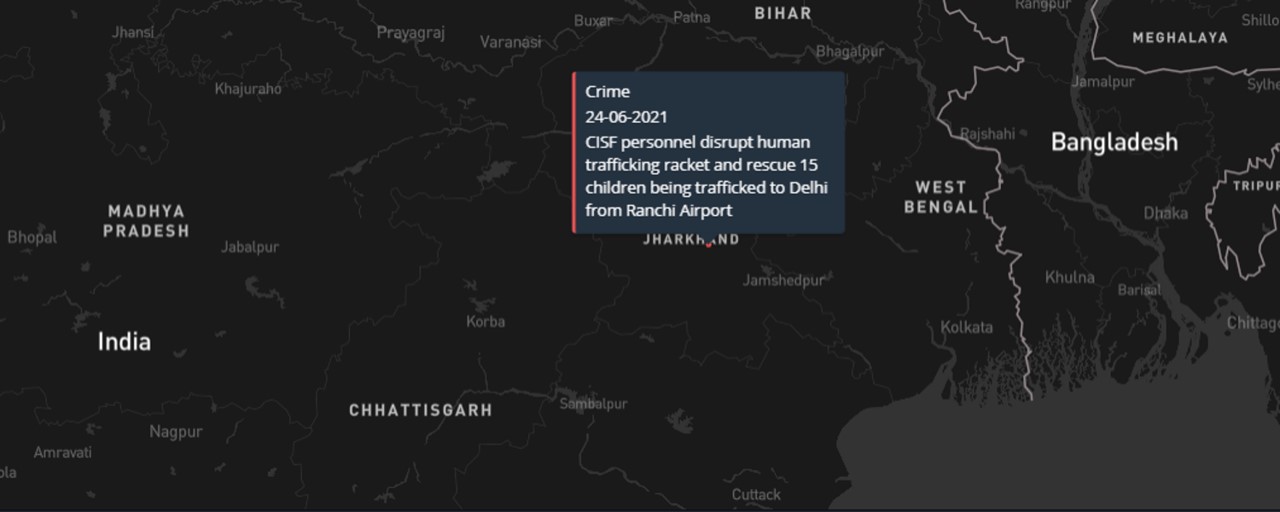 This year, Osprey has issued alerts highlighting a change in the trafficking profile of Jharkhand state, East India. Following a series of police intercepts of victims departing from Birsa Munda Airport (VERC/IXR), predominantly for Delhi, local reporting suggested that the mostly domestic human-trafficking activity in this location traditionally occurs via road and rail, but recently implemented measures to address human trafficking utilising these methods of transport plus suspensions of ground transport during the COVID-19 lockdown led to traffickers beginning to exploit air travel instead.
Philippines to Syria via Dubai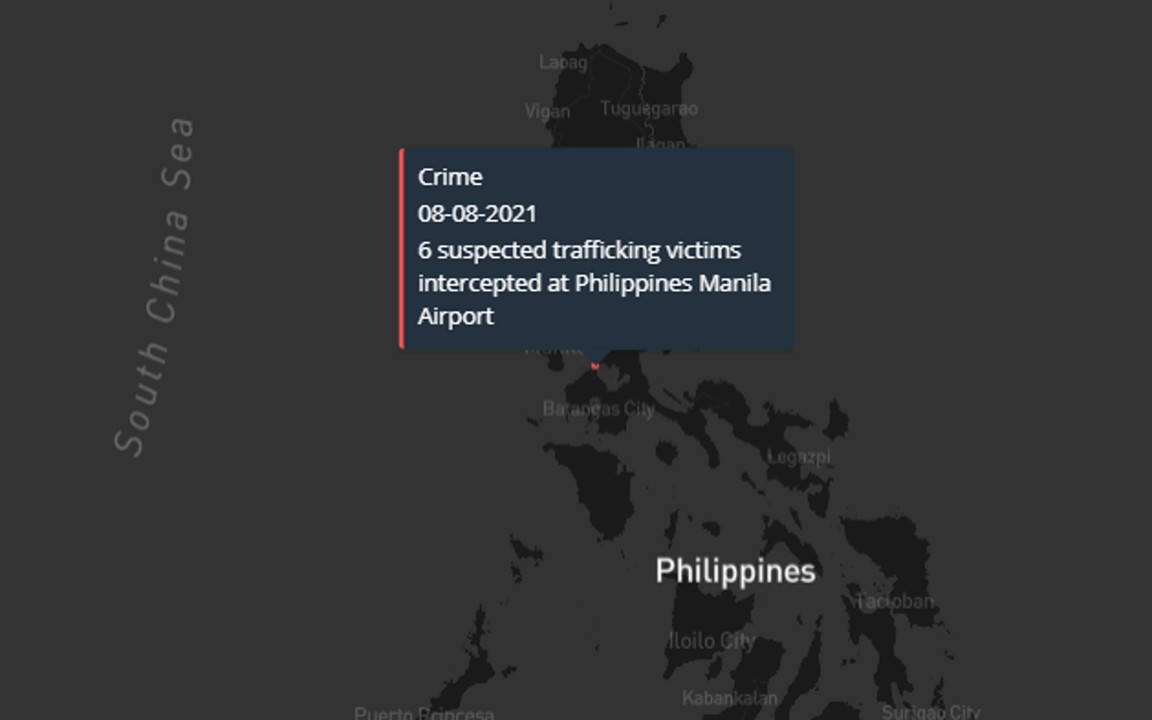 This year, the well-established trafficking route between the Philippines and the Middle East gained considerable press coverage following a high-profile exposé in a US national news outlet in late January. The article detailed the modus operandi of trafficking networks that in 2019 posed as recruitment agencies to deceive predominantly young women into travelling to the United Arab Emirates from where they were forcibly trafficked to Syria. This activity has continued through 2020 and 2021, and Osprey has issued five alerts so far in 2021 detailing trafficking incidents identified at Manila's Ninoy Aquino International Airport (RPLL/MNL) and Clark International Airport (RPLC/CRK) in Central Luzon. The alerts highlight the use of forged travel documents by crime rings as well as the involvement of corrupt immigration officials at Manila's airport.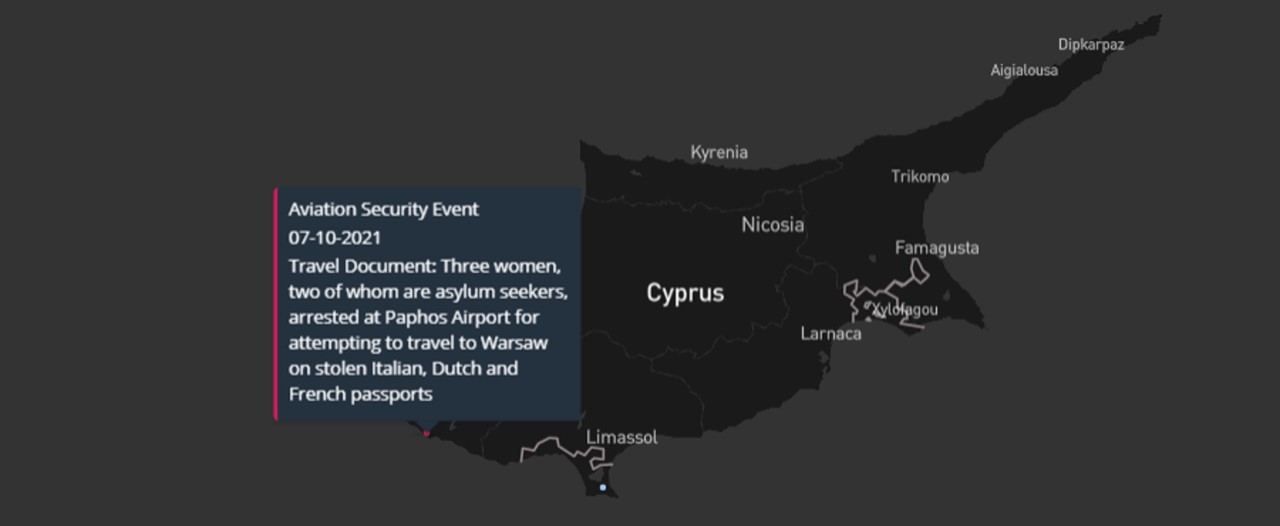 Since August 2021, Osprey has issued four alerts highlighting at least 35 incidents involving Africans – predominantly "Congolese" nationals, although it is unclear whether they are from the Democratic Republic of the Congo or the Republic of the Congo – using forged and/or illegally obtained genuine documents while attempting to depart from Paphos International Airport (LCPH/PFO) and Larnaca Airport (LCLK/LCA) in Cyprus for Western European countries. The alerts highlight a criminal network operating in the northern Turkish-occupied areas of Cyprus, from where individuals appear to be obtaining the documents. While it is unclear if any form of force or deception is involved in these incidents, individuals depending on criminal networks to travel are significantly vulnerable to exploitation and therefore pose a potential threat to aviation.
Kenya to Middle East and Asia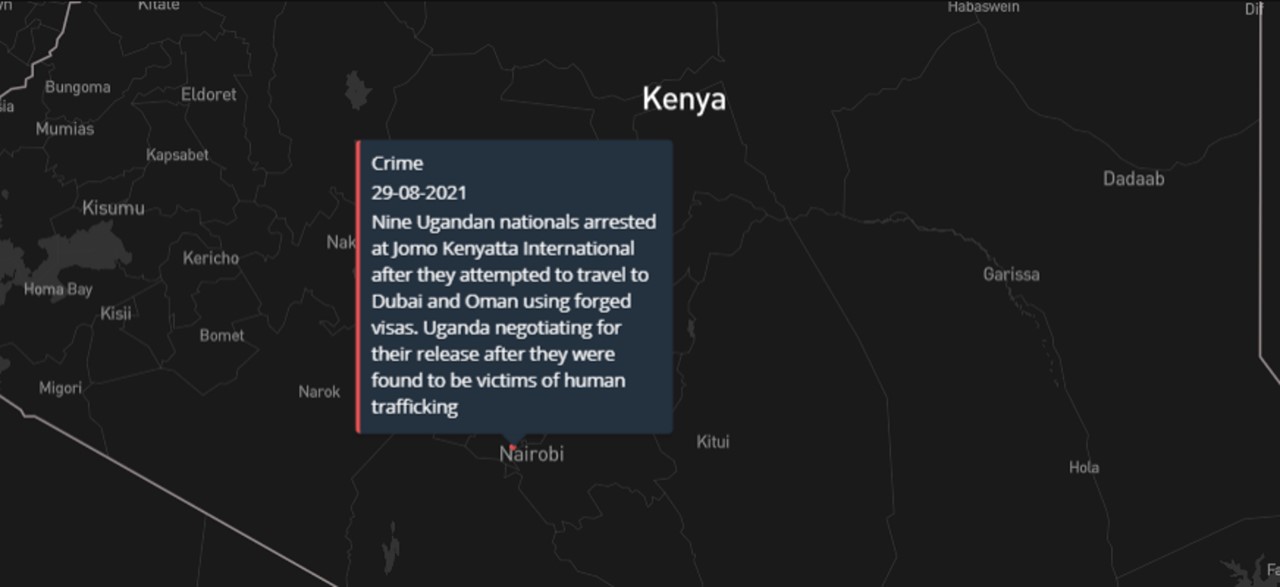 This year, Osprey has highlighted Nairobi's Jomo Kenyatta International Airport (HKJK/NBO) as a significant transit point for human-trafficking operations targeting vulnerable people (mostly young women), particularly from Uganda and Ethiopia. Individuals are typically trafficked by ground transport over the borders into Kenya and on to Nairobi, from where they are flown to the Middle East and Asia and forced into various types of labour, including sex work.
Conclusion
As international civil aviation begins to recover and tourism resumes, the demand for sex workers and labourers is likely to increase, and so too will the issue of human trafficking. Since human trafficking often depends on individuals being lured by traffickers' promises of legitimate work, victims are unlikely to display behavioural stress indicators, making them difficult to identify. However, many travel under duress, often accompanied by their trafficker, and so aviation workers should be alert to individuals who display behavioural indicators of trafficking victimisation highlighted by IATA in their 'Eyes Open' campaign – which can be found, along with staff training resources, at https://www.iata.org/en/policy/consumer-pax-rights/human-trafficking/.