Corrupt airport and airline employees are a serious concern given the access and knowledge that employees are entrusted with. Insider access may be abused by individuals for financial gain, for irregular migration and, in rare cases, for the advancement of violent non-state actor (VNSA) group objectives. 
Osprey Flight Solutions supports the aviation industry in addressing the insider threat through consistent monitoring of global incidents involving corrupt officials and workers. This data is made accessible via Osprey:Explore, and in-depth analysis of incidents and trends are communicated through regular alerts and full-length articles. 
Corruption for Financial Gain
Osprey has identified multiple incidents involving aviation workers globally exploiting their positions for financial gain. This includes the extortion of innocent passengers, crew and operators as well as the acceptance of bribes from criminals in exchange for facilitating activities such as drug, gold and human trafficking. This can result in fines, arrests as well as reputational impacts. Below are some specific examples of aviation workers engaged in corrupt behaviour: 
Philippines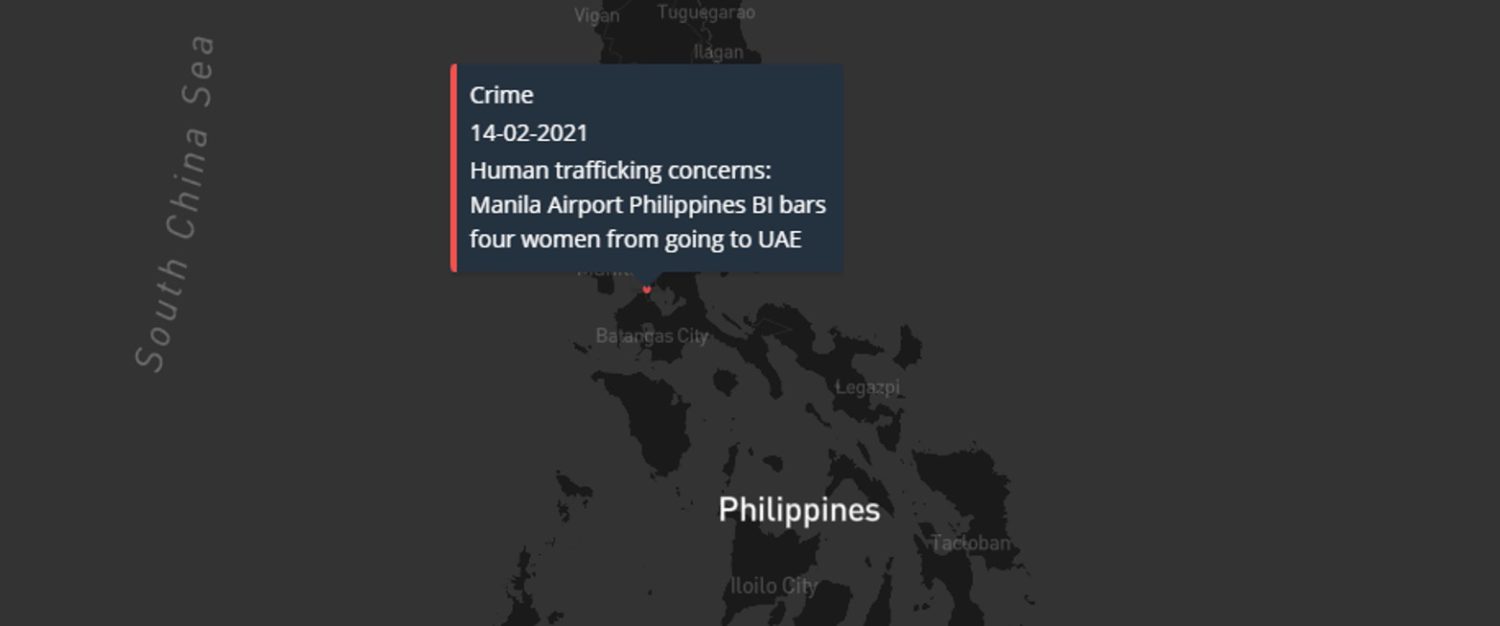 In February and March 2021, Osprey highlighted that dozens of Filipina workers were trafficked via commercial flights from Clark International Airport (RPLC/CRK) in the Philippines to the UAE before being forcibly trafficked via Dubai International Airport (OMDB/DXB) to Damascus International Airport (OSDI/DAM) in Syria. Allegedly, the traffickers would meet with corrupt immigration officers to make payments to facilitate the trafficking. 
Mexico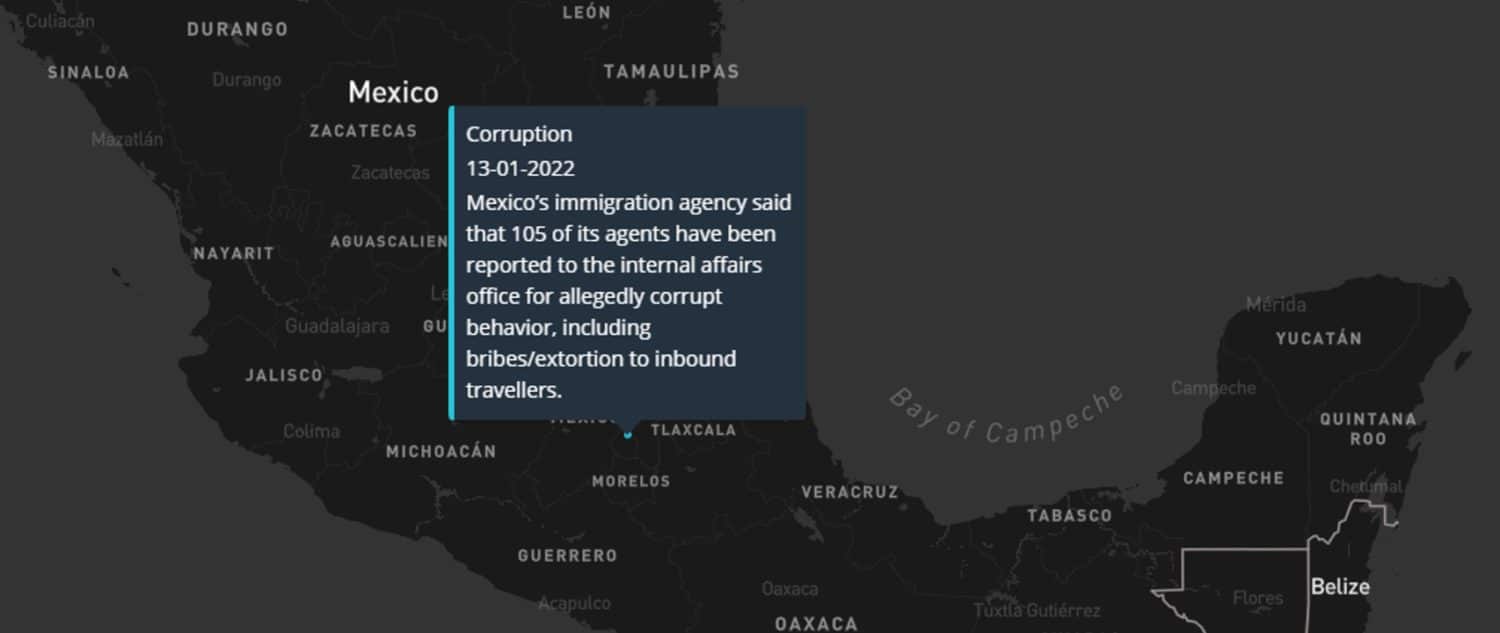 In December 2021, Mexican media reported various incidents involving corrupt Instituto Nacional de Migration (INM) agents illegally detaining and extorting passengers at Mexico City (MMMX/MEX) and Cancun (MMUN/CUN) international airports. Notably, the officials are reported to work with criminal groups to specifically target travellers from South America. One such incident involved an individual being held for 14 days without justification. Media reports indicated that 105 staff members were reported to the internal affairs department of Mexico's National Institute of Migration for alleged "corrupt behaviours". 
Indonesia

In February 2022, the Indonesian Anti-Corruption Society (MAKI) reported that State Civil Apparatus (ASN) customs officers had been accused of demanding illegal levies from courier companies at Soekarno-Hatta International Airport (WIII/CGK). The individuals are suspected of extorting IDR 1.7 billion (approximately USD 119,100) from a courier service between April 2020 and April 2021. Investigations were launched to determine whether other ASN elements were involved as extortion of this nature is not usually carried out by one party. 
Exploitation of Employee Access for Immigration-Related Issues
Osprey has also recorded various incidents involving the exploitation of aviation employee access for the purpose of irregular immigration. Such incidents pose substantial challenges to airlines, which may face fines and costs associated with investigating and returning individuals to their country of origin. 
Ethiopia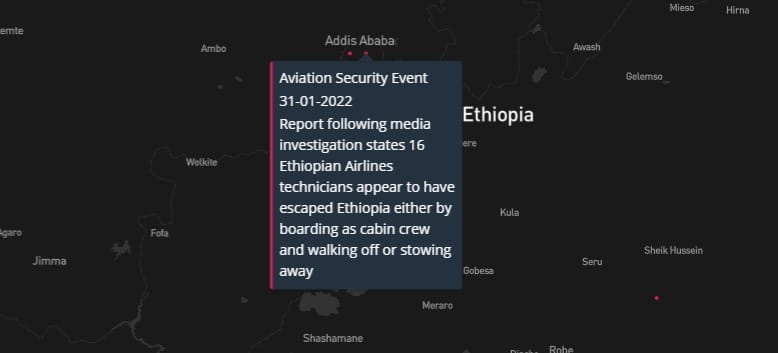 In February 2022, Osprey highlighted a series of incidents involving Ethiopian Airlines technicians of Tigrayan ethnicity using their expertise and knowledge of aircraft to stow away on flights from Addis Ababa Bole International Airport (HAAB/ADD) to destinations in Europe and the US. The incidents occurred amid a state of emergency declared in November 2021 by the Ethiopian federal government in the wake of an escalation in the conflict with rebel forces allied with the Tigray People's Liberation Front (TPLF). The state of emergency made provisions for police to detain "people suspected of collaborating with terrorist groups on reasonable grounds"; however, reports emerged of authorities arresting ethnic Tigrayans in the capital Addis Ababa based solely on ethnicity and detaining them in detention centres in Afar region or southern Ethiopia. Many of the stowaways are reported to have sought asylum in their destination countries. 
Pakistan/Canada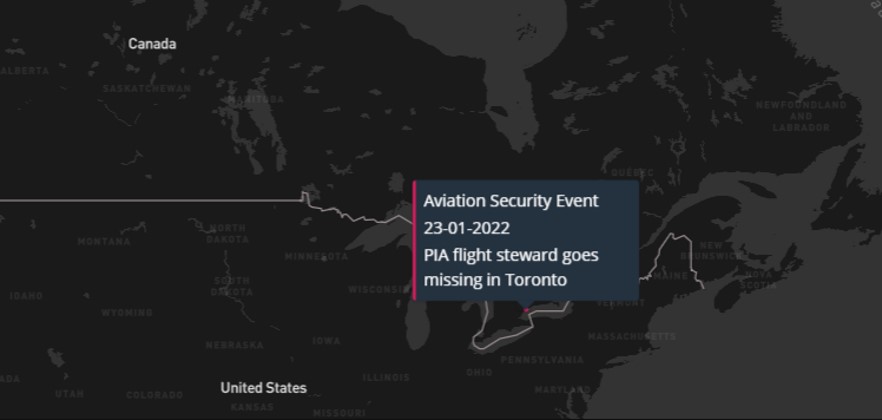 Osprey has recorded multiple incidents involving Pakistan International Airlines (PIA) flight attendants going "missing" during layovers in Toronto, Canada, with at least two reported to have sought asylum. In response to the incidents, in February 2021, the airline announced that station managers would hold crew members' passports during layovers in foreign countries; however, Osprey has since recorded a further incident, suggesting this measure may not have been effective. 
 Insider Threats to Aviation
In addition to financial gain and immigration issues, insider access has the potential to be exploited by extremist groups. Insiders may share a group's ideology or be sympathetic to their cause, or they may have been duped, bribed, or otherwise coerced into participation. While such incidents are rare, they are a serious concern given the potential for a catastrophic incident. 
India

In January 2020, the media reported that a decorated police officer had been arrested in the company of two terrorist suspects in the south Kashmir area. The officer is reported to have been attached to a police anti-hijacking unit at Srinagar's Sheikh ul Alam Airport (VISR/SXR) and had previously been involved in a number of anti-terrorism operations. 
Conclusion
Corruption among officials and airport works present a notable weak point for airports, airlines and other operators. The potential financial gains for criminals and corrupt individuals can result in both monetary and reputational loss. Further to this, the risk of corruption being exploited by extremist actors poses a serious threat to life for operators, their staff and passengers. In an effort to help combat the insider threat, IATA has released material highlighting measures that can be taken to combat the threat: https://www.iata.org/contentassets/e55ae27b2fc34343a1143fca5129c8dd/insider-threats-position.pdf