Background
Murtala Muhammed International, serving Lagos, is Nigeria's largest and busiest airport. Over the years, the facility has contended with numerous significant security and safety issues: the trafficking of persons, drugs and wildlife; corruption among employees, including the extortion of passengers and insider involvement in trafficking operations; unauthorised airside access issues such as stowaway incidents and theft of baggage from taxiing aircraft; and considerable levels of social unrest, including strike action by aviation employees, as well as the use of the airport as a venue for demonstrations. In addition, media reports have highlighted the impacts of inadequate or faulty equipment and under-trained, uncertified personnel at the airport.
In January 2021 airport officials claimed in media interviews that prior to the COVID-19 pandemic, improvements to security apparatus – including the introduction of security escort vehicles for arriving and departing aircraft, and enhanced CCTV and patrols – had led to significant reductions in airside crime levels and security issues. However, they also acknowledged that certain vulnerabilities and issues persist and emphasised plans for future improvements.
Data Analytics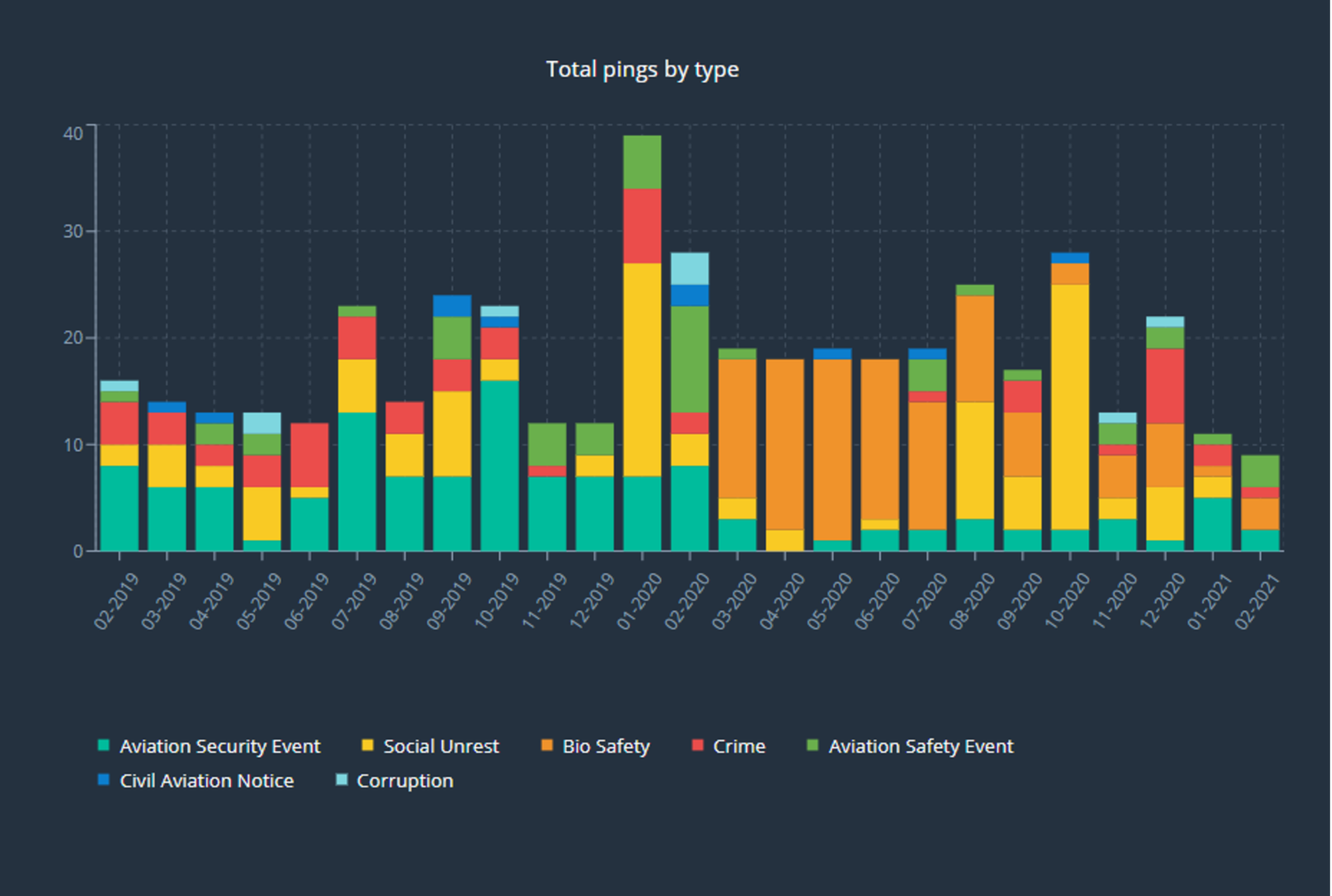 While no unauthorised airside access issues have been reported at Lagos Airport since the end of 2019, it is unclear whether this is due to the newly implemented safety and security measures or as a result of a decline in flight operations due to the COVID-19 pandemic. To limit the spread of COVID-19 in 2020, the Nigerian government imposed a ban on international commercial flights from late March to early September and on domestic flights from April until July, which inevitably reduced traffic at the facility and therefore also decreased activities impacting the safety and security of operations. However, despite a sustained reduction in flight and passenger numbers since the flight bans were partially lifted, Osprey Flight Solutions has identified a gradual increase in aviation safety and security incidents, crime and corruption at the airport. In January, our alerts highlighted several persistent issues, including insider participation in wildlife and other types of trafficking at Lagos Airport, and the extortion of passengers by security officials.
Looking Forward
As commercial flights to and from Nigeria gradually resume, traffic at Murtala Muhammed International will increase, and so too will pressure on infrastructure and opportunities for those intending to exploit the airport, aircraft and passengers. As we have already seen a small increase in crime and corruption at the facility since the airport reopened, it is likely that this activity will persist despite the recent changes to the airport's security posture. However, several factors may affect this, including plans for further measures:
Drugs detection equipment is due to be deployed. Once this measure has been implemented, tables used for manually searching bags can be removed. This will eliminate one of the major opportunities for corrupt employees to exploit passengers, as it is alleged that at these tables, officials are planting drugs in passengers' bags and then demanding bribes when they are 'discovered'.
Six watchtowers are being built for better surveillance of the runway and perimeter;
In February 2021, plans to install a new, long-range pan-tilt-zoom apron surveillance system were formally approved.
However, these new measures are unlikely to significantly improve security as long as a systemic culture of corruption exists among the employees enforcing them. Additionally, corrupt employees are at significant risk of being exploited by extremist individuals or groups, increasing the airport's vulnerability to terrorist attacks.