Executive Summary
The Tigray People's Liberation Front (TPLF) has retaken main urban centres of Tigray as Ethiopia declares a unilateral humanitarian ceasefire and withdraws the Ethiopian National Defence Forces (ENDF) from the region
The TPLF has access to conventional surface-to-air missile (SAM) systems capable at all altitudes and to man-portable air-defence systems (MANPADS) capable up to FL260
The TPLF has previously directly targeted airports with rockets, artillery and ballistic missile strikes in both northern Ethiopia and Eritrea
Ethiopia has issued a NOTAM for FIR Addis Ababa (HAAA) closing the airspace below FL290 over the north of the country
There are no publicly available circulars, publications, notices and/or bulletins issued by leading civil aviation governing bodies regarding the ongoing conflict zone environment in the Tigray portion of northern Ethiopian airspace
Situation Update
During November-December 2020, following an alleged 4 November 2020 TPLF attack on the ENDF Northern Command headquarters in the Tigray Region in northern Ethiopia, the Ethiopian military initiated an offensive into the region against the TPLF, involving artillery strikes and air-supported security operations. On 28 November 2020, the prime minister of Ethiopia stated that the ENDF had entered the region's capital, Mekele, and a spokesman for the Ethiopian military said that the ENDF had taken full control of the city from the TPLF. Fighting in Tigray has persisted in Tigray over the past eight months.
On 28 June, the Ethiopian government declared an immediate unilateral humanitarian ceasefire in Tigray. The ceasefire call was made shortly after the ENDF withdrew from Mekele. The ENDF and the Eritrean military – which has been supporting the ENDF – have also reportedly withdrawn from other main urban centres in Tigray, which may include Alamata, Shire, Adwa, Adigrat, Axum, Humera, Raya & Wikro.
The TPLF is now in control of Mekele along with several main urban centres in the region. The TPLF has rejected the Ethiopian government call for a ceasefire and stated that "it calls upon our people and army of Tigray to intensify their struggle until our enemies completely leave Tigray". The TPLF spokesman specifically stated: "Our primary focus is to degrade enemy fighting capabilities, if going to Amhara is what it takes, we will do it, if going to Eritrea is what it takes, we'll do it". Ireland, the UK and the US have called for an emergency UN Security Council public meeting concerning Tigray.
The Impact on Aviation
The TPLF claims to be in control of Mekele Airport (HAMK/MQX). The US Embassy in Ethiopia has stated that flight operations at Mekele Airport remain suspended. The operational status of Humera (HAHU/HUE), Shire (HASR/SHC) and Axum (HAAX/AXU) airports in Tigray remains unclear at this time.
On 30 June, Ethiopia issued a NOTAM for FIR Addis Ababa (HAAA) prohibiting the use of airspace at or below FL290 in the Mekele TMA (terminal control area) and a specified area in the far northwest of the country (HAAA A0166/21, valid through 30 July). This effectively covers almost all of the Tigray region above FL290. Previously, the entire Tigray portion of FIR Addis Ababa (HAAA) was closed to overflights from 4 November through 14 December.
In the near term, operators should remain prepared for a loss of access to portions of FIR Addis Ababa (HAAA), FIR Khartoum (HSSS) as well as FIR Asmara (HHAA) and disruption to flight schedules at Ethiopian, Sudanese and Eritrean airports. Osprey will continue to closely monitor the situation in Ethiopia's Tigray/Amhara areas as well as Sudan's Gedaref Region due to ongoing border tensions. We will provide updates as the Ethiopian, Sudanese and Eritrean airspace risk environment over northern FIR Addis Ababa (HAAA), FIR Khartoum (HSSS) and FIR Asmara (HHAA) evolves.
Analysis: TPLF Air-Defence Capabilities
The TPLF was the ruling governing party for all of Ethiopia from 1991-2018. Readily available reporting indicates the majority of the TPLF armed wing is currently comprised of former Ethiopia military personnel who served during the 1991-2018 period of TPLF control. The remainder of the TPLF ranks at present are predominantly made up of Ethiopian military Northern Command personnel who defected to the group when fighting broke out in Tigray in November 2020.
The TPLF in northern Ethiopia is assessed to be in possession of rocket-propelled grenades, anti-tank weapons and technical vehicles equipped with low-calibre anti-aircraft artillery capable of engaging air assets below FL100. The ENDF, as well as Eritrean and Sudanese military forces, are assessed to be in possession of the same type of light weapons. Of note, the TPLF is likely in possession of man-portable air-defence systems (MANPADS), such as the Russian-made 9K32 Strela-2 (SA-7 GRAIL) and 9K310 Igla-1 (SA-16 GIMLET). The Sudanese, Ethiopian and Eritrean military forces are all assessed to be in possession of MANPADS. According to the US FAA, the most capable variants of MANPADS can pose a threat to aircraft at altitudes below 25,000 feet AGL.
Osprey analysis of publicly available commercial satellite imagery indicates that at least two conventional surface-to-air missile (SAM) sites were emptied by the ENDF prior to their withdrawal from Tigray and are no longer active:
9 June: Mekele. Russian-made S-75 Dvina (SA-2 GUIDELINE) capable up to FL800 and out to 50km (31 miles); N 13.438162 E 39.567658;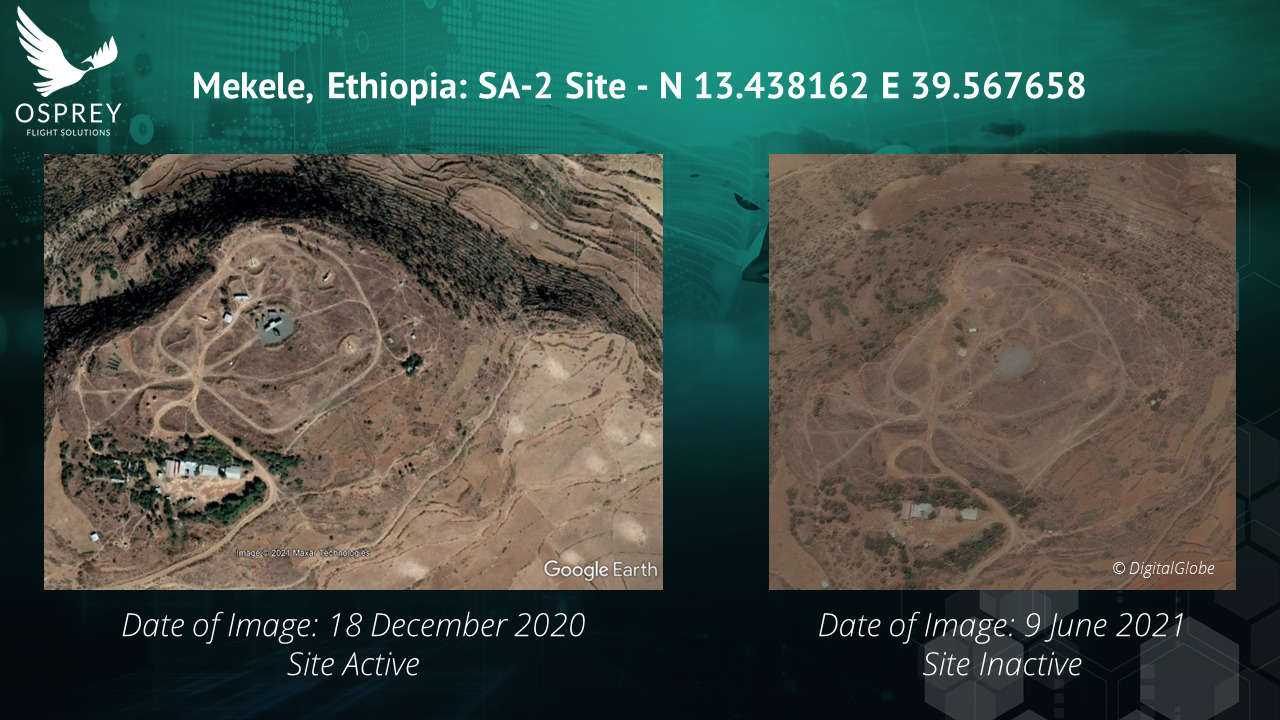 20 May: Adigrat. Russian-made S-125 Neva (SA-3 GOA) capable up to FL800 and out to 35km (22 miles); N 14.293846 E 39.487825.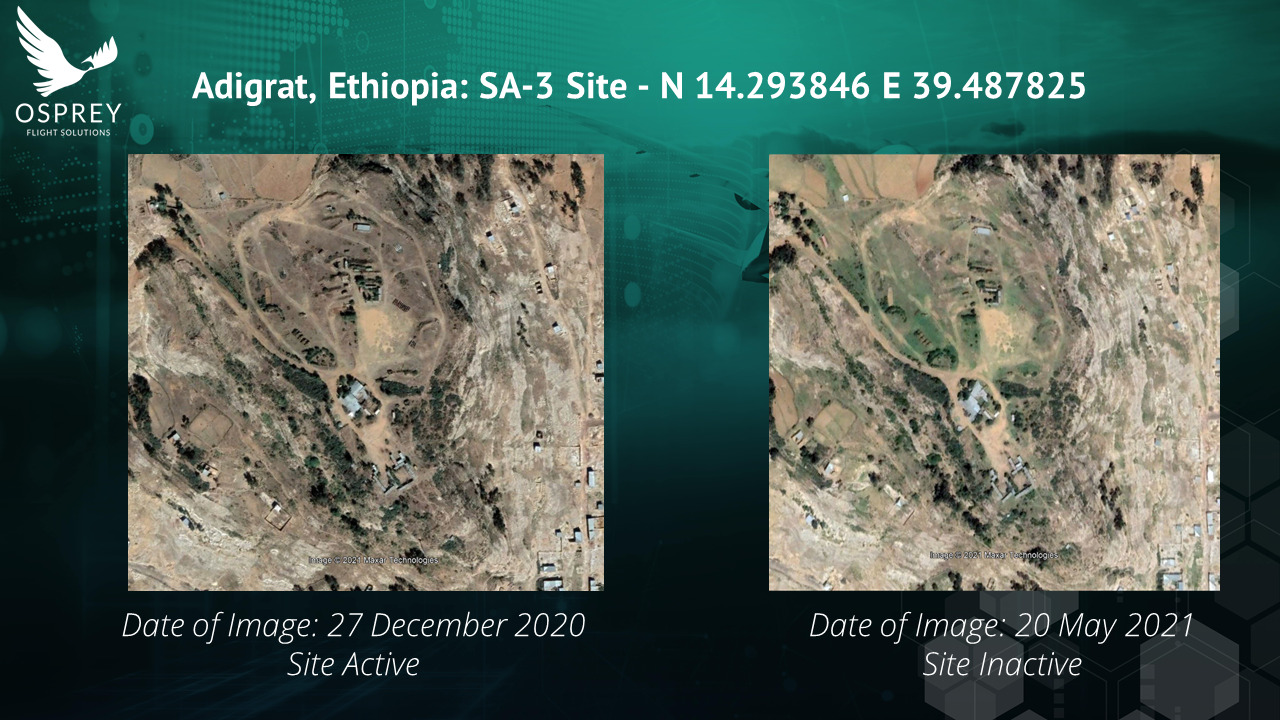 Separately, Osprey analysis indicates that at least two conventional SAM sites in Tigray region remained active at the time of recent publicly available commercial satellite imagery. This indicates the potential for such weapons to now be under the control of the TPLF:
14 May: Mekele. SA-3 conventional SAM site; N 13.558708 E 39.549147;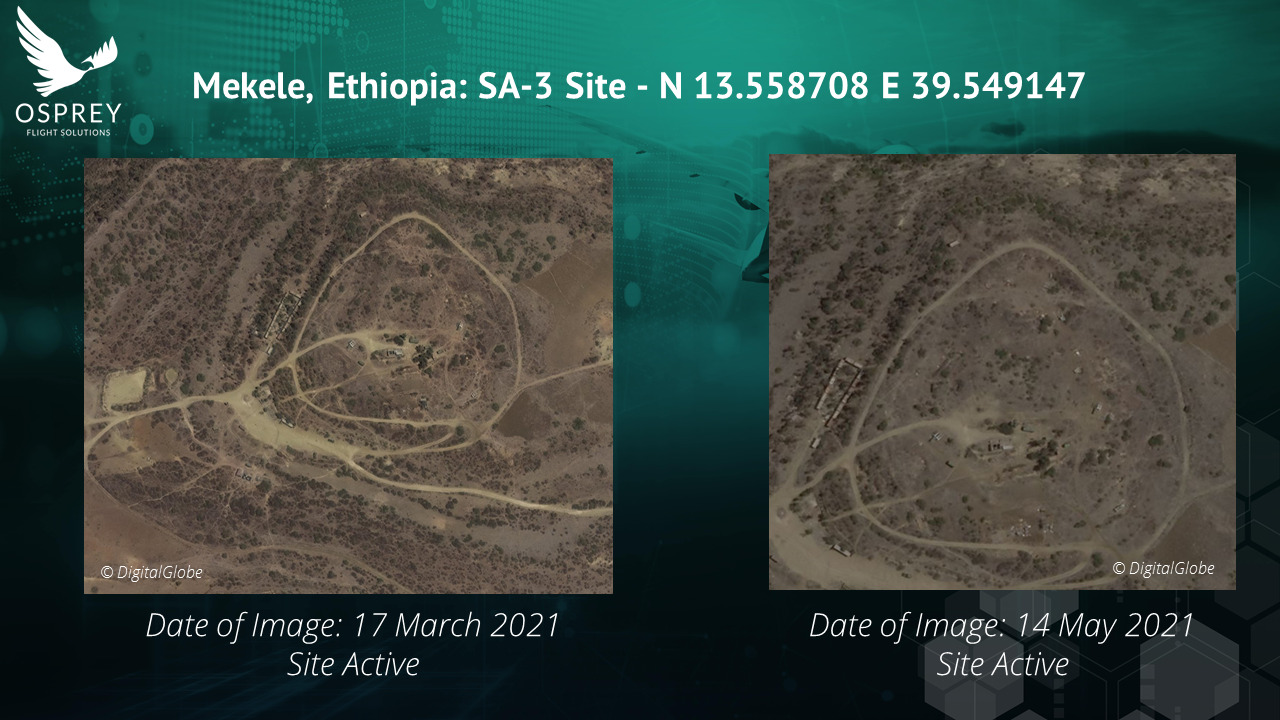 29 June: Axum. SA-3 conventional SAM site: N 14.115419 E 38.805540.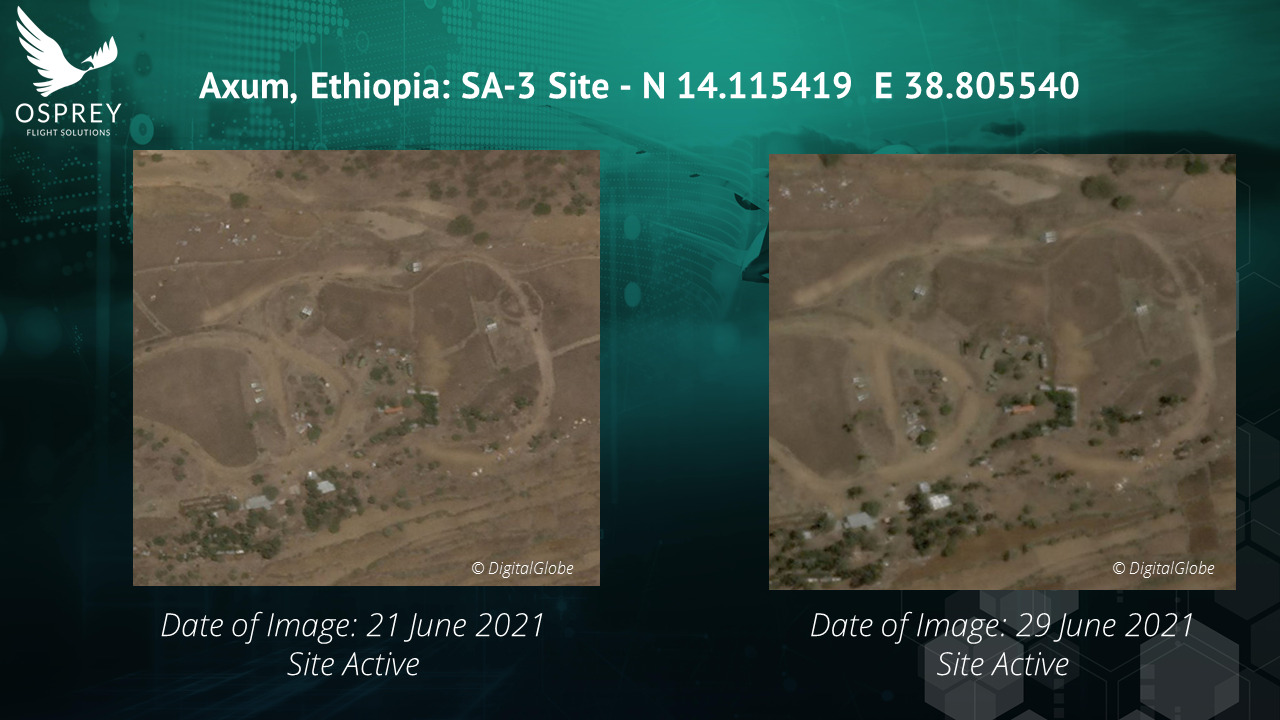 The Soviet Union developed SA-2/3 systems starting in the 1950s-1960s. However, SIPRI data indicates that the SA-2/3 systems that were produced specifically for Ethiopia were actually delivered in 1977-1978.
The TPLF gained valuable air and air-defence experience – specifically employing SA-2/3 systems in Tigray during the Ethiopia-Eritrea war – from 1998 through 2000. Ethiopia has also further developed its SA-2/3 capabilities since 2016:
Ethiopia refurbished its SA-2 systems via upgrade in 2016 to a modernised standard. This was confirmed by Jane's Defence Weekly via both investigative reporting but also pictures from within the Ethiopian defence production facility where the work took place.
Ethiopia has also reportedly fully modernised its SA-3 systems over the past five years with upgrade assistance from Ukraine. The EU has specifically stated its concern about Ukrainian provision of advanced conventional weapons support to countries in Africa – including to Ethiopia – and SA-3 systems in general. Pictures taken over the past 9 months from the SA-3 sites in both Mekele and Axum – which may remain active at present – indicate that the system components remain well kept and not in a state of disrepair.
On 11 November 2020, images of spent boosters from both SA-2 & SA-3 missiles in Mekele were released by the TPLF, appearing to demonstrate its ability to operate captured SAM systems at that time. Three days prior to these images being released, the TPLF claimed to have shot down an Ethiopian military combat aircraft over Tigray. Osprey assesses that the TPLF could effectively operate SA-2/3s in the near term if they are in fact now in their possession and fully intact, though maintaining such systems in the medium-to-long term would be a significant logistical hurdle without foreign assistance.
Analysis: Regional Implications
Ethiopian government reporting claims the ENDF military operations in November 2020 destroyed arms depots, fuel storage, missiles and radars in TPLF possession near Mekele in particular. However, reporting from June indicates the TPLF continues to retain artillery and multiple rocket launcher system (MRLS) capabilities, despite territorial as well as weapons depot losses in Tigray. Osprey continues to closely monitor TPLF weapons cache recovery claims as they emerge.
Of note, in late 2020, the ENDF regained control over various weapons stores in Tigray from the TPLF, including extended-range Chinese-made PHL-03 MRLS, A-200 guided rocket artillery (GRA) systems and M-20 short-range ballistic missiles (SRBMs). Such weapons have a range of between 150km (93 miles) and 300km (186 miles). However, as the TPLF has regained control of large swathes of the Tigray region in recent days, it creates the potential for stores of advanced conventional weapons such as these to now be in rebel-held stocks.
During late 2020, the TPLF carried out a number of attacks using the MRLS/GRA/SRBM systems noted above in Ethiopia and into Eritrea, stating that "as long as the invasion and genocide does not stop, similar rocket attacks on selected military and civilian installations in Bahir Dar and Gondar in Ethiopia as well as Asmara and Massawa in Eritrea will continue". Specifically, on 14, 27 & 28 November, the TPLF reportedly conducted a series of MRLS/GRA/SRBM attacks from northern Ethiopia into Eritrea against targets in the Eritrean capital, Asmara. Additionally, on 13, 20 & 23 November, the TPLF reportedly conducted MRLS/GRA/SRBM attacks against targets in Ethiopia's Amhara Region, located well south of Tigray, including the airports in Bahir Dar (HABD/BKR) and Gondar (HAGN/GDQ). Based on the recent TPLF statements and its control over large parts of Tigray, attacks of this nature could resume if the ceasefire called by the Ethiopian government fails to take hold and/or if Eritrean military forces fail to withdraw from the region.
Tensions remain high between Ethiopia and Sudan along the disputed border in the Amhara/Tigray regions as each have deployed military forces in the area. The ENDF has combat aircraft (Su-27 & MiG-23) as well as drones (CH-4B) and helicopters (Mi-8 & Mi-35) operating out of Amhara, south of Tigray. The situation in the Amhara & Tigray regions of Ethiopia, as well as the Gedaref Region of Sudan along with the southern areas of Eritrea, remains fluid and subject to rapid change.
Reporting from early 2021 indicates that Ethiopia has deployed Russian-made Pantsir-S1 (SA-22 GREYHOUND) conventional SAM systems to the Amhara/Tigray area bordering Gedaref Region. The SA-22 is capable up to FL490 and out to 20km (12.4 miles). Further reporting from 2021 indicates that the ENDF has also deployed either a Russian-made S-300 variant or Chinese-made HQ-9 conventional SAM system to northwest Ethiopia. The most capable variants of such systems can engage targets at altitudes up to FL980 and at ranges out to 200km (120 miles). We assess the ENDF remains in control of its SA-22 and S-300 or HQ-9 systems.
The Sudanese military has also deployed forces to the area. International media outlet reporting confirms the deployment of Sudanese armed forces' air assets to Gedaref Region along the Ethiopian border area. The Sudanese military is known to be in possession of Russian-made 9K33 Osa (SA-8 GECKO) conventional SAM systems, which are highly mobile, and such assets could be deployed to the Gedaref Region near the Ethiopian border. The most capable variant of the SA-8 can engage targets up to FL450 and out to 15km (9.3 miles).
At the start of 2021, Sudan closed the airspace up to FL290 within 50NM of N 14.043056 E 35.091515 in the Gedaref Region of the country along the border with Ethiopia for a three-month period, amid heightened military tensions with the Ethiopian military (NOTAM HSSS A0009/21). On 13 January, the Sudanese Foreign Ministry claimed that an ENDF military aircraft violated its airspace in the Gedaref Region. Sudan warned that the current situation with Ethiopia "could have dangerous consequences and cause more tension in the border area".
The Eritrean military has airbases with combat aircraft and air-defence units operationally stationed in areas near the Ethiopian and Sudanese borders. In addition, the US Department of State has confirmed that Eritrean military forces have been deployed in border areas of Tigray in support of ENDF operations against the TPLF since late 2020. On 16 April, Eritrea informed the United Nations Security Council that it had agreed to start withdrawing its military forces from Ethiopia's Tigray region. However, Eritrean military withdrawal operations from Tigray back across the border have yet to be independently verified.
Outlook
Osprey does not assess the partial airspace closure in FIR Addis Ababa (HAAA) to be sufficient altitude-wise or geographically to mitigate the conflict zone-related risks posed to civil aviation operations over northern Ethiopian airspace and/or at airports in Tigray Region. In addition, the NOTAM does not specifically mention the conflict zone environment in Tigray Region and it remains unclarified at this time what the intent of the Ethiopian government is in relation to the airspace closure, as the area in question is adjacent to the country's borders with Sudan and Eritrea. On 30 June, an Ethiopian military official quoted in international media reporting on Tigray stated: "The TPLF is no more a threat, but we've got a more national threat that we need to shift our attention to". This underlines the potential for the Ethiopian-Sudanese border tensions and associated military activity to become protracted in the months ahead in Ethiopia's Tigray/Amhara areas as well as Sudan's Gedaref Region.
With Mekele and other main urban centres now reportedly falling under rebel control, the incidents above, including TPLF rejection of the ceasefire, along with the Ethiopia-Sudan border tensions, coupled with Eritrean military activity in Tigray, remain concerning as they indicate the ongoing potential for the armed clashes to expand regionally. Though blunted by the Ethiopian unilateral ceasefire call, an expanded conflict during the next three months would likely include regions of Ethiopia outside Tigray such as Amhara to the south, as well as into neighbouring countries such as southern Eritrea and/or Sudan's Gedaref Region.
We assess that a heightened potential remains for armed clashes between the TPLF, along with its aligned forces, and the ENDF, as well as Eritrea, to persist through the remainder of 2021 or until a comprehensive political and military agreement is reached between the Tigray regional government and Ethiopian federal authorities. We also assess that a heightened potential remains for armed clashes between the Sudanese military and the ENDF, involving unsafe air and air-defence activity to persist over the next three months in the Gedaref Region of Sudan and the bordering Tigray/Amhara areas of Ethiopia. We now assess northern Ethiopia's Tigray Region to comprise an EXTREME risk airspace environment at all altitudes.