The military conflict between the Saudi-led coalition (SLC) and Yemeni Houthi rebels has been ongoing since March 2015. Spillover from the conflict in Yemen has primarily impacted the airspace over the southwest Saudi Arabian provinces of Asir, Jizan and Najran along the Yemeni border in FIR Jeddah (OEJD). Houthi rebels have the capability and intent to conduct surface-to-surface missile (SSM) and drone launches not only against targets in the southwest Saudi Arabian provinces but also deep into the interior of the kingdom as well as the United Arab Emirates (UAE). The SLC has air and air-defence assets deployed across Saudi Arabia to defend main urban centres of the kingdom, as does the UAE.
While the SLC and UAE have been mostly successful in thwarting Houthi attacks and deconflicting air-defence operations with civilian flights, such activity poses an enduring risk to all forms of aviation activity within FIR Jeddah (OEJD) and, to a lesser extent, FIR Emirates (OMAE). Osprey previously published an article that discussed the threats to air operations specifically within Saudi Arabian airspace. This article will evaluate the recent Houthi targeting of the UAE and provide an assessment of the aviation operating environment.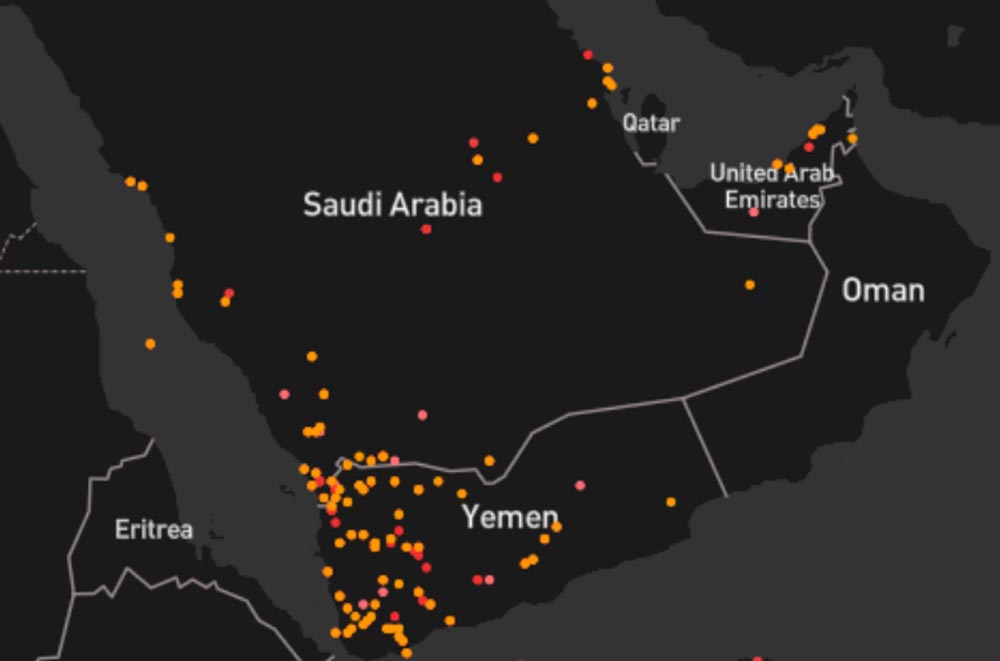 Background
On 24 January, the Houthis claimed that they had launched Zulfiqar ballistic SSMs at Abu Dhabi and Al Dhafra Air Base (OMAM/DHF) in the UAE, located approximately 10km (6.2 miles) from Abu Dhabi International Airport (OMAA/AUH). On 24 January at c.0300 UTC, the UAE Ministry of Defence stated that two Houthi-launched ballistic SSMs were shot down over the UAE. No casualties or material damage reportedly occurred, though falling debris landed near Abu Dhabi. Publicly available flight– tracking data indicates that operations were disrupted at Abu Dhabi International Airport on 24 January from c.0030-0130 UTC. 
In their statement, the Houthis also claimed they launched Samad-3 drones targeting Dubai on 24 January. The UAE has made no comment on this claim; however, earlier on 23 January at c.2015, the Saudi-led coalition (SLC) stated it was monitoring an unspecified number of drones launched by the Houthis from Yemen's northwest Jawf governorate located along the Saudi-Yemen border, and that two had been shot down by SLC forces. No further information was provided on the potential targets of the remaining Houthi drones. Details are still emerging and the situation in Saudi and UAE airspace remains fluid and subject to rapid change.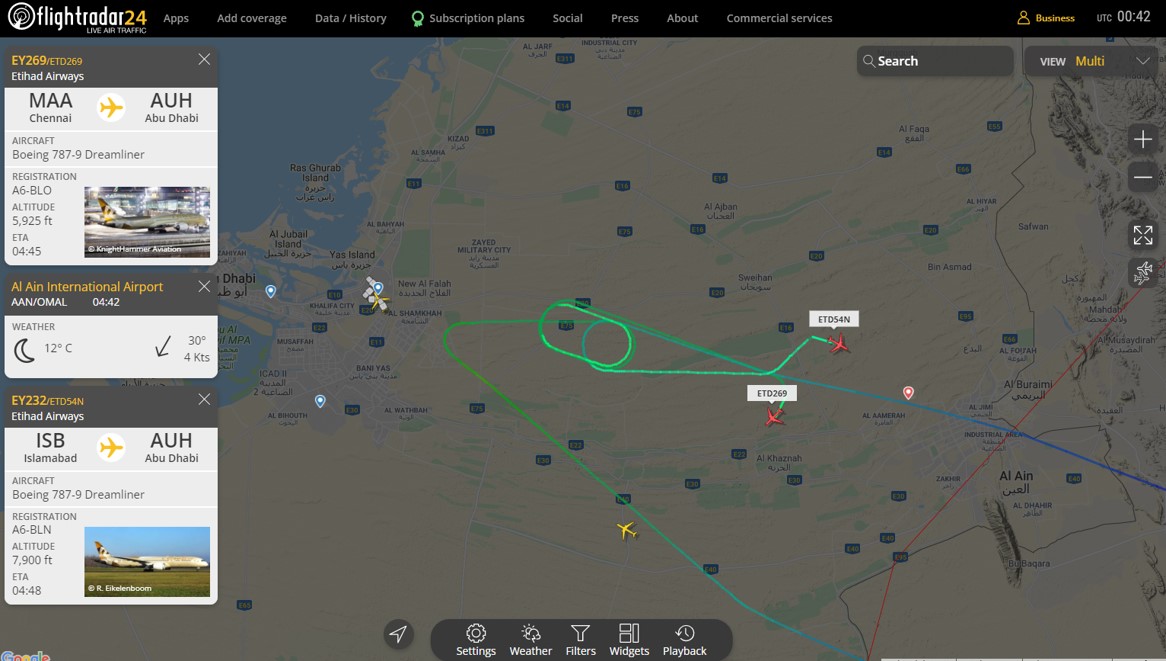 On 17 January, the Houthis claimed to have conducted attacks on the UAE involving Zulfiqar ballistic and Quds-2 cruise SSMs and Samad-3 drones, targeting airports in Abu Dhabi and Dubai as well as an oil facility in Mussafah and other unspecified sites in the country. Despite the Houthi claims, the UAE has only confirmed that attacks targeting Abu Dhabi International Airport and the oil facility in Mussafah were effective. Further international media outlet reporting quoting anonymous officials indicates some of the drones launched by the Houthis landed in uninhabited desert areas of Abu Dhabi and Dubai.  
The UAE ambassador to the US previously stated the following regarding the events of 17 January: "Several attacks – a combination of cruise missiles, ballistic missiles and drones – targeted civilian sites [in the UAE], several were intercepted, a few of them didn't". International media outlet reporting citing anonymous sources indicates that on 17 January, a UAE military US-made Terminal High Altitude Area Defense (THAAD) conventional surface-to-air missile (SAM) system shot down a ballistic SSM from Yemen by Houthi rebels. The THAAD is capable up to FL800 and out to 160km (100 miles). Saudi Arabia confirmed shooting down eight drones over its territory on 17 January; while not confirmed, it is possible that some of the drones may have been en route to the UAE.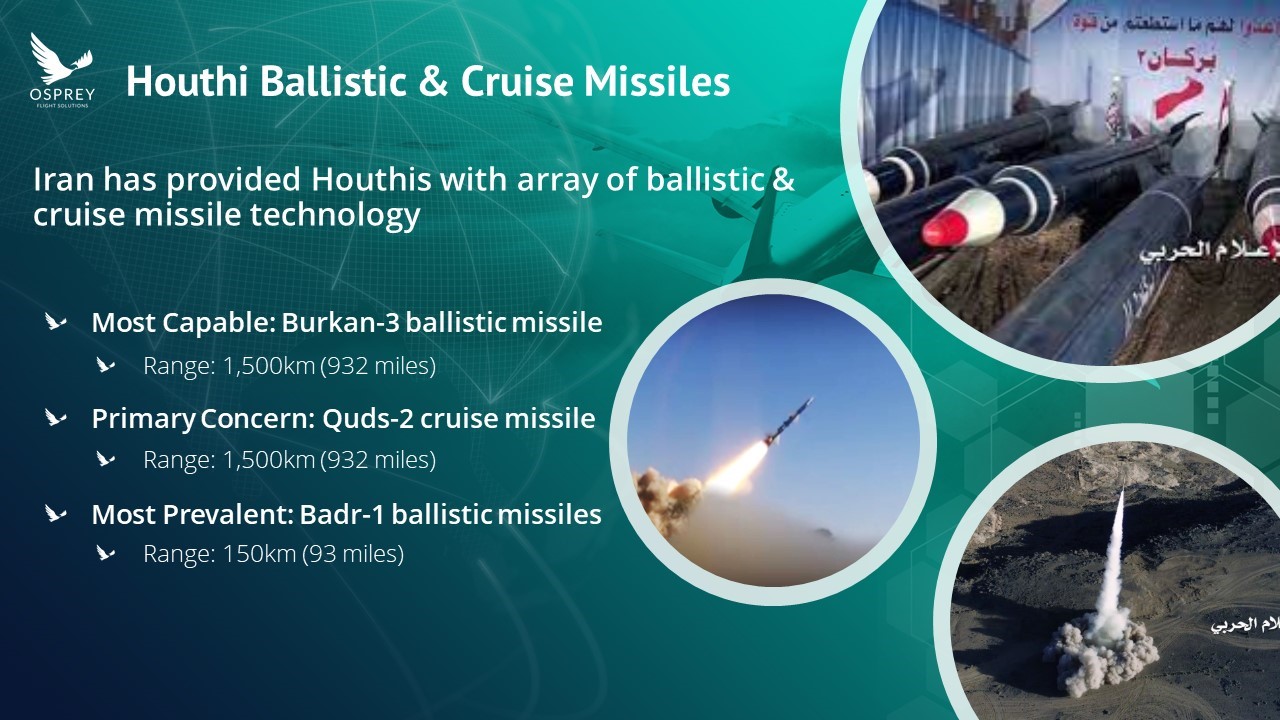 Publicly available flight-tracking data from 17 January indicates that flights were disrupted at Abu Dhabi International Airport from c.0600-0700 UTC – with two diverting to Al Ain International Airport (OMAL/AAN) – and at Dubai World Central Airport (OMDW/DWC) c.0600-0630. However, it is unclear whether this disruption was linked to the reported attacks, the timing of which has not been confirmed. US Central Command has stated that early on 17 January, "a potential inbound threat" had forced US military units into their bunkers at Al Dhafra Air Base (OMAM/DHF) in the UAE, located approximately 10km (6.2 miles) from Abu Dhabi International Airport. In addition, Al Dhafra Air Base was placed in a "heightened alert posture" for approximately 30 minutes, and US military forces were directed to keep their protective gear close for 24 hours after the 17 January incident. 

Houthi Threat – Capability & Intent
Houthi rebels possess a variety of SSMs, including several types of cruise missiles and multiple ballistic missile variants. Osprey previously conducted a webinar covering Houthi drone and SSM capabilities. The most capable SSMs in Houthi possession may have a range out to 1,500km (932 miles). In January 2021, international media outlet reporting and commercial satellite imagery confirmed that Iran had provided the Houthis with Shahed-136 military-grade weaponised drones with an approximate range of 2,000-2,200km (1,240-1,370 miles); this confirmed that the Houthis have the capability to target all of Saudi Arabia, the UAE and even Israel. The Houthis have conducted several drone and/or SSM attacks against the Dammam area of Saudi Arabia – located just northwest of the UAE – indicating the group can reach targets in the emirates.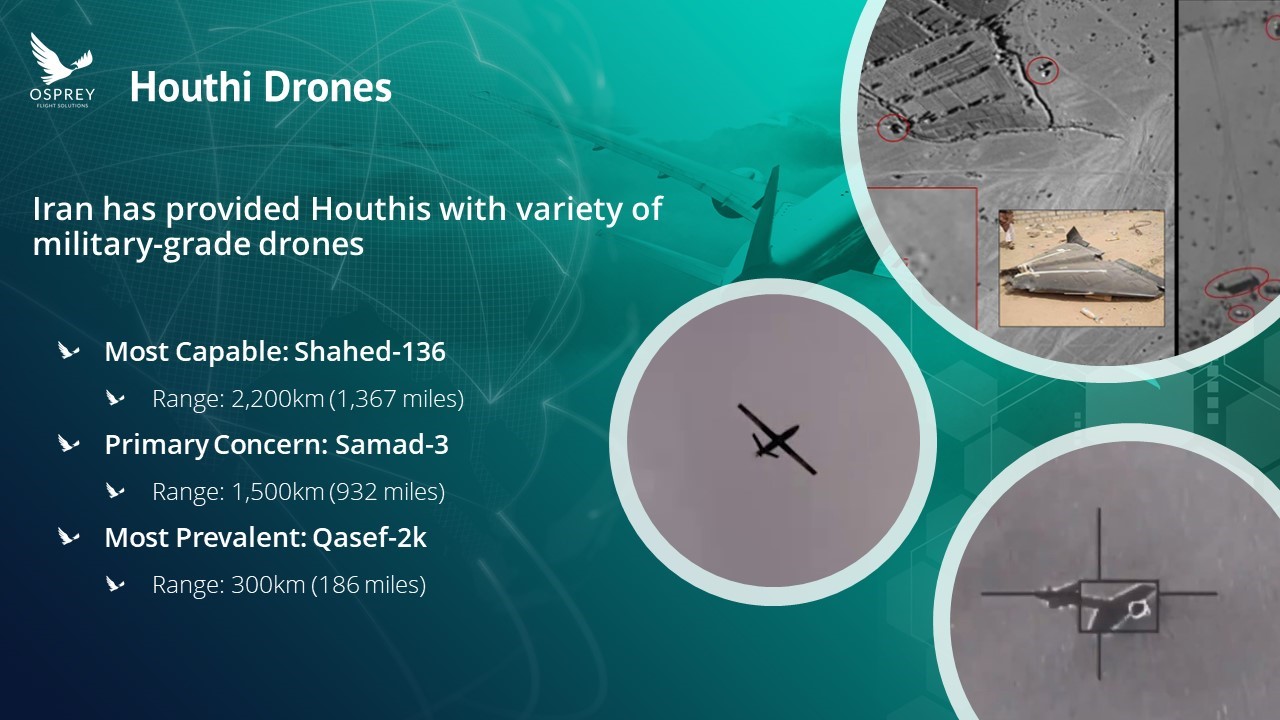 There is precedence for Houthi drone attack claims against airports in the UAE:
On 3 December 2017, Houthi rebels claimed to have launched a cruise missile from northwest Yemen, targeting a nuclear-related facility in the UAE. However, local media reporting indicated the missile failed shortly after launch and landed in an uninhabited desert area of Yemen's Jawf Governorate.

 

On 26 July 2018, the Houthis claimed to have carried out a drone attack on Abu Dhabi International Airport. At the time, the airport authorities stated that there had been "an incident involving a supply vehicle at the Terminal 1 airside area of the airport" but that operations had not been affected and no attack had taken place. In May 2019, the Houthis released what they claimed was a video showing the attack. In the video, what appears to be a weaponised drone explodes above ground support vehicles at an airport with features identifiable as specific to external airside areas of Terminal 1 at Abu Dhabi Airport. The drone claimed to be used by the Houthis was a Samad-3 variant capable out to 1,500km.

 

On 27 August 2018 and 30 September 2018, the Houthis claimed to have carried out two drone attacks against Dubai International Airport (OMDB/DXB); while there was disruption to flight operations at the time, the attacks cannot be confirmed.
In January 2021, an Iraq-based Iranian-backed militant group (IBMG), the Righteous Promise Brigades, claimed it had conducted weaponised drone attacks targeting Riyadh; this was subsequently corroborated by international media reporting. In the days following the claimed attacks, the Righteous Promise Brigades threatened additional strikes against targets in Saudi Arabia, as well as the UAE for their involvement in the Yemen conflict. The Houthis and Iraq-based IBMGs have regularly threatened to carry out attacks against the UAE in recent years. In addition, several Iraq-based IBMGs have praised the Houthis for the 17 January attacks on the UAE. 
Since the start of 2022, the UAE-trained Giants Brigade has initiated a ground offensive in Yemen's Shabwah Governorate, backed by Saudi-led coalition air support against the Houthis. In addition, on 2 January, the Houthis seized a UAE-flagged vessel off the Yemeni coast in the Red Sea near the port of Hodeidah that reportedly contained military-grade equipment destined for the Giants Brigade. The Houthis and their affiliated media outlets have made multiple statements in the past three weeks decrying the UAE support to the Giants Brigade and the Saudi-led coalition effort in Yemen.  

Saudi-led coalition air operations have increased in recent months across Yemen, and airstrikes in have occurred from 17-23 January in the Yemeni capital, Sanaa, reportedly in response to the recent Houthi attacks into the kingdom and against the UAE. Of note, the Houthis have threatened additional attacks against the UAE if its support to the Giants Brigade and/or the Saudi-led coalition effort in Yemen continues. The Houthi spokesman stated the following on 21 January: "we advise foreign companies in the UAE to leave, as they are investing in an unsafe state as long as the rulers of this state continue to attack our country". Osprey assesses the above activity in Yemen related to the Giants Brigade to be the primary driver of Houthi intent to target the UAE.
Saudi & Emirati Air-Defences
The vast majority of Houthi drone and SSM attacks outside of Yemen target locations in southwest Saudi Arabian provinces of Jizan, Asir and Najran. Over 300 Houthi drones and SSMs were shot down over the southwest of Saudi Arabia in 2021 alone. However, since 2016, in addition to the incidents noted above regarding the UAE, there have been over 45 drone, cruise missile and SSM attack claims by the Houthis and/or interdictions by Saudi Arabian air and air-defence forces deep into the interior of the kingdom; this includes over 20 since the start of 2021 alone against locations in Riyadh, Jeddah, Dammam, Taif and Yanbu – including as recently as 6-7 December and 3 January. 
Osprey analysis notes that while drones over the southwest provinces of Saudi Arabia – where the majority are targeted – are mainly downed via fighter jet air-to-air engagements, the shoot-downs of drones deep into the kingdom and all SSM intercepts over the country are likely occurring via US-made MIM-104 Patriot conventional SAM systems. Patriot systems are capable up to FL800 and out to 160km (100 miles). In addition to the THAAD noted above, the UAE maintains a Patriot system capability deployed within its borders and also has fighter jets capable well above FL260 for air-defence purposes. Along these lines, the US military maintains fighter jet and Patriot conventional SAM system deployments to Al Dhafra Air Base. Of note, the Saudi Arabian, UAE and US military conventional SAM inventories include more variants than the systems outlined here.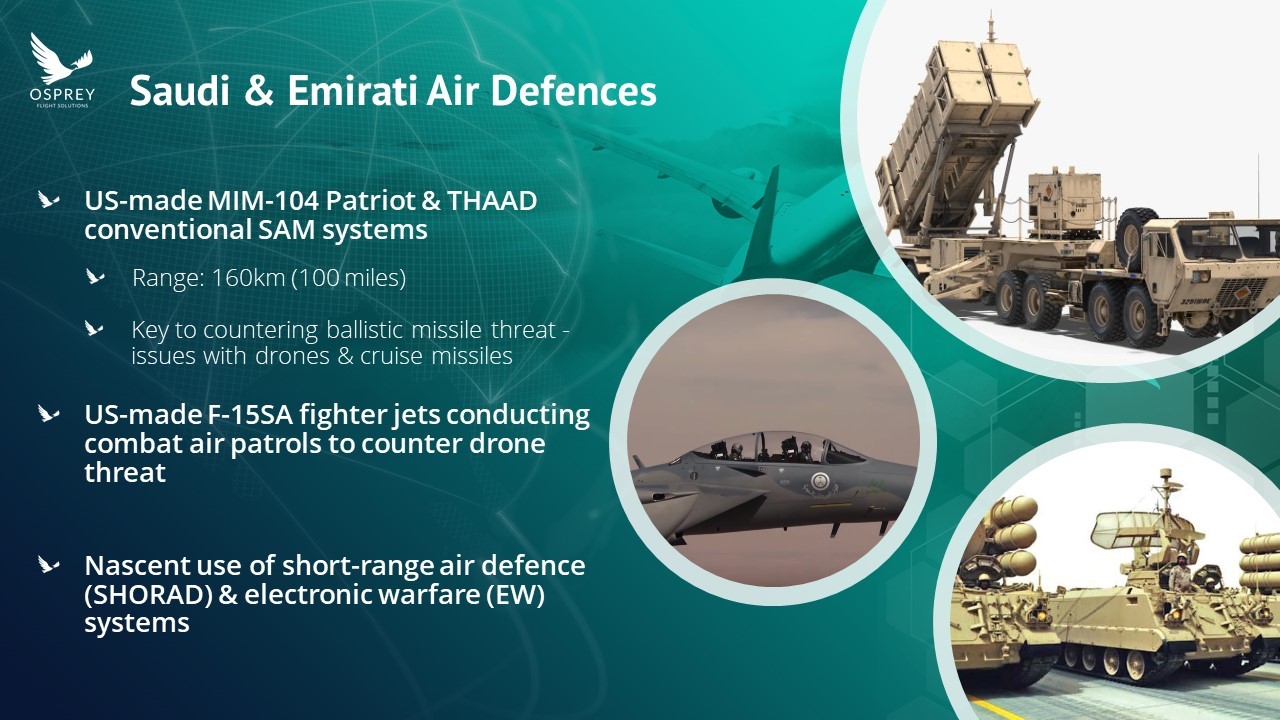 Outlook & Advice
SSM and drone attacks against airports and airbases in Saudi Arabia pose a direct threat to civil aviation both in the southwest of the kingdom as well as deep into the interior. Aircraft on the ground at installations – both military and civilian – face a credible risk of being damaged due to such attacks. The same applies for the UAE, though the frequency of Houthi attacks targeting the emirates is exponentially lower than the number targeting Saudi Arabia.  
Unannounced SSM and drone launches that transit airspace used by civilian aircraft pose a latent threat to operations at all altitudes. The country has a history of not issuing adequate notice of activities in its airspace that could affect flight safety. Multiple safety-of-flight concerns emanate from a situation in which an SSM or drone malfunctions during the boost, mid-course, or terminal phases of flight. Such an event would cause the missile or drone to fly an unplanned trajectory and altitude profile, which could expose overflying aircraft to mid-air collision, route diversion and/or debris splashdown issues. 
Saudi Arabia and the UAE have aggressive air intercept and shoot-down policies that allows air and air-defence forces to intercept and disable aerial targets violating airspace regulations. Military air and air-defence assets are routinely employed to down aerial targets under the auspices of the policy. While legal civil aviation flights are unlikely to be directly targeted, there remains a latent but credible risk of misidentification and interception by military air and air-defence assets.  

Continued SSM and additional drone launches by the Houthis and associated intercepts via Saudi military conventional SAM engagement, as well as fighter jet air-to-air weapon employment, are likely to occur multiple times weekly over the southwest provinces of Saudi Arabia for the foreseeable future. In addition, near-monthly SSM or drone attacks and associated intercepts near main urban centres located deep within the Saudi interior and/or the UAE are possible until a resolution to the Yemen conflict is reached. Attacks against targets linked to Israel and/or other countries linked to the SLC in the Gulf States by the Houthis are a credible outlier scenario and, while less likely to occur than the activity targeting Saudi Arabia, cannot be ruled out completely.  
Should flights be undertaken, Osprey recommends the following minimum risk mitigation measures in the airspace: 
Systemic risk assessment of each flight with automated threat intelligence integration;

 

Security and operational risk-based identification of pre-planned divert airports;

 

Defer diverting from flight plan except for ATC instruction or life-threatening situations;

 
Reliable and redundant communications with an established communications plan;

 

Fully coordinated and robust emergency response plan supplemented by asset tracking.

 
Regulatory Information
EASA, Canada, Germany and France have issued advice and direction to operators in the past year regarding flights within Saudi Arabia.
View our case study Houthi Drone and Missile Attacks in Saudi Arabia for further information on the situation.