Introduction
Unruly passengers on commercial flights are a global issue, and one which has been severely exacerbated over the last two years by new sets of stressors associated with the introduction – and frequent alteration – of COVID-19 rules and regulations. However, the extent and visibility of the issue in a particular country is dependent on a number of factors. These include the size of the nation's aviation industry and the speed of the industry's recovery from the pandemic, which together impact the number of flights and therefore passengers in the air, as well as the national regulator's ability to collect data and willingness to make this data publicly available. Given all these factors, the United States (US) has a sizeable, quantifiable, and very visible unruly passenger problem.  
In 2021, the US Federal Aviation Administration (FAA) recorded a significant increase in unruly passenger behaviour on board US flights, with 12 incidents per 10,000 flights recorded at the height of the crisis in January 2021. The high rates prompted the FAA to implement its "zero tolerance policy", which directs airlines to take legal, rather than simply administrative, enforcement action against "passengers who assault, threaten, intimidate, or interfere with a crewmember in the performance of a crewmember's duties". Under the policy, the FAA launched a total of 350 enforcement actions in 2021 and a further 126 between January 2022 and 21 March 2022, indicating an escalation in the agency's efforts to pursue action against unruly passengers. Despite rates significantly decreasing to 4.1 incidents per 10,000 flights in the week ending 13 March 2022, the head of the FAA, Steve Dickson, stated during a media interview on 25 March 2022 that the incident rates are still "too high", and the FAA's zero tolerance policy would therefore remain in place.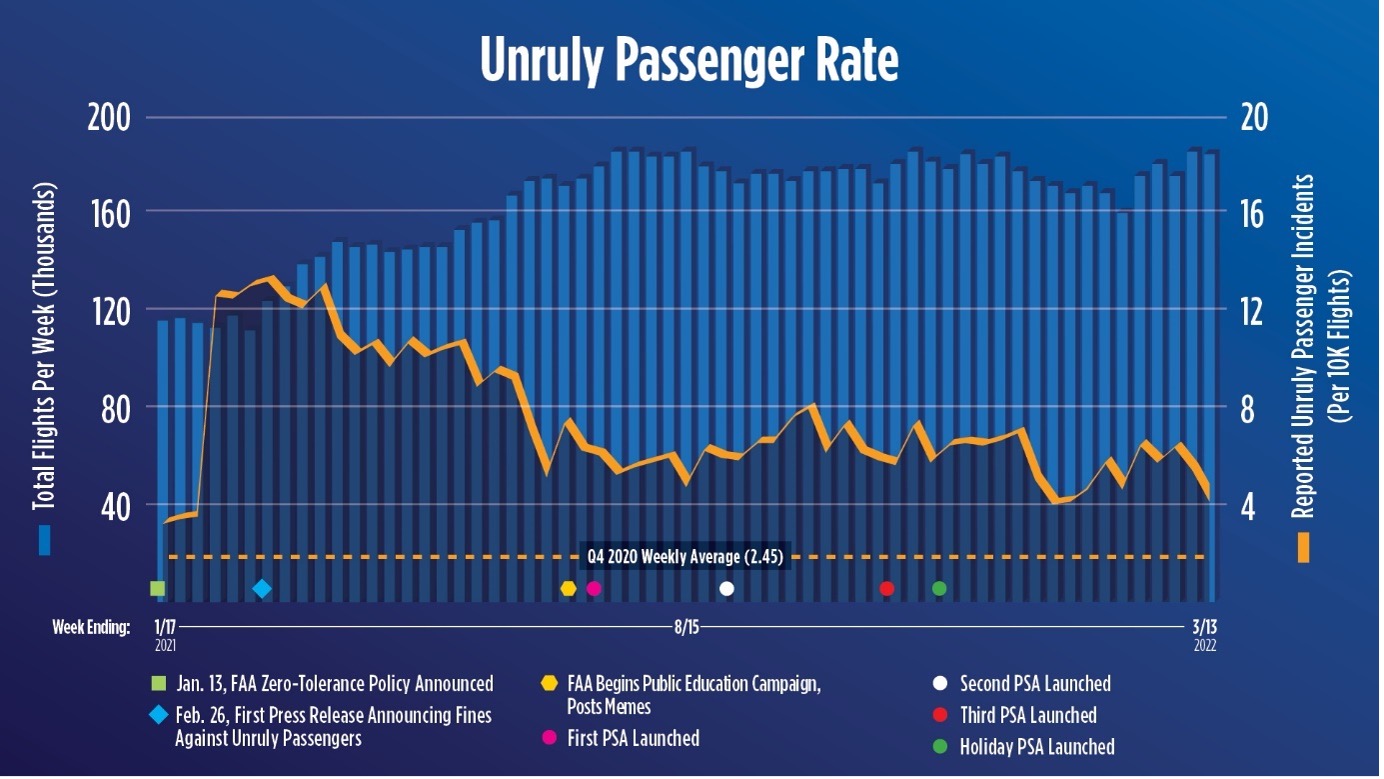 Airline Alcohol Suspensions and the Increase of "To-Go" Alcohol
Of the 5,981 reports received by the FAA in 2021, slightly more than three-quarters of total incidents (4,290) were recorded as being related to the wearing of face masks, although this had marginally decreased to around 66% by the end of the first quarter of 2022. Another major factor highlighted by airlines, regulators and flight attendant unions is passenger intoxication. In December 2021, the president of the Association of Flight Attendants, Sara Nelson, blamed this for fuelling passenger aggression related to the wearing of face masks.  
In response to the high numbers of unruly passenger incidents and the COVID-19 pandemic, many US airlines, including Southwest, American, Delta and United, suspended or reduced their inflight alcohol services, with Southwest and American extending their suspensions in line with extensions of the federal face mask mandate, which is due to expire on 18 April. Significantly, despite Southwest announcing on 20 May 2021 that it planned to gradually reinstate alcohol service in the summer, both Southwest and American further suspended alcohol sales a month later in the wake of a violent attack on a member of Southwest cabin crew that resulted in the flight attendant losing two teeth. 
However, amid the airline alcohol suspensions, the airlines reported a rise in passengers consuming alcohol they had brought on board – which is strictly prohibited by federal regulations – and, consequently, an increase in altercations between passengers consuming their own alcohol and crew attempting to stop them. Below are some examples of such incidents recorded by the Osprey system: 
Passengers determined to drink on their journeys despite the airlines' measures are known to obtain large quantities of alcohol from airside bars, restaurants and duty-free outlets. Most concerning, however, is the fact that some restaurants and bars offer alcohol in unmarked "to-go" cups, which passengers can conveniently bring onto flights unchallenged. In August 2021, amid an increase in unruly passenger incidents, FAA Administrator Dickson called upon airports to work with concession sellers to reduce passenger intoxication, including ending the practice of providing "to-go" alcohol. By September, a number of airlines, including Delta, JetBlue and American, had added reminders regarding the illegality of consuming alcohol not served by a member of crew to their inflight safety briefings. 
On 22 November 2021, the FAA issued a press release stating that around 300 unruly passenger incidents reported to the agency since 1 January 2021 were attributed to "alcohol and intoxication". Two days later, the agency stated that it had received a total of 5,338 reports of unruly passenger incidents since the same date. While it is unclear how this data is recorded – for example, whether an incident involving an intoxicated passenger refusing to wear a mask would be attributed to intoxication or the wearing of masks, or both – and it is unclear how this number compares with those from previous years, these figures suggest that approximately 6% of unruly passenger incidents between January and November 2021 were due to alcohol and intoxication. 
The Return of Alcohol Sales
On 17 March 2022, the last major US carrier with an alcohol suspension in place, American, announced that it would resume alcohol service from 18 April – the current  expiration date of the face mask mandate. Southwest's own 3 February announcement that it would resume alcohol sales on 16 February was met with outrage by Transport Workers Union Local 556, the union representing Southwest cabin crew, who deemed the move "both unsafe and irresponsible". 
Osprey's analysis of the unruly passenger crisis in the US, based on open-source data including the FAA's regularly updated unruly passenger figures, suggests that the resumption of in-flight alcohol sales could lead to an increase in unruly passenger behaviour on board flights. However, it may also remove the need for passengers to find an illicit "workaround" to suspensions, for example, by consuming alcohol they have brought on board. In addition to removing conflict associated with this activity, cabin crew control over the quantity of alcohol served to passengers will be reinstated, along with their ability to monitor passengers more effectively through increased contact and to refuse service to those proving problematic.  
Additionally, the lifting of the face mask mandate, whether that occurs on 18 April or later, is likely to have a significant impact on unruly passenger behaviour. However, while the frequency of such incidents is likely to decrease, the dynamics of incidents witnessed on flights will likely change. As cabin crew will no longer be required to enforce the wearing of masks, fewer passenger/crew conflicts are likely to occur, but with the wearing of face masks becoming a personal choice within a confined space, it is possible that more passenger/passenger conflicts will arise, and the serving of alcohol has the potential to exacerbate such tensions. On reinstating their alcohol service, an important revenue stream, operators must provide appropriate support to cabin crew, including through the provision of refresher training in conflict management and de-escalation, and by ensuring that crewmembers are in no way penalised for refusing to serve alcohol if they believe a situation has arisen on board in which doing so could impact on their safety or that of others on board. 
For further information on the unruly passenger crisis and how Osprey has supported operators, view our case study here.