Since November 2021, three flights from Casablanca to Istanbul have been disrupted by groups of Moroccan nationals forcing diversions to Spain in attempts to migrate to Europe.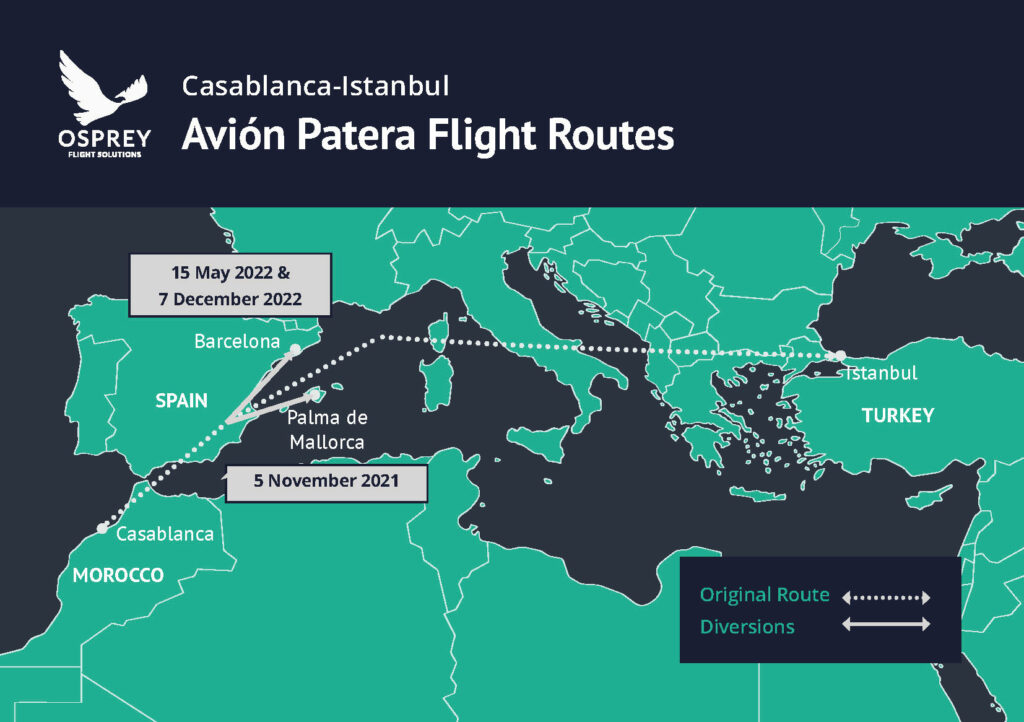 Irregular migration from Morocco to Southern European countries – via flights using fraudulent documentation as well as by small boat ('patera') across the Mediterranean – is a longstanding and significant issue, which Osprey Flight Solutions has been closely monitoring. However, a new and highly concerning modus operandi has emerged over the last year. Known as 'avión patera' after the boats used to carry migrants across the Mediterranean, the method involves groups of passengers engineering situations on board commercial flights in order to force diversions to Spanish airports. Upon landing, the groups storm the aircraft exit and flee onto the apron with the aim of entering Spain illegally. There have so far been three such attempts, all targeting flights from Casablanca's Mohammed V International Airport (GMMN/CMN), Morocco, to Istanbul's Sabiha Gökçen Airport (LTFJ/SAW), Turkey. The first flight on 5 November 2021 diverted to Palma de Mallorca Airport (LEPA/PMI) while the subsequent two flights, which occurred on 15 May and 7 December 2022, diverted to Barcelona Airport (LEBL/BCN). Shortly after each incident, Osprey issued alerts to clients, highlighting primary security concerns and providing in-depth analysis of the irregular migration method.
The First Incident: Palma de Mallorca
The first affected flight on 5 November 2021 diverted due to a passenger apparently experiencing a diabetic crisis. Two further passengers claiming to be doctors announced to the captain that the individual's condition was critical and that he would enter a coma state in 15 minutes. After landing, 21 passengers became disruptive and forced their way off the aircraft and onto the apron and runway area of the installation, prompting security officials to close the airport to air traffic for three hours, disrupting 81 flights.
At the hospital, the allegedly ill passenger was found to be in good health and discharged, with police arresting him for facilitating illegal immigration. Additionally, the two alleged doctors were found to have no medical training and were part of the plot to force the diversion. A further two migrants who were already residing in Mallorca were also arrested on suspicion of assisting the escape of three of the passengers.
The Second Incident: Barcelona
On 15 May 2022, a group of 13 passengers on a commercial flight on the same route attempted to force their way off the aircraft after it had diverted to Barcelona Airport due to a fight between two passengers. Reporting stated that Civil Guard officers met the aircraft upon its arrival and removed the two unruly passengers. However, shortly afterwards, a large group of passengers rose from their seats "screaming", forcing the officers to close the doors of the aircraft, preventing them from exiting.
The Third Incident: Barcelona
On 7 December 2022, a Casablanca-Istanbul flight diverted to Barcelona after a pregnant passenger feigned going into labour. Upon landing, the passenger was removed from the aircraft via an ambulift; meanwhile, a group of 28 passengers forced their way off the aircraft and onto the apron using stairs that were put in place for police access. While half of the passengers were detained by Spanish Civil Guard officers, the other half evaded capture. The woman who prompted the diversion – reported to be five months into her pregnancy – apparently claimed that her waters had broken during the flight. She was taken to hospital but arrested after it became apparent that she was not in labour. Unlike the first incident, this one did not disrupt operations at the airport due to the fact it occurred at approximately 0430 local time when there was minimal traffic.
A Safer and Cheaper Alternative
This modus operandi may be preferable to other forms of irregular migration for two distinct reasons. First, it is cheaper than using the services of migrant smugglers. Smugglers are known to charge around USD 7,000 to facilitate the transportation of migrants by air via the use of forged documentation and/or insider connections. Meanwhile, avión patera incidents are believed to have been arranged by the migrants themselves over social media. They may be conducted without the use of a traditional migrant-smuggling network and only require individuals to purchase a flight to Turkey (on average under USD 250). Flights to Turkey from Morocco are likely being targeted due to the fact that Moroccan nationals are not required to obtain visas to enter Turkey; the method therefore does not require migrants to purchase expensive fraudulent documentation.
In addition to being cheaper, this method is also safer than others. According to Spanish migration NGO Caminando Fronteras, 4,404 migrants, including 205 children, died or were lost at sea attempting to reach Spain via patera in 2021. Additionally, the distinction between migrant smuggling and human trafficking often becomes obscured, with many smuggled migrants becoming victims of modern-day slavery, forced prostitution and drug trafficking.
Conclusion
It is unclear at this stage why only flights from Casablanca to Istanbul have been targeted; however, this is likely due to a combination of factors, including the flight paths of such flights, visa requirements and ticket prices. Operators of flights from Morocco to Turkey should ensure crews are aware of this new irregular migration modus operandi. While there have been no reports of injuries to crew or other passengers resulting from individuals attempting to exit aircraft during these incidents, this is a significant concern, and the use of violence is a possibility in future. Incidents have thus far been conducted at intervals of approximately six months. Osprey will continue to monitor irregular migration from Morocco and alert our clients to any further avión patera and other significant irregular migration incidents.