In 2022, there were several incidents involving passengers sending threatening messages (including bomb threats) on flights using Apple's AirDrop, leading to significant disruption.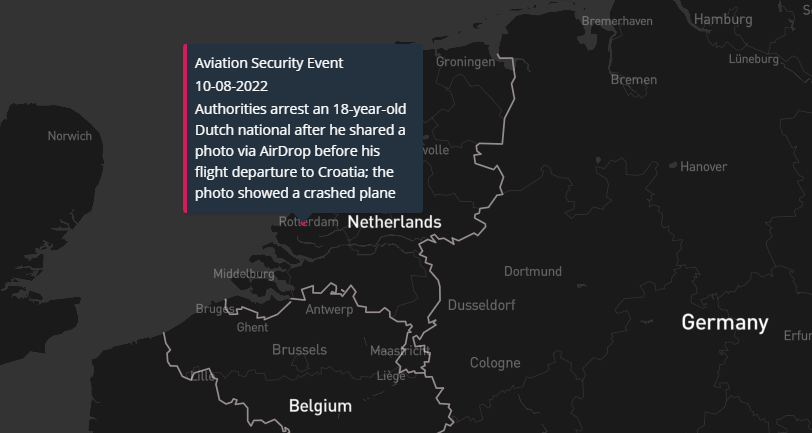 Background
AirDrop, a wireless file-sharing facility, was launched by Apple more than 11 years ago, and it has made file sharing between Apple device users quick and easy. However, since its launch, there have been numerous occurrences of the facility being used by passengers to share files on board commercial flights. These have varied from humorous images and memes to sinister messages, including bomb threats. Videos of passengers sharing files have also gone viral on social media platforms in recent years, and may have even served to inspire further incidents. The phenomenon of bomb hoaxes is not new to the aviation industry, and such incidents can result in significant disruption to flight operations as well as panic and fear among passengers.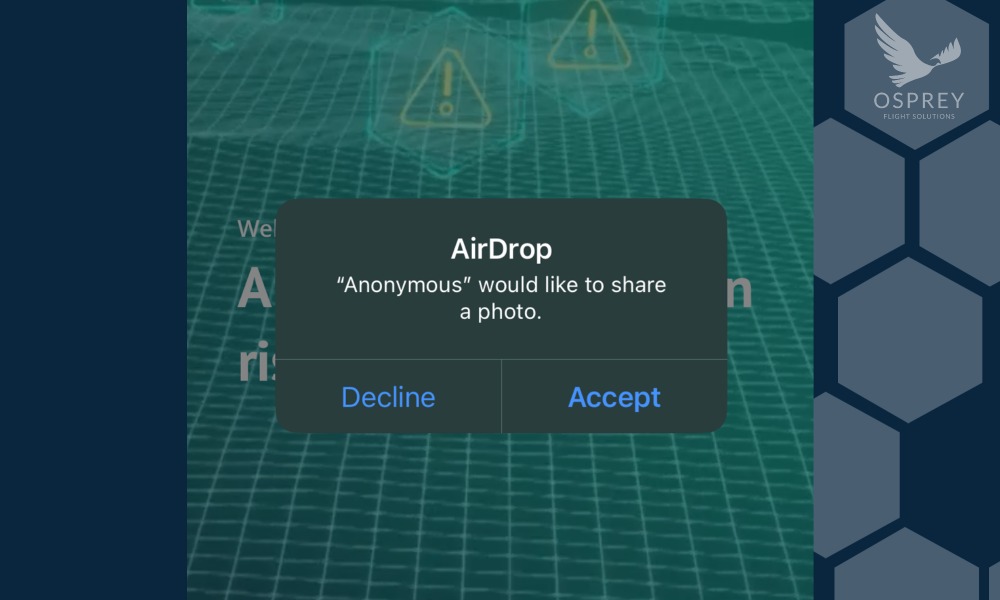 What is AirDrop?
AirDrop is a facility that allows an Apple device user to wirelessly send files, including photos and videos, to other Apple devices that are within a range of approximately 9m (c.30 feet), connected to Wi-Fi and have Bluetooth enabled. However, users can choose via their settings whether they can receive files from everyone or contacts only, or turn receiving off completely. Recipients of files receive a notification on their device along with an option to accept or decline the file transfer.
AirDrop incidents affecting aviation
Since the start of 2022, Osprey Flight Solutions has recorded at least eight incidents involving the use of AirDrop to send threatening messages on commercial passenger flights and has issued four alerts. These incidents have occurred in the United States (US), the United Kingdom (UK), the Netherlands, Spain and the Dominican Republic, and have resulted in delayed departures, cancellations, and aircraft being met by law enforcement at their destination. The following are examples that have occurred in the first ten months of the year:
6 March: A US domestic flight that had arrived at Orlando (KMCO/MCO), Florida, from Seattle (KSEA/SEA), Washington, parked in a remote location and was met by police after a 10-year-old passenger used AirDrop to send a threatening message to a fellow passenger.
10 May: A flight from Tel Aviv (LLBG/TLV), Israel, to Istanbul (LTFJ/SAW), Turkey, was delayed by almost six hours after the aircraft returned to the gate prior to take-off as passengers received images depicting aircraft crashes on their mobiles via AirDrop. Nine passengers were arrested by the police.
10 August: The departure of a flight from Rotterdam (EHRD/RTM) in the Netherlands to Zadar (LDZD/ZAD), Croatia, was delayed by approximately 20 minutes after crew and passengers were sent an image of a crashed aircraft. An 18-year-old Dutch national was arrested and has since been banned from flying with the airline for five years.
19 October: A flight from the UK's London Stansted (EGSS/STN) to Amsterdam (EHAM/AMS) in the Netherlands was forced to move to a remote and secure part of the airport prior to departure after passengers received threatening messages, including a bomb threat, via AirDrop. Armed police boarded the aircraft and removed three passengers.
The motivation for sending the threatening messages is not known in any of the incidents; however, there has been no indication of any actual nefarious intent on the part of the alleged perpetrators. In the bomb hoax on 19 October, unconfirmed reporting indicated that it resulted from a 'joke'. Additionally, while no direct threat was apparently posed to aviation, the incidents highlight the potentially significant impacts of large-scale panic amongst passengers. During times of panic, cabin crew and security personnel may be severely limited in their ability to act efficiently and effectively. For this reason, large-scale panic could be deliberately incited as a distraction by those wishing to conduct attacks against aviation.
Cyberflashing
In addition to sending threatening messages via AirDrop, the feature has also been used to send sexual content whilst onboard flights – an act referred to as "cyberflashing" – which can be equally distressing for passengers. According to media reporting, on 11 September, a 35-year-old male was arrested at Germany's Munich Airport (EDDM/MUC) after he sent an explicit image via AirDrop to a member of cabin crew during a flight from Portugal. In August, a video was posted to TikTok, garnering more than 3.3 million views, in which a pilot is heard making an announcement to passengers prior to take-off, declaring that he would return the aircraft to the gate if someone did not stop sharing "naked pictures" via AirDrop.
Outlook
The use of AirDrop to send threatening and/or inappropriate messages on board aircraft, as well as potentially in the airport environment, are likely to persist. The dissemination of videos of such incidents on social media also increases the potential for 'copycat' incidents. The nature of AirDrop means large numbers of people within a small space may be messaged instantly and easily with relative anonymity. Additionally, media reporting on AirDrop incidents affecting civil aviation has highlighted various issues with policing the use of the sharing feature. Its ease of use and ubiquitous nature may also suggest that messages sent in this manner may not be taken as seriously as those delivered verbally or via other methods, and therefore such hoax threats may not be perceived as having serious consequences. However, media reports highlighting the law enforcement response to such threats may serve to deter similar incidents. Osprey will continue to monitor reports of aviation security incidents involving the use of Airdrop and other novel technologies, and provide our clients with relevant data and advice.