Background
From 20-25 July, British Airways enacted a six day unilateral suspension of flights at Cairo International Airport (HECA/CAI). The airline stated that the flight suspension was enacted "as a precaution to allow for further assessment" following a review of "security arrangements". On 21 July, a UK media report claimed an unnamed "aviation source" had indicated that a specific threat to a British Airways aircraft had led to the suspension of the airline's flights at Cairo International Airport. Lufthansa also suspended its flights for a 24-hour period from 20-21 July. There were clear indicators that a significant aviation security event was a strong possibility.
Data Analysis
Osprey analysis indicates there was a monthly average of 12 aviation security, safety and criminal incidents at Cairo International Airport during the first six months of 2019; compared to an average of 6 incidents per month from June-December 2018. This indicates a documented change in the aviation operating environment at the installation regardless of the specific reason for the British Airways flight suspension at Cairo International Airport.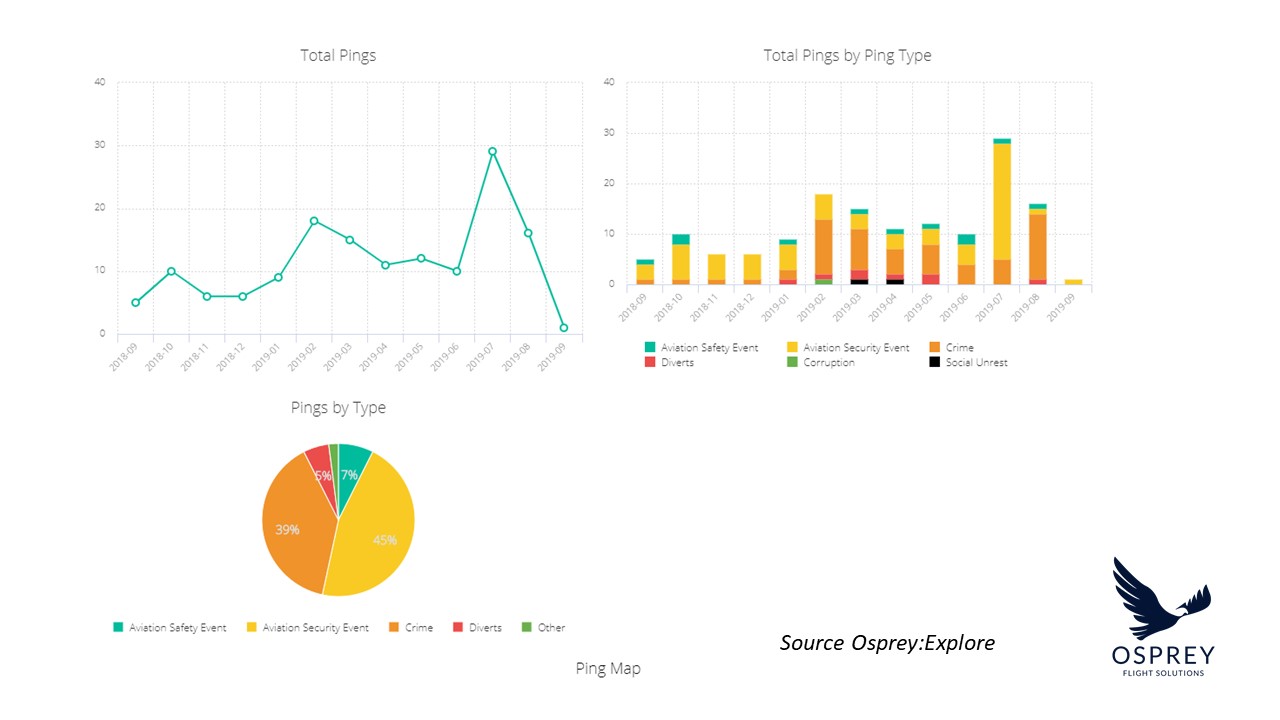 Look Forward
While it is not possible to verify the claims made by the various unnamed sources to media outlets, they suggest the possibility of the existence of intelligence reporting indicating a security threat specific to British Airways; or a UK-linked aircraft, at Cairo International Airport. The credibility of the threat is impossible to ascertain, but it has been given sufficient credence to cause the suspension of flights from 20-25 July. The historic nature of the militant threat posed to aviation within the country is exemplified by the 31 October 2015 downing of a Russian passenger airliner by the Egyptian affiliate of the extremist Islamic State, using a concealed improvised explosive device (IED), shortly after takeoff from Sharm El Sheikh International Airport (HESH/SSH).
Following the October 2015 attack, numerous countries stopped passenger flights and air cargo shipments from/to Sharm El Sheikh or Egypt as a whole, citing concerns over airport security. Regular inspections of Egyptian airports continue, most recently including a TSA security audit of Cairo International Airport in mid December 2018. This activity, along with the introduction of additional security measures, as well as continuing efforts by governments to mitigate the threat from concealed IEDs being used on board aircraft, have led to the resumption of some services to/from Egypt. Operators are advised to review internal and external mechanisms for suspicious activity reporting. Any revisions to processes should account for random anti-terrorism measures, behavioural analysis detection, advance passenger information sharing, enhanced cargo screening protocols and insider threat mitigation provisions.
Takeaway
Looking at Cairo, there was a clear increase in operational incidents, mainly aviation security and crime related, in the run up to and immediately prior to a significant security event (in this case the British Airways flight suspension) that highlighted the operational environment at the airport had changed.