Overview
Osprey Flight Solutions has been monitoring the cocaine-trafficking route by air between mainland France and its overseas departments, including French Guiana and Reunion, and has issued several alerts to support the aviation industry and assist in mitigating the potential impacts of this activity at airports.

Global drug seizures at airports have increased since 2021 as international travel has gradually resumed following the easing of pandemic-related restrictions, including between France and its overseas departments. The route between Cayenne Felix-Eboue Airport (SOCA/CAY) in French Guiana and Paris–Orly has become a popular route for the trafficking of cocaine from the main producers in South America (Colombia, Bolivia, and Peru). In March 2019, the customs authorities in France and French Guiana began enforcing an 'operational policy' called the 'mules plan' (mules are defined as passengers who are paid or coerced into carrying illegal substances) to increase their capacity to counter smugglers, particularly at airports; this has been extended on at least three occasions. However, drug trafficking has also affected aviation facilities in the French Antilles (Guadeloupe and Martinique) since the end of the 1980s, and overseas departments in the Indian Ocean, including Reunion and Mayotte. 
Recent seizu

res

& network disruption

highlight

resurgent problem
Antilles and French Guiana
In April, Osprey issued an alert highlighting the dismantling of a drug-trafficking network, which used mules to smuggle cocaine between Kourou in French Guiana and Montpellier in mainland France. Another alert in February, highlighted that French customs at Paris' three airports – Roissy-Charles de Gaulle (LFPG/CDG), Paris-Orly (LFPO/ORY) and Paris-Le Bourget (LFPB/LBG) – seized 89% and 64% more drugs in 2021 from passengers and cargo compared to 2020 and 2019, respectively. Cocaine seizures increased by 42% year-on-year, prompting authorities to increase interagency action to tackle mules from French Guiana and curb drug trafficking overall. Around 20% of all cocaine entering France is trafficked from Cayenne to Paris-Orly, according to a study from 2020. The findings also suggested that there are usually eight to ten mules on each flight between the airports, each transporting approximately 1.9kg of cocaine. Of the cocaine seizures from Paris-Orly, 40% were detected in luggage, 30% were ingested and another 30% were concealed on the body. 
In addition, at least one-fifth of cocaine seizures conducted at Paris ports of entry (air and maritime) originated from Guadeloupe and Martinique. However, the cocaine-trafficking route between Cayenne and Paris airports, especially Paris-Orly, is significantly more popular: 20 to 30 times more drugs are smuggled through Cayenne Airport via passengers than through Martinique Aime Cesaire International Airport (TFFF/FDF) and Guadeloupe's Pointe-a-Pitre International Airport (TFFR/PTP) combined. 
Indian Ocean
Customs authorities in Reunion and Mayotte have also reported the regular arrival of mules transporting cocaine by air from Paris. Other drugs are also smuggled following the same route, including MDMA/ecstasy, primarily via passengers or airmail. In March, Osprey issued an alert after customs officials at Roland Garros Airport (FMEE/RUN), serving Reunion's capital, Saint-Denis, made two drug seizures from passengers who had departed from mainland France on separate occasions since February. Osprey data also showed that regular drug seizures had been made in recent months, highlighting the Paris to Saint-Denis trafficking route. National media previously highlighted in 2019 that customs officials at Saint-Denis Airport had faced an increase in drug mules from Paris since 2018.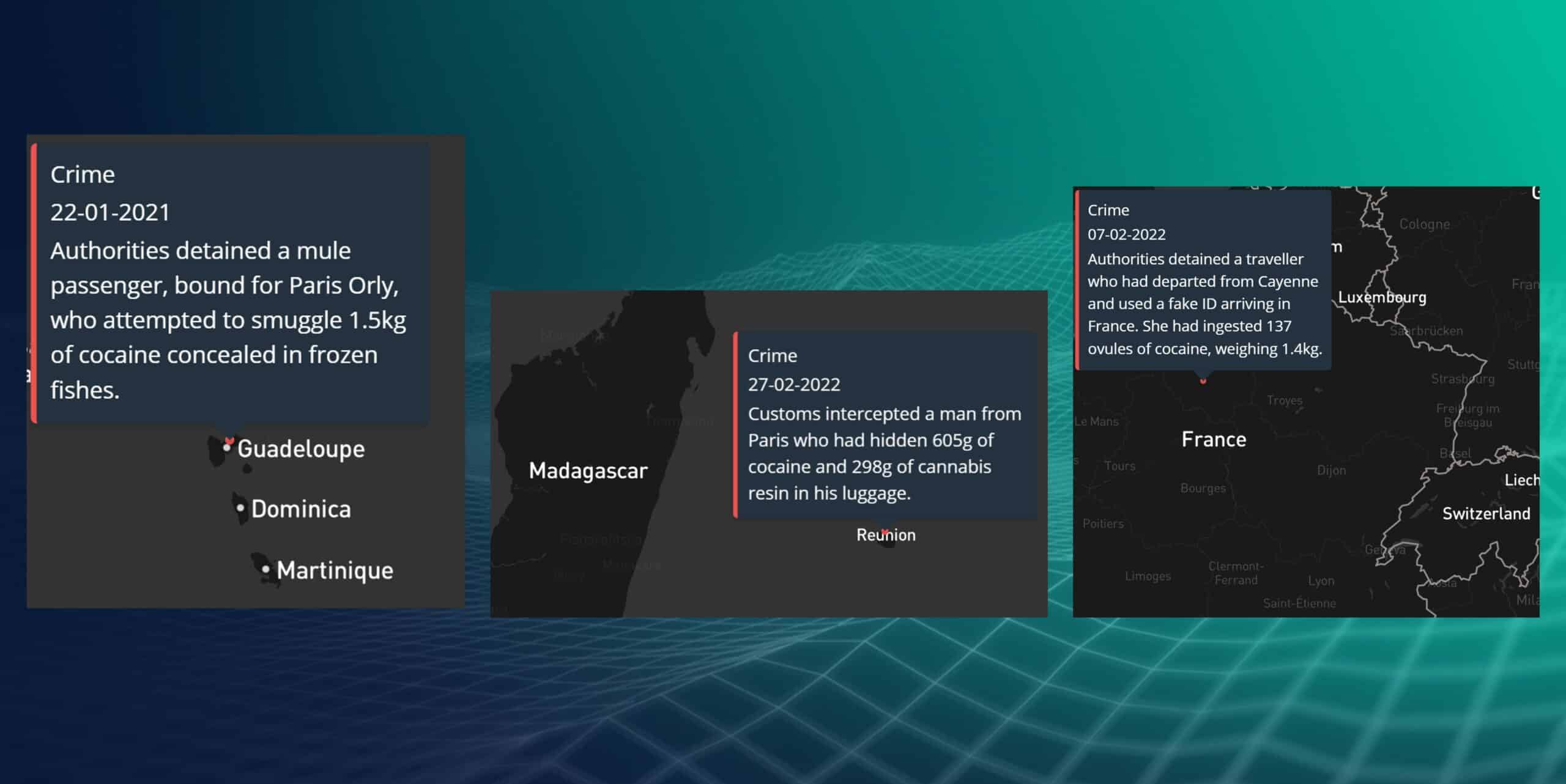 Hidden Drugs
As evidenced by Osprey 'pings' – incidents recorded in the Osprey system – drug mules using these routes are known to smuggle narcotics by a variety of methods, including under a false bottom in their luggage or among other items in their bags, by taping them to their body, concealing them under/in their clothes, or by ingesting small packages of the drugs prior to travel. Aircrew members are also believed to have facilitated the trafficking. Of note, in May 2016, authorities arrested two Air France flight attendants on suspicion of drug trafficking from Pointe-a-Pitre Airport and Paris-Orly. Drugs can also be concealed in express freight or postal shipments, often hidden in food, craft and cosmetics products, among others. 
Outlook
While the increase in drug seizures across Paris airports during 2021 could reflect improved detection capabilities on the part of customs officials, the increase in recorded seizures conforms to global trends and the increased demand for illicit substances. Similarly, in 2021, customs authorities in French Guiana seized 10% more cocaine (1,260kg) than the previous year, of which over 25% was seized from express and postal freight; the first quarter of 2022 has already seen 320kg of cocaine seized. Osprey clients have benefited from alerts highlighting the resurgence in trafficking activity on specific flight routes between mainland France and its overseas departments in recent months, since confirmed by official figures. As COVID-19 pandemic-related travel restrictions continue to ease, drug-trafficking syndicates will continue to transport narcotics via mules or using airmail worldwide, including between France and its overseas departments as more flights resume and frequencies increase between these locations. Osprey will continue to monitor drug trafficking on these routings closely, providing up-to-date, detailed data, analysis and advice through Osprey:Explore and our alerts.