Background
Opportunistic crime in Colombia, such as express kidnappings and 'follow-home robberies', have recently affected not only nationals but also aviation operators and foreign travellers, posing a risk to transiting flight crews. Such incidents are commonly perpetrated by at least two armed criminals, travelling on a motorcycle, who target travellers heading to their accommodation from the airport using either a private rented vehicle or taxi services.  
'Follow-home' robberies have primarily affected high-profile foreigners after they land at Barranquilla's Ernesto Cortissoz International Airport (SKBQ/BAQ) and, to a lesser extent, at Medellin's Jose Maria Cordova International Airport (SKRG/MDE). The targeting of wealthy individuals suggests that criminals are present within the airports' perimeters and profile their victims as they exit the terminal.  
Osprey Flight Solutions has collected data and issued alerts on significant incidents that have affected inbound foreign travellers and aircrew, including US pilots, to support the aviation industry and mitigate the potential impacts from criminal activity near airports.  
Impacts of criminal activity at Colombia's airports
Criminal activity impacting aviation in Colombia persisted throughout the global COVID-19 pandemic; however, levels increased steadily in 2021, surpassing pre-pandemic statistics, as demonstrated by the Osprey:Explore chart below. 

Inbound Travellers
Although Bogota's El Dorado International Airport (SKBO/BOG) has the highest levels of crime – primarily consisting of narcotics smuggling attempts – recent 'follow-home' robberies have mostly targeted inbound foreign travellers landing at Barranquilla's Ernesto Cortissoz International Airport. Open-source intelligence suggests that at least four cases have occurred since November, affecting high-profile victims travelling from the airport to their accommodation. The criminals involved in all incidents appear to be motivated by financial gain and targeted individuals with Rolex watches. Osprey issued three alerts in February and March relating to 'follow-home' robberies, which also affected travellers who had landed at Medellin's Jose Maria Cordova International Airport.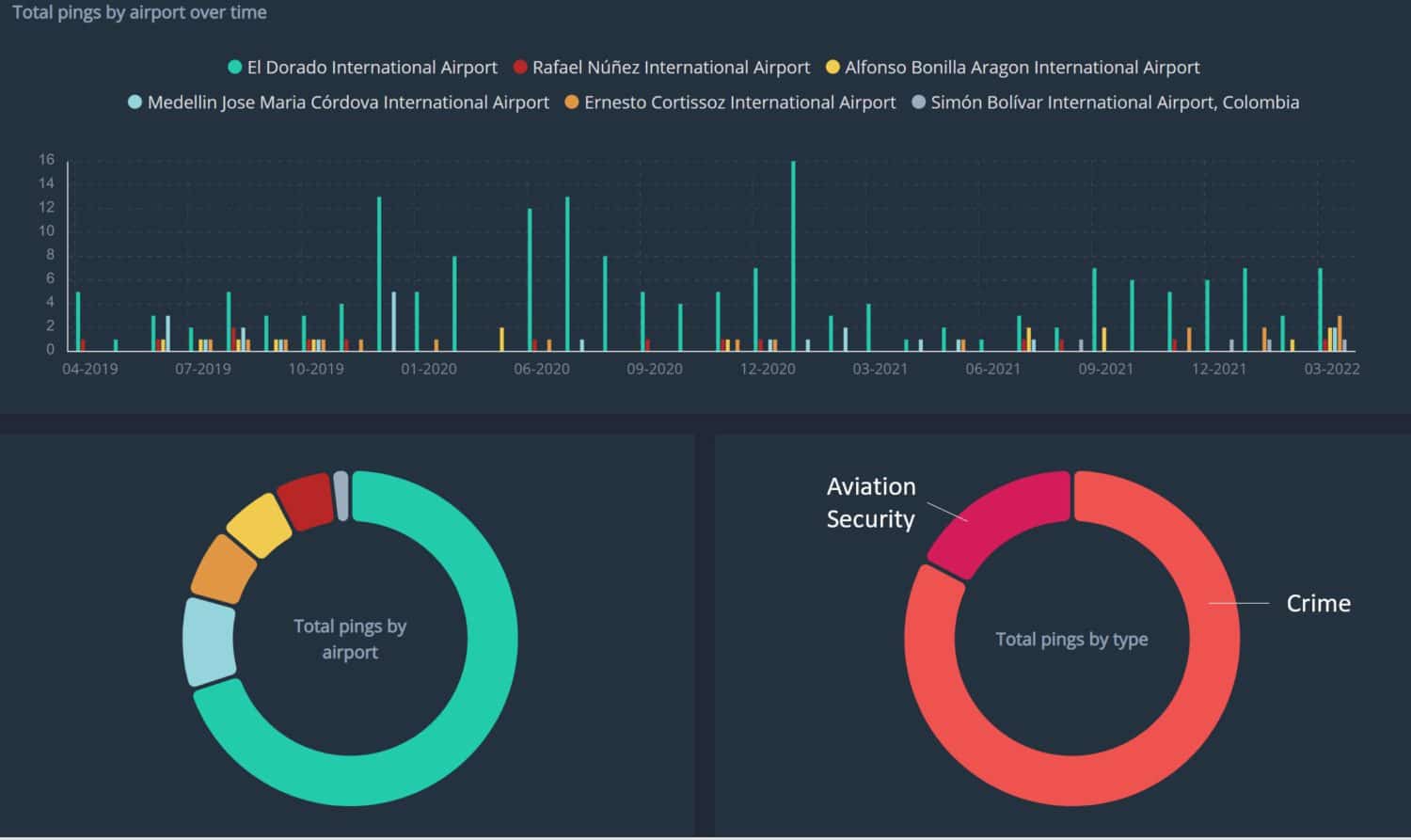 Osprey issued a further alert regarding a separate case in February, when a fake taxi driver reportedly abducted, drugged, robbed and abandoned three Colombian nationals on a beach after picking them up at Simon Bolivar International Airport (SKSM/SMR), serving Santa Marta.  
Aircrew
In March, Osprey released another alert highlighting the increase in 'follow-home' robberies impacting the aviation industry after two US pilots were shot in separate incidents in Bogota and Cali. According to media reports, both shootings occurred during aircrew layovers. In the first case, on 22 March, a US airline pilot and union official was shot during a robbery while en route from Bogota's El Dorado International Airport to his hotel, the Dann Carlton. Two criminals on a motorcycle reportedly approached his vehicle while he was on the road to the hotel, which is located c.16km (10 miles) from the airport.  
A second incident reportedly occurred in Cali in the same week, when another US commercial airline pilot was also shot in an attempted robbery near his hotel. However, it is unclear whether the pilot was en route from Cali's Alfonso Bonilla Aragón International Airport (SKCL/CLO). 
Conclusion
Documented high rates of crime, including violent criminal activity and/or organised crime, in the surrounding areas of international airports in main urban centres of Colombia have the potential to negatively impact transiting flight crews. Of note, according to the latest citizen survey regarding security concerns in 2021 conducted by Colombia's National Administrative Department of Statistics (DANE), 44% of the surveyed adults felt unsafe in their city, this surpassed 2019 levels by 0.3%. These results are primarily explained by increasing robberies, assaults and a lack of security forces presence across main urban centres.  
As international travel restrictions continue to ease, increasing tourism in Colombia will create more opportunities for criminals to target foreign travellers and aircrew. Criminals are likely to be armed, and aviation operators should consider providing pre-flight personnel security awareness training for aircrew. Osprey will continue to monitor levels of crime impacting aviation in Colombia and provide up-to-date, detailed information and advice through our alerts and Osprey:Open.