Introduction
There remains ongoing uncertainty in Myanmar in the wake of a military coup on 1 February. Martial law and a night-time curfew have been imposed in some parts of the country with violent social unrest occurring in the main urban centres of Yangon, Mandalay and Naypyitaw. Osprey Flight Solutions issued seven alerts over February and March related to the violent social unrest and the deteriorating aviation operating environment.
As illustrated by the Osprey:Explore chart below, between February and April there has been a significant increase in armed clashes between the Myanmar military (Tatmadaw) and ethnic rebel violent non-state actor (VNSA) groups in the states of Shan, Kachin, Chin, Karen and Mandalay. Osprey Flight Solutions issued an alert in early April outlining the increased armed clashes and the increased likelihood of surface-to-air fire engagements against Myanmar military air assets over areas of heightened ethnic rebel VNSA group activity.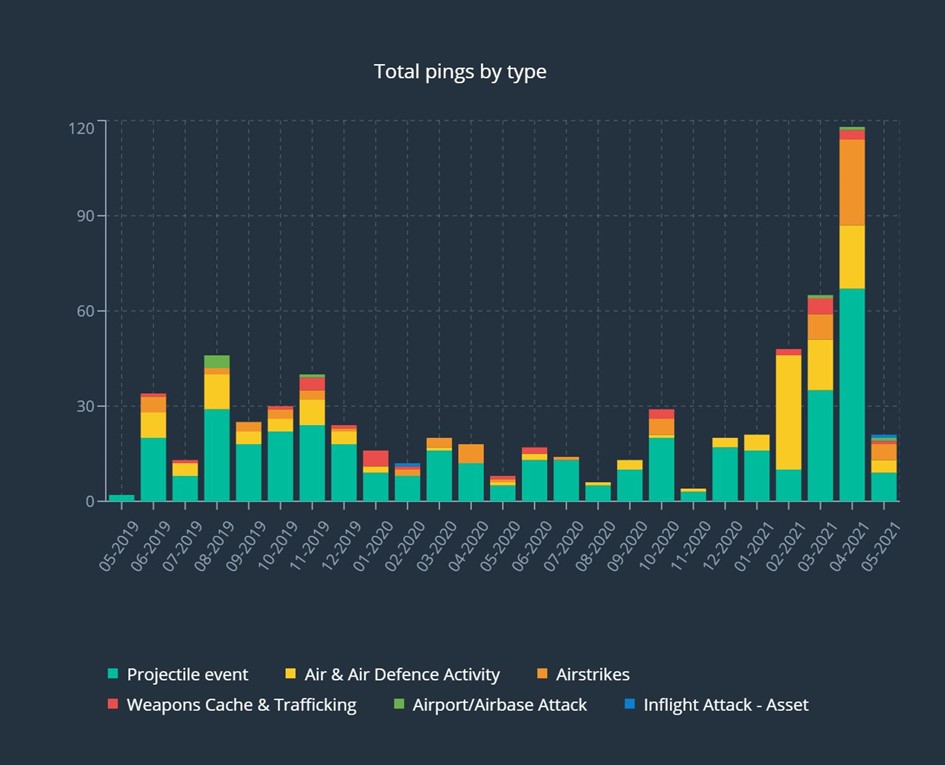 Several VNSA factions reportedly involved in the above armed clashes with the Tatmadaw maintain close links to United Wa State Army (UWSA) ethnic rebel group, including the Kachin Independence Army (KIA). The UWSA acts as the acknowledged leader of a coalition of ethnic rebel VNSA groups in Shan, Kachin, Karen and Rakhine states that have rejected the Nationwide Ceasefire Agreement (NCA) with the Myanmar government.
Background
The most prevalent threat to aviation in Myanmar over areas of heightened ethnic rebel VNSA group activity below FL100 stems from unguided anti-tank weapons, rocket-propelled grenades and low-calibre anti-aircraft artillery. The UWSA has long been assessed to be in possession of man-portable air-defence systems (MANPADS), dating back over two decades. During mid-April 2019, the UWSA displayed portions of its FN-6 MANPADS arsenal during a commemorative parade. Reporting from 2014 indicates that the UWSA obtained a 'large number' of FN-6 MANPADS. Indian military reporting from August 2017 and June 2013 indicates that the UWSA obtained a small quantity of Chinese-made QW-1 MANPADS. UWSA possession of Russian-made 9K32 Strela-2 (SA-7 GRAIL) and Chinese-made HN-5 series MANPADS has been documented as far back as 2001. According to the US FAA, the most capable variants of MANPADS can be effective up to 25,000 feet AGL.
Analysis
On 3 May, the KIA claimed to have shot down a Tatmadaw Russian-made Mi-35 military helicopter over Momauk, Kachin State. Video footage of the alleged shoot-down indicates that a MANPADS of unspecified variant was employed; however, the Tatmadaw has yet to publicly comment on the incident. Osprey issued a critical alert in the immediate aftermath of the purported MANPADS engagement.
The KIA was not previously known to possess MANPADS, though the 3 May claimed shoot-down of a Tatmadaw helicopter, coupled with the available footage, indicates the KIA has acquired such weapons; however, the variant and quantity remain unclear. There have been several prior indications since 2016 that UWSA allied groups have obtained MANPADS in Myanmar:
On 23 November 2019, the Tatmadaw recovered multiple large weapons caches in Shan State from Ta'ang National Liberation Army (TNLA) ethnic rebels, who are allied with the UWSA and KIA. Included within the weapons caches was a Chinese-made FN-6 MANPADS.
During April 2018 & May 2020, reporting emerged that the UWSA & KIA-allied Arakan Army (AA) had acquired FN-6 MANPADS.
On 4 December 2016, non-NCA ethnic rebels with links to the UWSA claimed to have downed a Tatmadaw A-5 combat aircraft via MANPADS engagement over Shan State.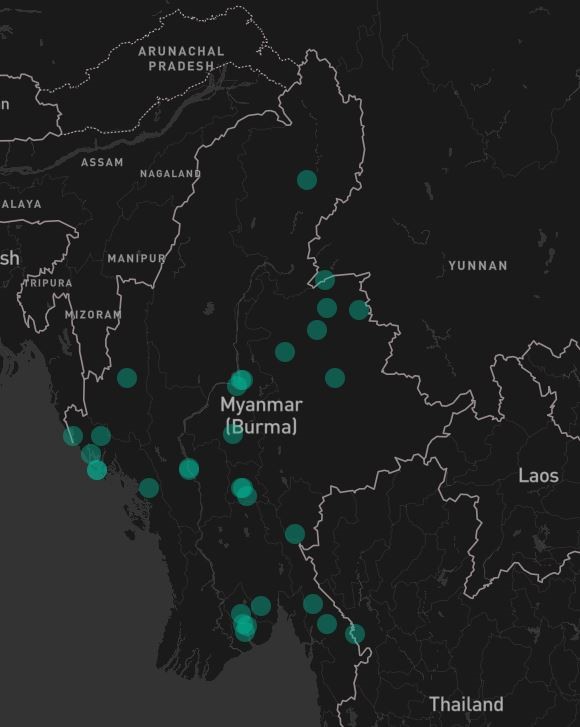 Outlook
Aerial operations by the Myanmar armed forces increase the likelihood of attempted surface-to-air fire engagements by ethnic rebel VNSA groups predominantly targeting military-grade air assets below FL260, as well as armed attacks against fortified installations with aviation infrastructure, as a means of retaliation against the Tatmadaw. The threat of asymmetric targeting of armed forces' aviation installations, airbases and airports with Tatmadaw infrastructure, along with military and government-aligned civilian aircraft at low altitudes in the country as a whole in the medium term remains credible. Airports with Tatmadaw infrastructure, airbases and government-aligned air assets at low altitudes in areas of heightened ethnic rebel VNSA group activity will remain vulnerable due to the high-impact nature of such attacks.