Background
Since November 2020, Osprey Flight Solutions' analysis team has issued over 30 alerts on the airspace operating environment over Ethiopia. Significantly, using Osprey:Explore, our analysts have identified a notable change in the threat to aviation within FIR Addis Ababa (HAAA) during the past month. Since the start of October, Ethiopian regional militia forces – supported by Ethiopian National Defence Force (ENDF) military drone operations – have continued an offensive against the Tigrayan People's Liberation Front (TPLF) violent non-state actor (VNSA) group in northern Amhara region near the border with Tigray region. Ethiopian regional militia forces in Amhara had pledged to maintain control of territory in southern and western Tigray, which they have occupied since late 2020. In addition, regional militias from Ethiopia's Oromia, Sidama, Afar, Benishangul-Gumuz, Somali, Gambella, Harari and Southern Nations regions were dispatched in late July to join the Amhara units in support of operations in/near Tigray.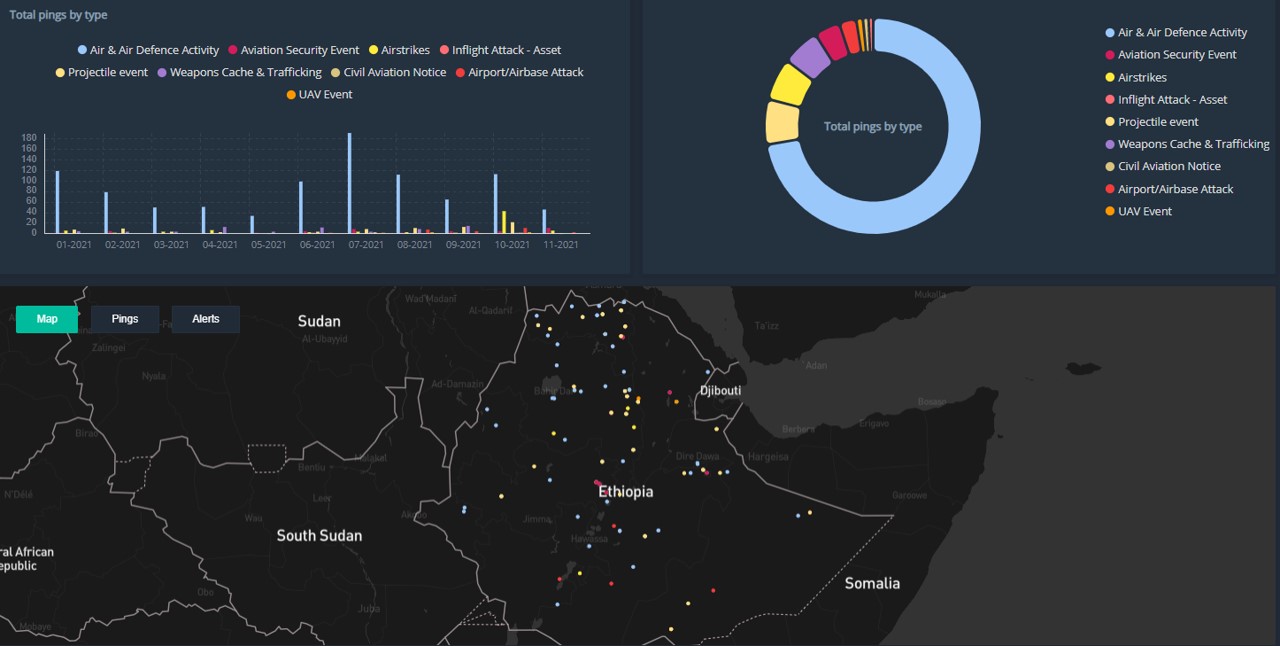 Despite the above, the TPLF blunted the offensive of the ENDF and its aligned militias, and the Tigrayan rebel group has claimed control of Dessie and Kombolcha in Amhara region. In the wake of the TPLF gains, Ethiopian state media reported on 2 November that the country's council of ministers had declared a nationwide state of emergency. This followed an announcement on 1 November by the Amhara Regional State Council regarding new region–wide emergency measures, including general mobilisation and collection of weapons for the war effort against the TPLF in northern Ethiopia. Also on 1 November, the TPLF announced it had joined forces with the Oromia Liberation Army (OLA) VNSA group, and the rebel factions are now reportedly coordinating actions against the ENDF and its aligned militias in Ethiopia. The security situation in northern Ethiopia therefore remains fluid and subject to rapid change. 
Osprey published an article in February 2021 and another in July 2021 on the Tigray conflict and its impact on airspace safety and security in FIR Addis Ababa (HAAA). 
Regulatory & Risk Changes
On 27 October, an Ethiopian NOTAM prohibiting the use of airspace at or below FL290 in the Mekele TMA (terminal control area) and a specified area in the far northwest of the country bordering Sudanese and Eritrean airspace (FIR Khartoum (HSSS) and FIR Asmara (HHAA)) expired (NOTAM HAAA A0222/21). This effectively covered almost the entirety of the airspace over Tigray up to FL290. The restrictions have now been transferred to a supplement to Ethiopia's AIP. Previously, in 2020, the Tigray Region of FIR Addis Ababa (HAAA) was closed to overflights from 4 November through 14 December.
Osprey's open-source data gathering, analytics and analysis capability promptly identified a continued risk to aviation via an increase in conflict zone activity in the region, and the team issued a series of alerts containing detailed, up-to-date information and advice.
On 15 and 20 October, Germany and the UK, respectively, issued NOTAMs for portions of FIR Addis Ababa (HAAA) covering northern Ethiopian airspace stemming from the potentially hazardous situation due to heightened military activity and dedicated anti-aviation weaponry (EDGG B1393/21 & EGTT V0025/21).d by leading civil aviation governing bodies, Osprey has raised its airspace risk rating for northern FIR Addis Ababa on several occasions since the start of the Tigray conflict:
On 4 November

 2020

, Osprey raised its airspace risk ratings for northern FIR Addis Ababa (HAAA) to HIGH at all altitudes.

 

On 

29 June

, Osprey raised its airspace risk ratings for northern FIR Addis Ababa (HAAA) to 

EXTREME 

at all altitudes.

 

On 2 November, Osprey raised its airspace risk ratings for portions of Amhara and Afar regions of northern Ethiopia in FIR Addis Ababa (HAAA) to 

HIGH 

up to FL260 and MODERATE above FL260.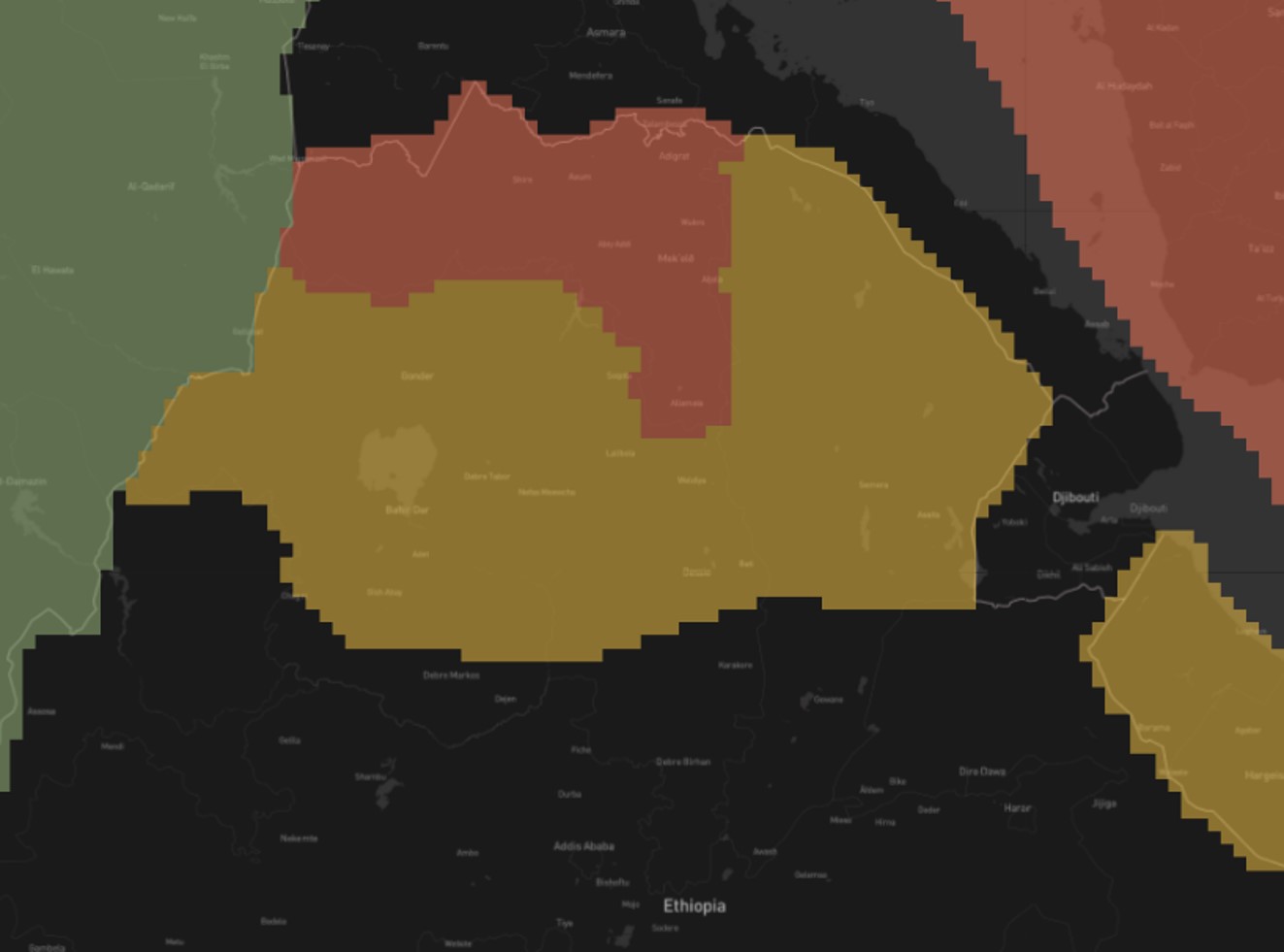 TPLF Air-Defence Activity
TPLF control of Russian-made S-75 Dvina (SA-2 GUIDELINE) and S-125 Neva (SA-3 GOA) conventional surface-to-air missile system (SAM) components in northern Ethiopia is highly concerning. There are two main ATS routes over Tigray Region used by civil aviation operators in FIR Addis Ababa (HAAA), identified as UM308 near Axum and UN304 near Mekele. Osprey assesses that in the near term, the TPLF could effectively operate SA-2s and SA-3s, which are capable above FL800, if they are in fact now in their possession and fully intact, though maintaining such systems in the medium-to-long term would be a significant logistical hurdle without external assistance. 
11 September: A full SA-3 system was present at a site located at N 14.115419 E 38.8 05540 in Axum: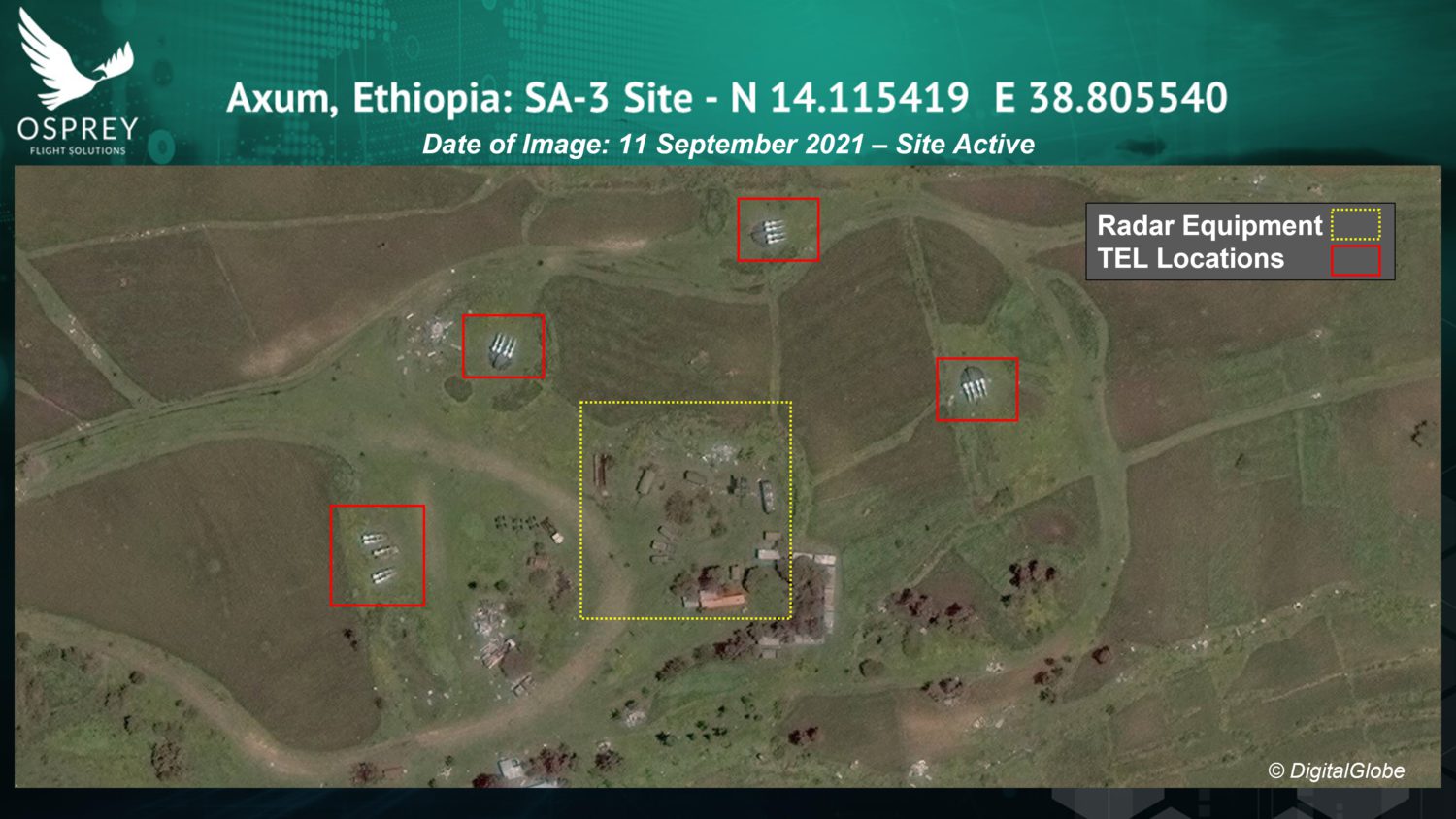 9 September: SA-3 components were present at a site located at N 13.558708 E 39.549147 in Mekele: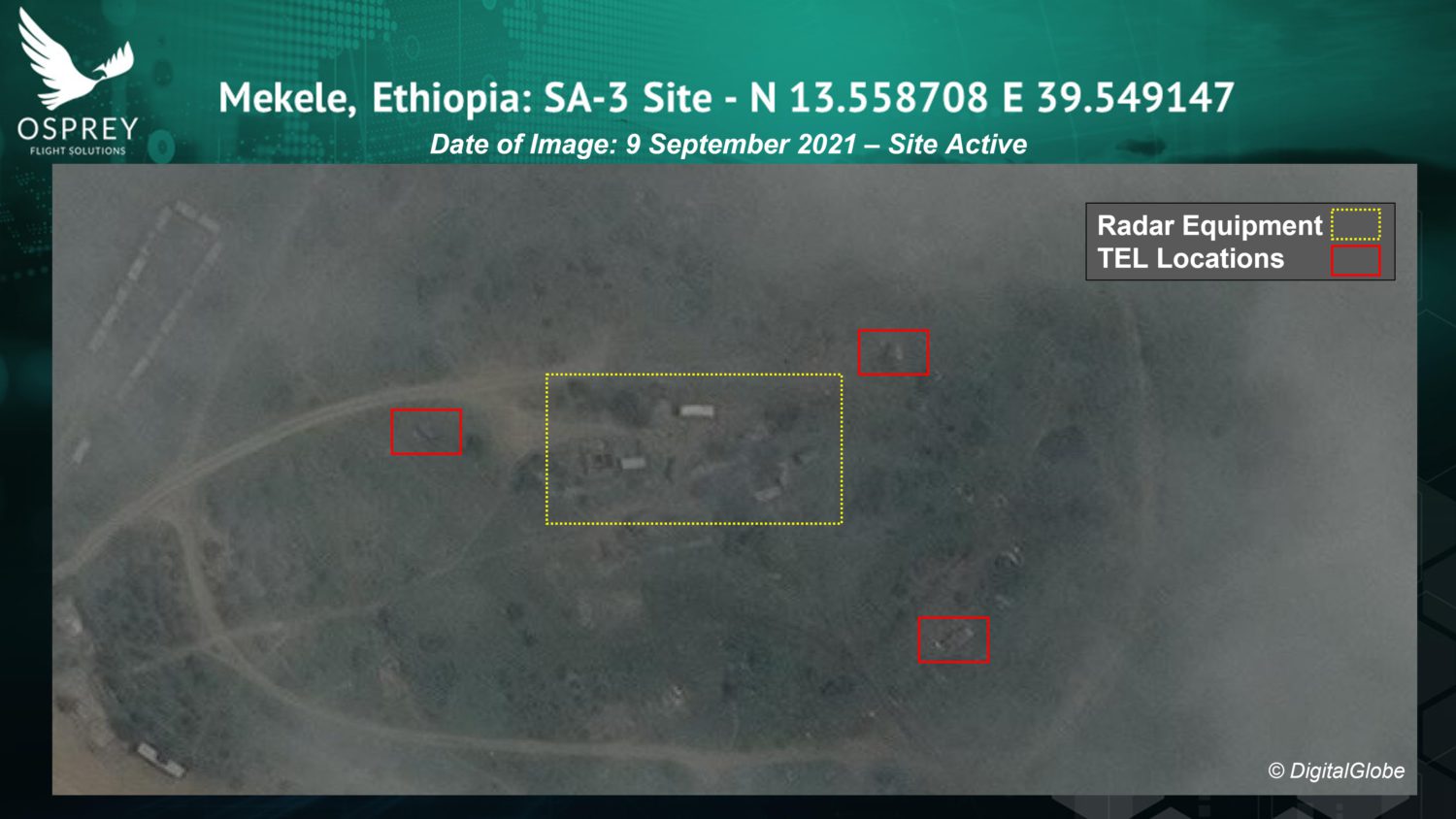 The TPLF is confirmed to be in possession of man-portable air-defence systems (MANPADS), such as the Russian-made 9K32 Strela-2 (SA-7 GRAIL) and 9K310 Igla-1 (SA-16 GIMLET). According to the US FAA, the most capable variants of MANPADS can pose a threat to aircraft at altitudes below 25,000 feet AGL. The TPLF in northern Ethiopia is also assessed to be in possession of rocket-propelled grenades, anti-tank weapons and technical vehicles equipped with low-calibre anti-aircraft artillery capable of engaging air assets below FL100. Such weapons may be employed by the TPLF in Tigray, Amhara and Afar regions of Ethiopia. 
Outlook
We now assess that there is a significantly increased potential for armed clashes in Tigray, Amhara and Afar between the TPLF, along with its aligned forces, and the ENDF, as well as Eritrea, to persist through the remainder of 2021 or until a comprehensive political and military agreement is reached between the Tigrayan regional government and Ethiopian federal authorities. We also assess that a heightened potential remains for armed clashes between the Sudanese military and the ENDF, involving unsafe air and air-defence activity to persist over the next three months in the Gedaref region of Sudan and the bordering Tigray/Amhara regions of Ethiopia. In the near term, operators should remain prepared for a loss of access to FIR Addis Ababa (HAAA) should TPLF and/or OLA rebels make an advance on the Ethiopian capital. In addition, disruption to flight schedules at Ethiopian airports could occur should the security situation in the country deteriorate further.