Since Russia commenced its invasion of Ukraine on 24 February, airspace closures and flight bans have severely impacted civilian flight operations, particularly regarding the use of Russian airspace. Osprey has issued regular alerts updating clients on the latest changes to the regulatory landscape resulting from the Ukraine crisis. 
Osprey Flight Solutions has issued regular alerts updating clients on the latest changes to the regulatory landscape resulting from the Ukraine crisis while also assisting carriers in making informed operational decisions on alternative routings. This was achieved via our range of system modules, such as :Flights, which enabled users to upload flight routings and generate risk assessments; :Pulse, which allowed users to systematically risk assess all their flights in real time; and Reports, which provided essential analysis when researching potential new routings, particularly in or near conflict zones.
Background
Major regulatory bodies – including EASA, the UK, the US, Canada, France and Germany – had already limited the use of Belarusian and parts of Ukrainian airspace to varying extents due to the May 2021 Ryanair forced landing incident and the ongoing conflict in eastern Ukraine, respectively. However, since 24 February, Ukraine and Moldova have closed their airspace (although Moldova reopened a portion of its airspace on 21 March), Belarus and Russia have closed parts of theirs near Ukraine, and those major regulatory bodies as well as EU nations have issued conflict zone notices regarding the risk to aviation from the military activity for airspace in Ukraine, Belarus, Russia and Moldova, most with 'buffer zones' around Ukrainian airspace ranging up to 200NM. 
Subsequently, since 25 February, the EU, the US, the UK, Canada, almost all non-EU European nations, as well as British Overseas Territories and other UK-associated geographical entities, have banned Russian-linked flights from using their airspace. In almost all cases, Russia has issued reciprocal bans. Further to this, a number of major carriers have made risk-based operational decisions to avoid Russian airspace. 
This means that a significant number of flights can no longer access Russian airspace, or are choosing not to, leading to considerable impact on routings linking Europe and North America to Asia. Broadly speaking, the options are now limited to variations on the following: 
The polar route (for flights from Europe and North America to East Asia);

 

Routes over the Caucasus and Central Asia (for flights from Europe to South Asia, such as India and Pakistan, SE Asia and East Asia, such as China);

 

Routes over the Middle East and Gulf (to SE Asian destinations).

 
These routings all create further issues in terms of added time, increased fuel costs, limited divert options and additional conflict zone risks. 
The Polar Route
As a result of the increased time and distance, some routings may require a fuel stop at an airport such as Anchorage (PANC/ANC) in Alaska, reminiscent of Cold War-era flights when the airspace over the Soviet Union was closed. The current Russian airspace bans also mean diversion options are limited.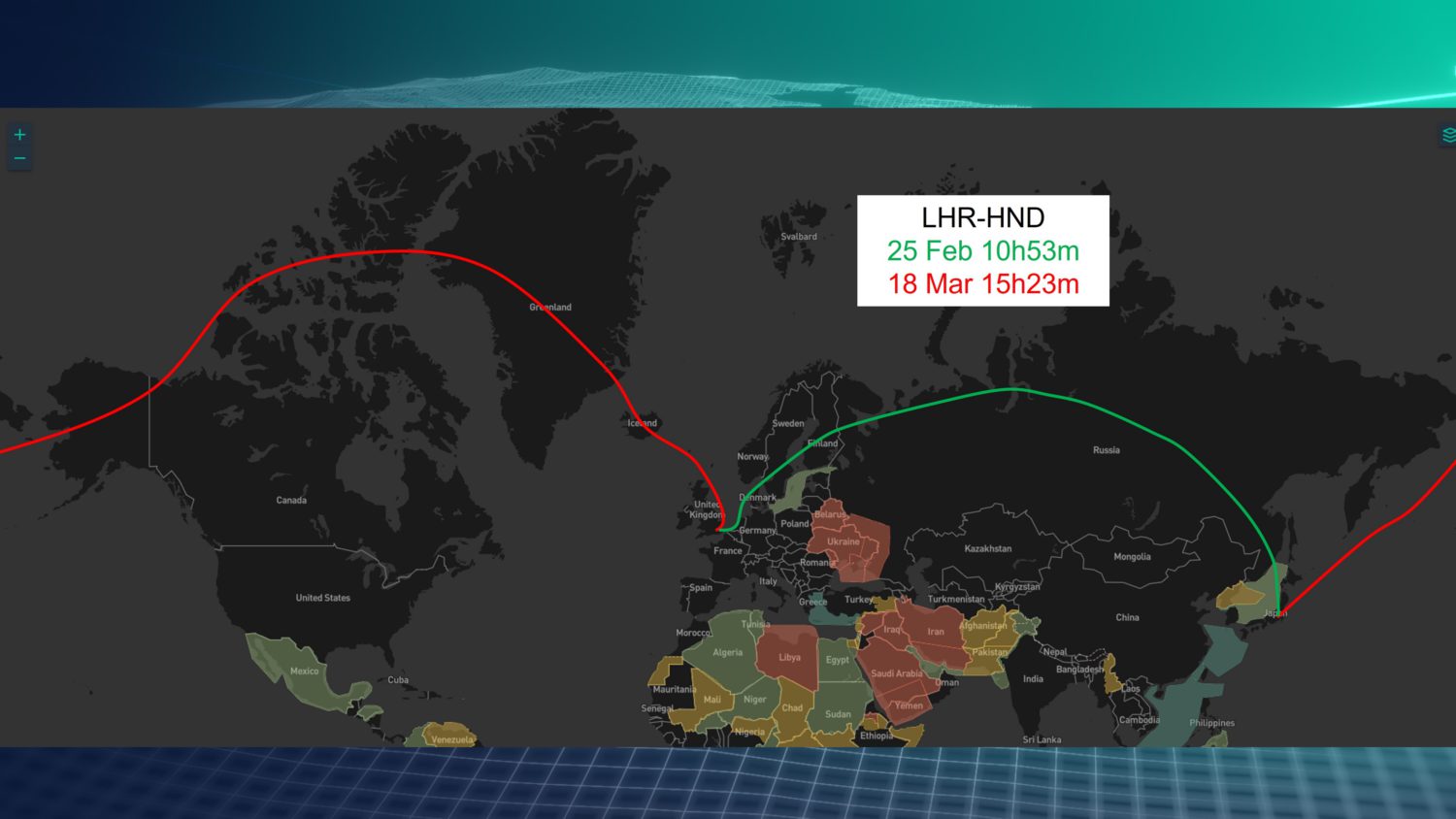 Caucasus & Central Asia
This adds time to previous routings that used Russian airspace, and divert options are few and far between. The Caucasus has also seen its own airspace restrictions recently during the Armenia-Azerbaijan conflict in 2020-2021. Furthermore, routes to India and Pakistan could be subject to airspace restrictions in the event of an escalation in the Kashmir dispute between the two countries, as happened in 2019.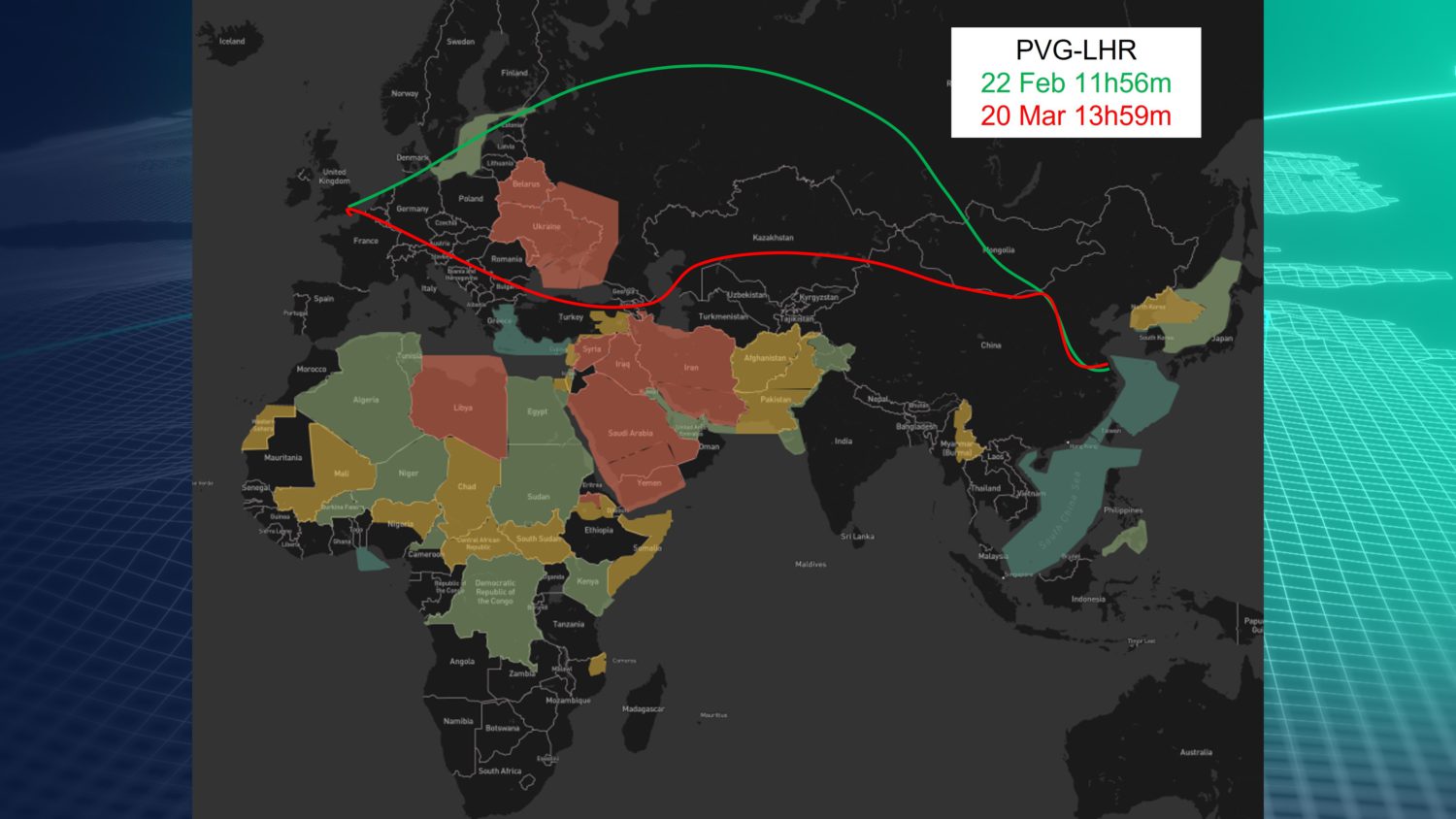 Middle East & Gulf
While there are several routings available through this region – some of which may not add significant amounts of time – almost all may be subject to conflict zone-related restrictions, depending on the carrier's regulatory authority. This includes routes over Saudi Arabia, Iraq and Iran, where conflict zone-related airspace risks have been at heightened levels since 2019.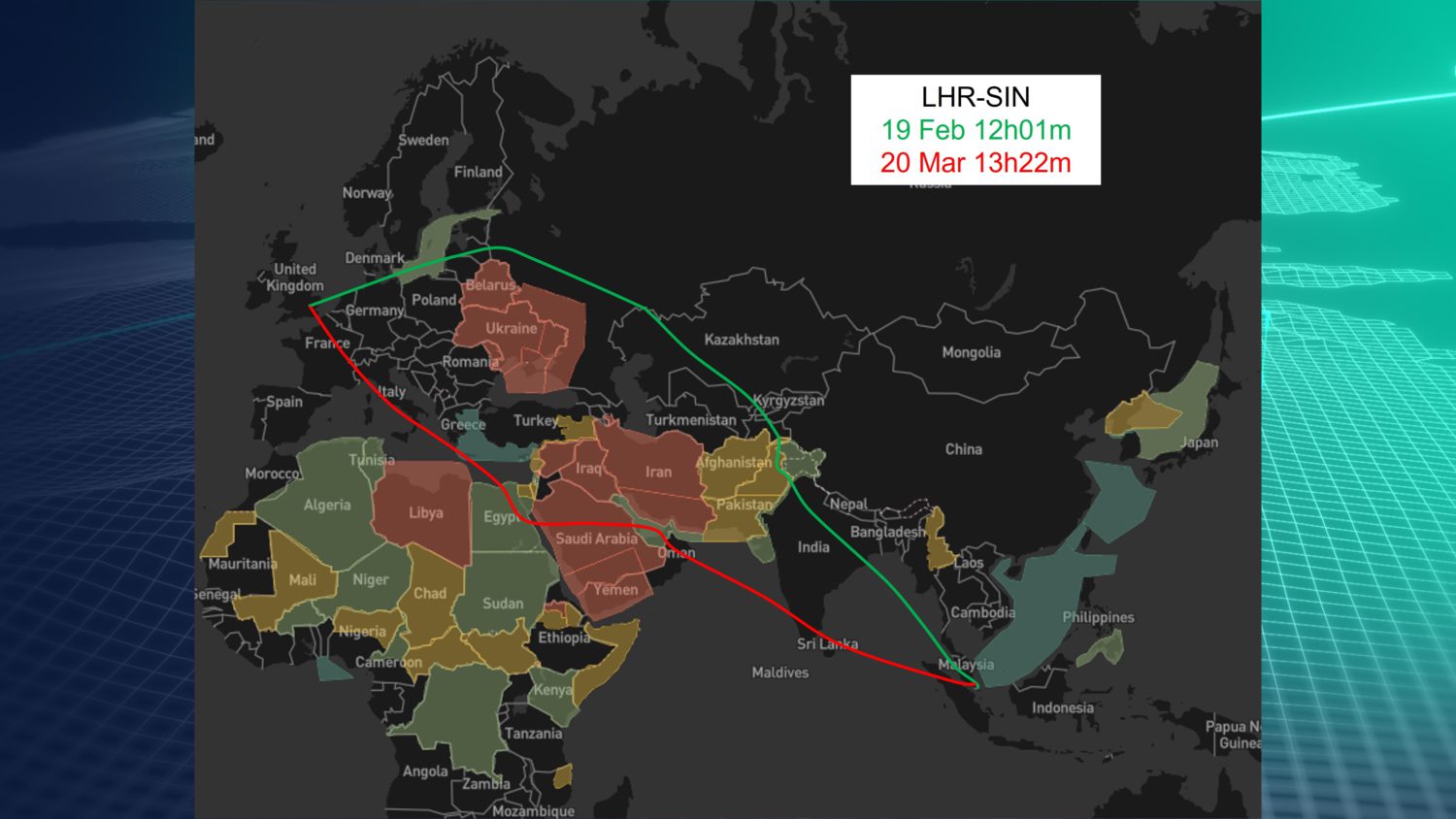 Conclusion
While the restrictions are unlikely to improve in the region in the near term, our team of analysts will continue to monitor the conflict and the associated regulatory landscape, providing further support through the Osprey system and our alerts, which offer detailed analysis of the situation as it develops.