Background
Since 2018, Osprey Flight Solutions' analysis team has issued over 200 alerts on the airspace operating environment over Iraq. Significantly, using Osprey:Explore, our analysts have identified a notable change in the threat to aviation within FIR Baghdad (ORBB) during 2021. The US military has confirmed that on 11 September at c.2343 UTC, air defences at Erbil Airport (ORER/EBL) in the capital of the Iraqi Kurdistan Region were employed to down two drones targeting the installation. Debris from one of the downed drones landed inside Erbil Airport's perimeter while the wreckage of the second downed drone fell outside the installation perimeter. Iranian-backed militant groups (IBMGs) are suspected to be responsible for the attack, and the situation in Iraqi airspace remains fluid and subject to rapid change. While IBMGs had conducted over 80 rocket attacks against installations where US-led coalition forces were present since 2018 – including against airports and air bases – the use of weaponised drones and military-grade air-defence system employment in response has become the dominant threat to air operations over Iraqi airspace during 2021.
Several aviation authorities have issued advisories in the past year regarding Iraq, Iran and Syria.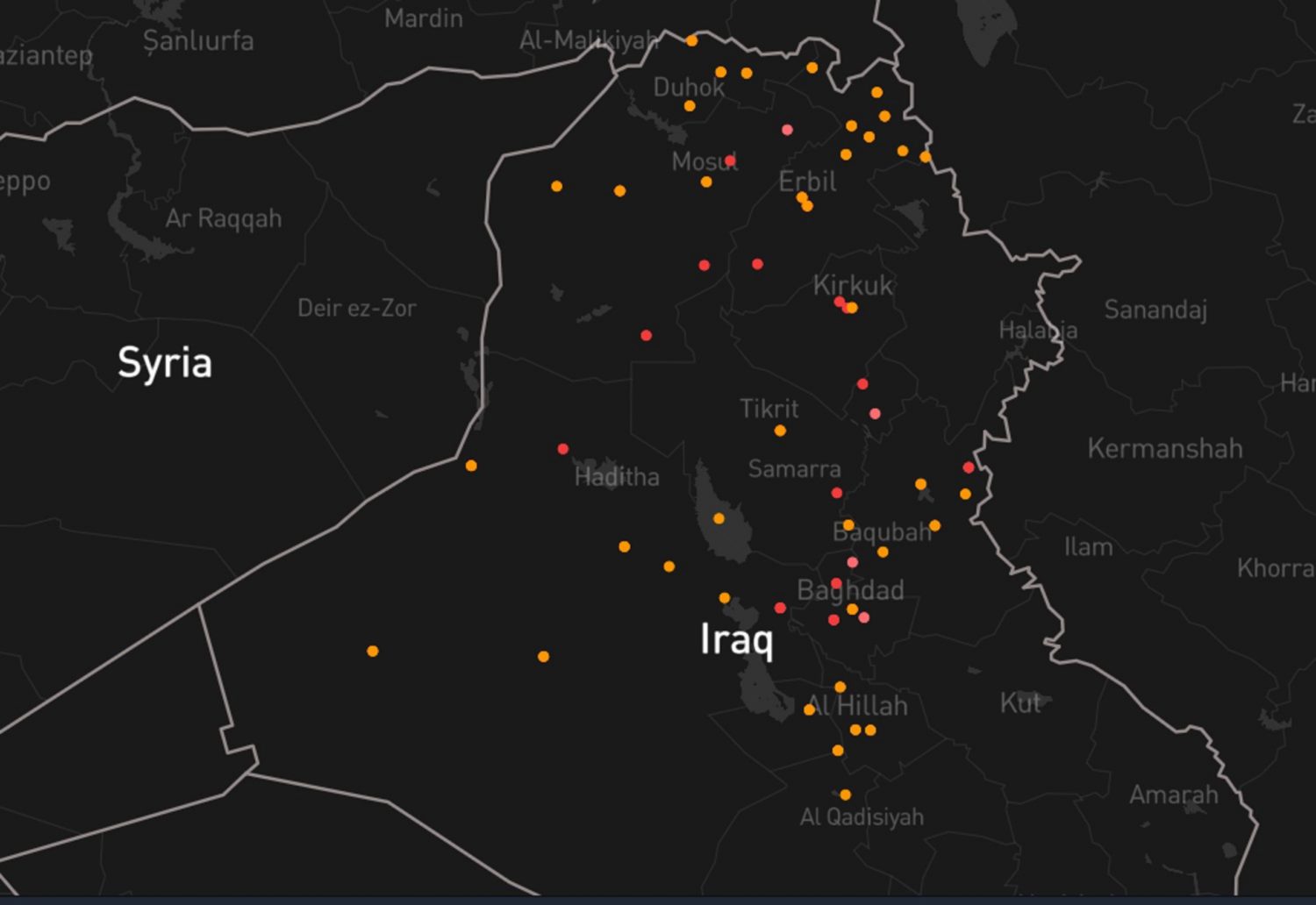 IBMG Drone Threat: Capability & Intent
Drone attacks of the type listed below targeting fortified installations in Iraq had not previously been reported in the country before April this year. However, IBMG possession of military-grade drones has been documented since 2014. On 10 March 2020, the US military stated that IBMGs had "conducted scores of unmanned aerial system [drone] reconnaissance flights near US and Iraqi security force bases" since May 2019. Credible reporting indicates transfers of such weapons by Iran to specific groups occurred recently, and IBMGs displayed their drone fleet during parades in Diyala Province in June.
Previously, on 27 June, the US military conducted a limited set of airstrikes on the Iraq-Syria border targeting weapons storage facilities belonging to IBMGs. A US Department of Defense statement indicated that the targets hit were used by IBMGs engaged in drone attacks against US interests in Iraq. IBMGs reportedly launched drones from southern Iraq targeting sites near the Saudi Arabian capital, Riyadh, on 23 & 26 January this year, 14 September 2019 and 14 May 2019. On 18 May, the Israeli Air Force reportedly shot down an Iranian-made military-grade drone that had been launched from either Syria or Iraq. Below is a summary of alerts issued by Osprey reporting IBMG drone attacks/plots during 2021 in Iraq & Syria:
14 April: Osprey issues two alerts highlighting a drone attack on Erbil Airport, which damaged a hangar;
8 May: Osprey issues an alert highlighting a drone attack on Ain Al Asad Air Base, which damaged a hangar;
5 June: An Osprey alert highlights the downing of two drones targeting Ain Al Asad Air Base;
9 June: Osprey issues an alert stating drones targeting the military area of Baghdad Airport had been downed;
14 June: An Osprey alert reports a weaponised drone attack targeting Baghdad Airport;
15 June: An Osprey alert states two drones were downed near Baghdad Al Rasheed Air Base earlier that day
20 June: An Osprey alert reports an attack on Ain Al Asad Air Base (ORAA/IQA) in Anbar Province;
21 June: Osprey issues an alert stating a weaponised drone attack had allegedly targeted the military area of Baghdad International Airport (ORBI/BGW) earlier in the day;
25 June: Osprey issues an alert highlighting an attack on two sites in Erbil involving five weaponised drones;
5 July: Osprey issues an alert highlighting the downing of drones near the Green Zone in Baghdad earlier that day;
6 July: Osprey issues an alert regarding a drone attack targeting Erbil Airport earlier that day;
7 July: Osprey issues an alert highlighting the downing of drones targeting the Al Omar Oil Field on that day;
23 July: Osprey issues an alert highlighting a weaponised drone attack targeting the Harir military base in Erbil Province that day;
22 August: Osprey issues an alert highlighting shoot-down of drone by US fighter jet over Al Omar Oil Field in eastern Syria on 21 August and that air raid sirens had been activated at the US consulate in Erbil on the same day;
23 August: Osprey issues an alert confirming that US-led coalition forces at Erbil Airport had shot down a drone on 21 August.

US-led Coalition & Iraqi Military Response
In addition to reporting on attacks by militant groups, Osprey alerts have highlighted military responses and capabilities in the region. For example, the US military is in possession of US-made MIM-104 Patriot conventional surface-to-air missile (SAM), counter-rocket, artillery & mortar (C-RAM) and electronic warfare (EW) systems, which are reportedly deployed at Erbil Airport and Ain Al Asad Air Base. Additionally, C-RAM and EW systems are reportedly deployed at Baghdad Airport and in the Baghdad Green Zone. The US military reportedly has air defences and EW systems deployed at its main operating locations in eastern Syria, including at the Al Omar & Conoco oil fields. US military forces in Iraq and Syria are also reportedly equipped with US-made FIM-92 Stinger man-portable air-defence systems (MANPADS) capable up to FL260. US-led coalition fighter jets capable at altitudes above FL260 may also be employed to shoot down drones over Iraq and/or Syria. The US-led coalition deployment of these air defence systems is assessed to be an effort designed to thwart ballistic missile, indirect-fire and drone attacks at select locations in Iraq going forward.
Air defence deployments by the Iraqi military in various areas of the country have also been reported in the lead-up to national elections set for 10 October. Iraqi military forces have procured a variety of Russian-made MANPADS variants capable below FL260, including the 9K338 Igla-S (SA-24 GRINCH). The Iraqi armed forces also possess US-made AN/TWQ-1 Avenger air defence systems capable up to FL260 and out to 8km (5 miles). Iraq has procured 24 Russian-made Pantsir-S1 (SA-22 GREYHOUND) conventional SAM systems capable up to FL490 and out to 20km (12.4 miles). The Iraqi Air Force is in possession of combat aircraft capable of conducting engagements at altitudes well above FL260.
Outlook
Osprey alerts have recently highlighted rising tensions in Iraq in the lead-up to Iraqi national elections and suggested that these may escalate in the final quarter of 2021. The recent indirect fire and drone attacks discussed above are assessed to be part of a broader effort by IBMGs to pressure the Iraqi government to end the US-led coalition military presence in the country. Strategic dialogue between Iraq and the US remains ongoing, with talks focused on a timeline outlining the presence of US-led coalition forces in the country. On 15 January, the US announced it had drawn down its military forces in Iraq to c.2,500 personnel, and all combat operations are set to finish by the end of 2021. Osprey alerts have highlighted that IBMG drone attacks remain a credible enduring scenario going forward, with the main targets assessed to be Baghdad Airport, the Green Zone, Balad Air Base, Ain al-Asad Air Base and Erbil Airport. We assess there is an elevated likelihood of limited sets of US military strikes against IBMG targets in Iraq and/or the Syrian border area through 31 October in the lead-up to and after Iraqi national elections.
Osprey will continue to monitor the situation in the region, providing in-depth analysis and support via alerts. Osprey:Explore also enables users to access and visualise data relating to drone attacks in Iraq, allowing them to extract insights that are relevant to their specific interests and requirements. For more information on the Osprey system, please contact us.