Osprey Flight Solutions has been selected as the European Union Aviation Safety Agency's (EASA) partner in developing and supporting an information-sharing platform on conflict zones for the entire European region.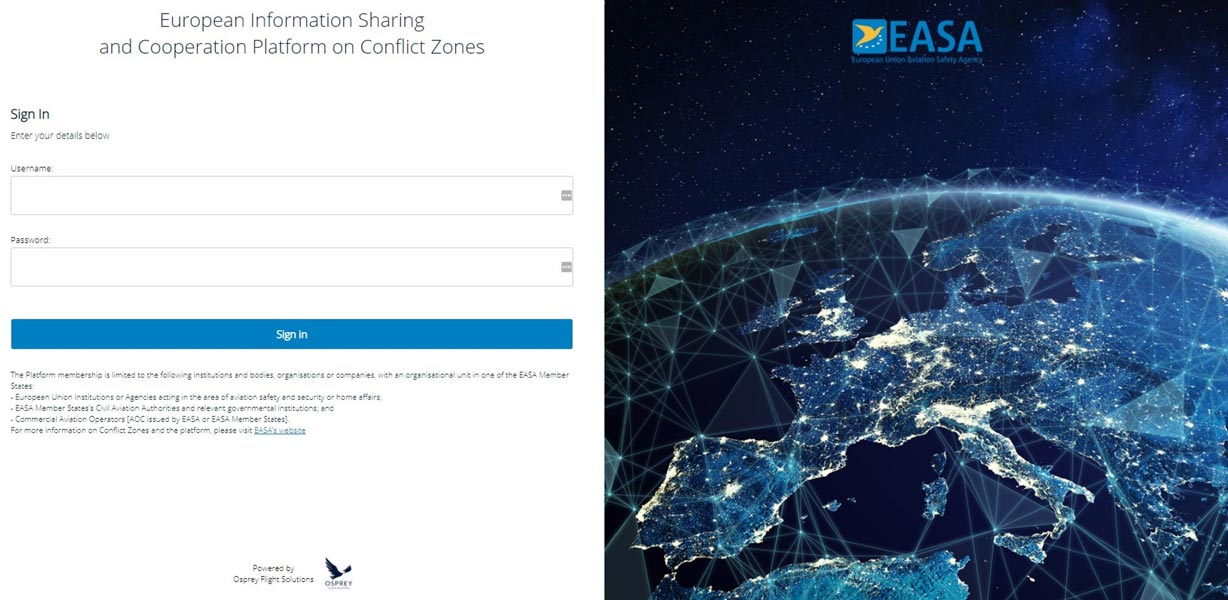 The platform launches on 3 March 2022 following a trial project in 2021, which was the beginning of a successful collaboration between Osprey and EASA. A first of its kind, the platform brings to European states and operators up to date, comprehensive, consistent and dynamic reporting on the threats that face operators flying over or near conflict zones, anywhere in the world.
In a single interface, the platform provides threat identification and monitoring, with associated alerting capability, as well as access to regulatory and advisory documents, and information relating to conflict zones. Significantly, it is also a platform to facilitate industry collaboration, allowing all stakeholders to comment on, discuss and provide further information on any of the documents available through the platform to enable all users to get the most out of the information provided.
Built to EASA's bespoke specification by Osprey Flight Solutions, the alerts and data within the platform come from Osprey's database – the largest of its kind in the industry – and all information on the platform is quality controlled by EASA personnel. EASA also administers the platform and funds it entirely, thus providing free of charge access to the authorities entitled to access the system.
Luc Tytgat, EASA's Director for Strategy and Safety Management commented:
"Conflict zones are by their nature unpredictable. That means that operators need the very best information available on time to make their risk assessments. EASA is confident that continuous, dynamic, comprehensive information sharing through this platform will increase situational awareness and enhance flight safety and security. We are excited to be launching this platform, which in its breadth and aims is a world first."
Andrew Nicholson, CEO of Osprey Flight Solutions, added:
 "It is extremely rewarding for us to know that every European state and operator member is supported in their risk management processes through access to our information. This collaboration solidifies our position as the leading provider of aviation risk management data and analysis."
Since the platform's inception as a trial project by EASA, it has delivered huge value to users on new and evolving global conflict zone environments. Indeed, an evaluation of the of the trial project led by EASA revealed that:
96% of respondents are satisfied with the platform overall
98% of respondents are satisfied with the documents posted on the platform
91% find the proactive email alerts useful
81% agree that the platform provides relevant information to conduct their own risk assessments regarding conflict zones
92% agree that the platform should continue to operate after the trial period and become a permanent tool available to the European community (EU institutions, states and carriers)
The feedback from that evaluation has been incorporated in to the platform being launched on 3 March, and will remain a key part of ensuring that improvements moving forward meet users' needs.
Andrew Nicholson commented:
"Osprey is delighted to partner with EASA on this project, a development that aligns completely with our own vision to enable safer and more secure operations for everyone travelling by air. It has been, and continues to be, a pleasure to support them with this endeavour."
The European Information Sharing and Cooperation Platform on Conflict Zones is available to the following institutions and bodies, organisations or companies, with an organisational unit in one of the EASA Member States:
European Union Institutions or Agencies acting in the area of aviation safety and security or home affairs;
EASA Member States' Civil Aviation Authorities and relevant governmental institutions; and
Commercial Aviation Operators [AOC issued by EASA, EASA Member States]
For more information on Conflict Zones and the platform, please visit EASA's website
About Osprey Flight Solutions
 A new age for aviation risk management 
Founded in 2017, Osprey fuses real-time information, technology, and industry-leading expertise to deliver the most advanced aviation risk analysis available anywhere. Our revolutionary data-driven approach provides instant situational intelligence to power dynamic decision making. Being able to see, understand and react to threats as they emerge sets a new standard for ensuring the safety and security of passengers, crew, and aircraft. Because risk isn't static in a fast-moving, turbulent world. Click here to find out more.