One year on from the Russian invasion of Ukraine, on 24 February 2022, Osprey Flight Solutions takes a deep dive into the conflict and how this has impacted the aviation industry.
Background
Since Russia commenced its invasion of Ukraine on 24 February 2022, airspace closures and flight bans have severely impacted civilian flight operations, particularly regarding the use of Russian airspace. This means that a significant number of civil aviation operators can no longer access Russian airspace, or are choosing not to, leading to a considerable impact on routings linking Europe and North America to Asia. New routings create further issues in terms of added time, increased fuel costs, limited divert options and additional conflict zone risks. Through the use of artificial intelligence (AI) and the highest quality analysts in the aviation industry, Osprey was able to forecast the Russian invasion of Ukraine well in advance, allowing operators to ensure not only safer and more secure flights. In the year since, Osprey has also generated a solution that provides dynamic, timely and accurate data-led security risk assessments for flights near the Russia-Ukraine conflict zone.
Summary: Conventional Strikes
On 24 February 2022, the Russia/Ukraine conflict began following the Russian president stating that Russia's armed forces had initiated a "special military operation" against Ukraine to "protect the Donbass" and to "demilitarize" Ukraine. Later, on 29 March, Russia stated that the primary aim of the "Special Military Operation" was to "liberate" the Donbass (Donetsk and Luhansk), and Russian forces withdrew from areas north of Kyiv. The vast majority of the fighting in the year since now spans from Mykolaiv near Crimea through to the Sea of Azov area and into the Donbass.

Analyst Comment: Russian cruise and ballistic missile launches have trended upwards since December, and specific targeting of Ukrainian military bases, logistical sites and critical infrastructure continues by the Russian military. Such activity saw sharp but sporadic upward trends throughout January and February with missile launch barrages into areas deep within the Ukrainian interior. In addition, Ukraine continues to use cruise missiles, short-range ballistic missiles and guided rocket artillery against Russian military targets inside Ukrainian territory. Missile activity is expected to fluctuate in the months ahead depending on Ukraine's access to weapons and Russia's ability to resupply its forces. While there have been reports that Russia may turn to Iran for ballistic and/or cruise missiles to supplement its forces, Osprey has observed no direct confirmation that those weapons transfers have occurred to date.
Since the start of Russia's invasion, sustained Russian military cross-border operations into Ukraine have involved over 7,000 cruise and ballistic missile launches, guided rocket artillery strikes as well as Iranian-made military-grade drone attacks. In addition, Russia employed persistent unguided rocket, mortar and artillery barrages along the front lines in the south and east Ukraine coupled with frequent airstrikes. The strikes have targeted at least 23 cities to date, including Odesa, Mariupol, Donetsk, Lviv and the capital Kyiv. Airports, air bases, military installations with aviation support facilities and energy infrastructure in many cities have been targeted.
Several suspected Ukrainian armed forces drone attacks on Russian military air bases have occurred in recent months. On 28 February, a suspected Ukrainian armed forces drone was downed by Russian military air defences in Kolomna, located southeast of Moscow in an area located approximately 500km (310 miles) north of the Ukraine border. On 6 February, a suspected Ukrainian drone attack targeted a Russian military base in Kaluga. On 5, 26 and 29 December, Engels Air Base (XWSG) was reportedly targeted in suspected Ukrainian drone attacks. In addition, on 5 December, Ryazan Dyagilevo (UUBD) was reportedly targeted in another suspected Ukrainian drone attack. Kaluga, Engels and Ryazan Dyagilevo air bases are all located approximately 300-500km (185-310 miles) east/northeast of the border with Ukraine. Similar Ukrainian drone attacks and shoot-down claims by the Russian military have occurred in areas of southwest Russia within 300km (185 miles) of the border and in Russian-occupied Crimea since 24 February 2022, with near-daily incidents reported since late December.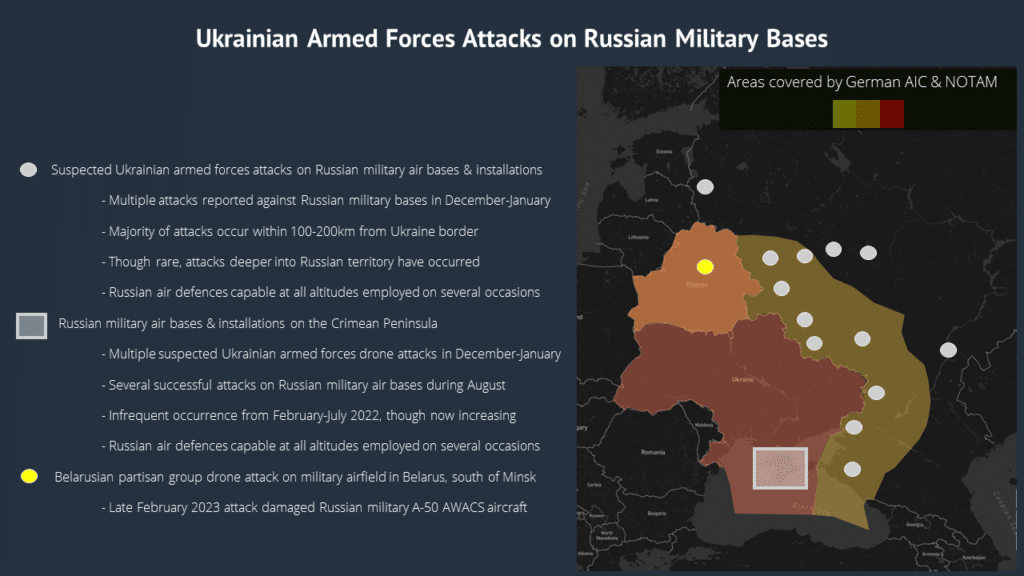 Summary: Air & Air Defence Activity
The Russian military and Ukrainian armed forces each have air bases with combat air assets as well as a variety of air defences, conventional surface-to-air missile (SAM) systems and electronic warfare (EW) units capable at all altitudes. The Ukrainian armed forces have claimed its air defences have shot down numerous Russian aircraft and missiles, with Osprey identifying Russian losses of 77 military aircraft, 79 helicopters and 200 drones. Similarly, Russia has claimed its deployed air defences and fighter aircraft have shot down a number of Ukrainian aircraft, munitions and missiles, with Osprey identifying Ukrainian losses of 61 military aircraft, 31 helicopters and 87 drones.
Russian Air Force performance had been inconsistent during much of the conflict. The increase in Russian air activity in recent months can be attributed to Russian use of Iranian-made military-grade weaponised drones. Russia likely exhausted its initial shipments of the Iranian-made drones in mid-January. A limited resupply of Iranian-made drones reportedly occurred in February and further resupply is likely to occur in the near future. Additionally, China may supply Russia with military-grade weaponised drones in 2023. The Russian Air Force has underperformed during the conflict, as evidenced by the need to supplement their inventory with Iranian-made and potentially Chinese-made drones, which they cannot sustain domestically.

Analyst Comment: A high number of aircraft, drones and missiles were shot at or shot down in the first two weeks of the conflict. Totals had declined due to attrition and changes in tactics; however, engagements have increased notably since October due to the Russian use of Iranian-made military-grade weaponised drones. The Russian Air Force has failed to gain full air superiority during the conflict and has operated in a risk-averse style, rarely penetrating deep behind Ukrainian military lines due to persistent all-altitude air-defence operations.

Russia is not assessed to have achieved air superiority over Ukrainian airspace. While degraded, Ukrainian military air and air-defence operations remain ongoing. Russia is assessed to be conducting a notable portion of its flight operations in Russian airspace and not over Ukraine due to the persistent threat posed by Ukrainian air defences at all altitudes. Russia is now relying on the abovementioned Iranian-made drones in an attempt to target areas deeper inside Ukrainian territory.
Summary: Conflict Spillover Issues
Non-kinetic activity hazardous to aviation has the potential to extend beyond southwest Russia and Ukraine. The Baltic Sea has seen increased NATO and Russian military air activity, as well as global positioning system (GPS)/global navigation satellite system (GNSS) jamming and electromagnetic interference (EMI) from EW activity. In the Southern Black Sea, there has been increased NATO and Russian military air activity, as well as the presence of GPS/GNSS jamming and EMI. There has been Russian military air and naval operations in the Northern Caspian Sea, including hazardous activity for which prior notices have not been issued.
Kinetic activity hazardous to aviation has the potential to extend beyond southwest Russia and Ukraine. Military-grade drone spillover from the Russia-Ukraine conflict has also been observed in Poland, Croatia, Hungary, Romania and Turkey. Regarding Moldova, Russian military cruise missiles – and Ukrainian armed forces Russian-made S-300 SAMs launched in response – have previously overflown and/or impacted in eastern Moldova on over a dozen occasions in 2022-2023. For example, on 5 December, 15 January and 16 February, S-300 SAMs crossed over from Ukraine into northeast Moldova and impacted in the Briceni area. In addition, S-300 SAM spillover has occurred into Belarus and Poland, as evidenced by two incidents on 29 December and 15 November 2022, respectively. The most capable S-300 variants can engage targets up to FL980 and out to 200km (120 miles).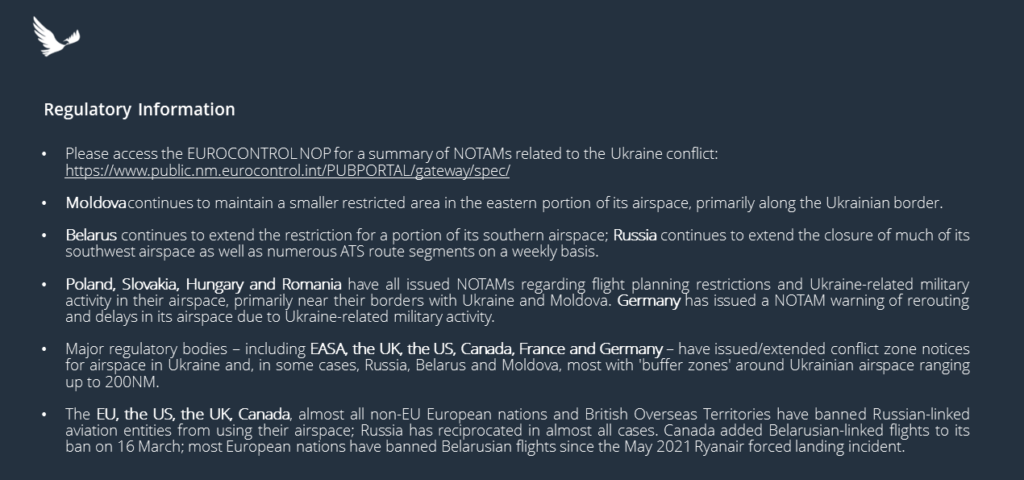 Analyst Comment: The above airspace closures and flight bans have severely impacted civilian flight operations, particularly regarding the use of Russian airspace. Russia has blocked air carriers registered in western states (i.e. EU, US, Canada, etc) from accessing Russian airspace for overflights in response to those states blocking Russian registered aircraft from accessing their respective airspaces. In addition, many air carriers registered in the Asia-Pacific region have chosen to avoid using Russian airspace based on internal decision-making – even though they are not barred from accessing Russian airspace by Russia. This has led to significant increases in flight times, distances and costs.
Summary: NATO Activity
Numerous NATO members, along with a number of other Western and allied nations, have been supplying Ukraine with significant amounts of military equipment, largely defensive weaponry, including anti-tank weapons (ATWs), anti-tank guided missiles (ATGMs), man-portable air-defence systems (MANPADS), small arms and ammunition, as well as medical equipment. Additionally, the US has supplied Ukraine with advanced M142 High Mobility Artillery Rocket System (HIMARS) and M777 howitzers, with several other countries sending similar equipment. The US Federal Aviation Administration (FAA) noted the most capable MANPADS can reach altitudes up to 25,000 feet AGL.
Operators should be aware that there is ongoing widespread proliferation of ATWs, ATGMs and MANPADS in the Russia-Ukraine conflict zone. It remains a realistic possibility that such weapons systems may be exploited, given the conflict situation and the lack of effective oversight by Russia and to a lesser extent Ukraine. Osprey has documented several incidents in the past year indicating that Russian and pro-Russian forces in Ukraine have recovered weapons caches from the Ukrainian military containing Western-provided ATWs, ATGMs and MANPADS. Arms trafficking out of Ukraine remains an enduring concern beyond the country's borders.
In response to Russia's invasion of Ukraine, NATO activated a multinational battlegroup for air defence in Slovakia, with both Germany and the Netherlands deploying US-made Patriot conventional SAM systems capable out to 160km (100 miles) and up to FL800. Along these lines, the US deployed additional Patriot conventional SAM systems to Poland. In addition to the previously mentioned air policing missions in the Black and Baltic seas, the US and UK deployed additional combat aircraft to countries on the eastern flank of NATO as part of the first ever activation of a Response Force.
In December, the US, Germany and Netherlands announced that they would be sending advanced Patriot air defence missile systems to Ukraine, and Ukrainian forces have reportedly been receiving training on the system since September. France, Italy and the UK have each provided air-defence systems to Ukraine as well. There have also been requests for the delivery of Russian-made tactical conventional SAM systems as well as S-300 strategic conventional SAM system from individual NATO member states. Currently, Slovakia, Bulgaria and Greece all have S-300 system variants, while Poland and others have Russian-made tactical conventional SAM systems.
NATO has ongoing air policing missions over the Black and Baltic seas, and unsafe interactions between alliance aircraft and the Russian military have occurred. On 14 March, the US Air Force (USAF) announced that a Russian military Su-27 fighter jet collided with a USAF MQ-9 drone in "international airspace over the Black Sea". The USAF stated that the MQ-9 crashed in the international water of the Black Sea as a result of the mid-air collision. Previously, on 20 October, the UK Defence Secretary announced that on 29 September, a Royal Air Force (RAF) RC-135 electronic surveillance aircraft operating in international airspace over the Black Sea within FIR Simferopol (UKFV) was being shadowed by multiple Russian military Su-27 fighter aircraft. While shadowing the RAF aircraft, one of the Su-27s experienced a technical malfunction with its munitions system, causing one of its missiles to accidentally release.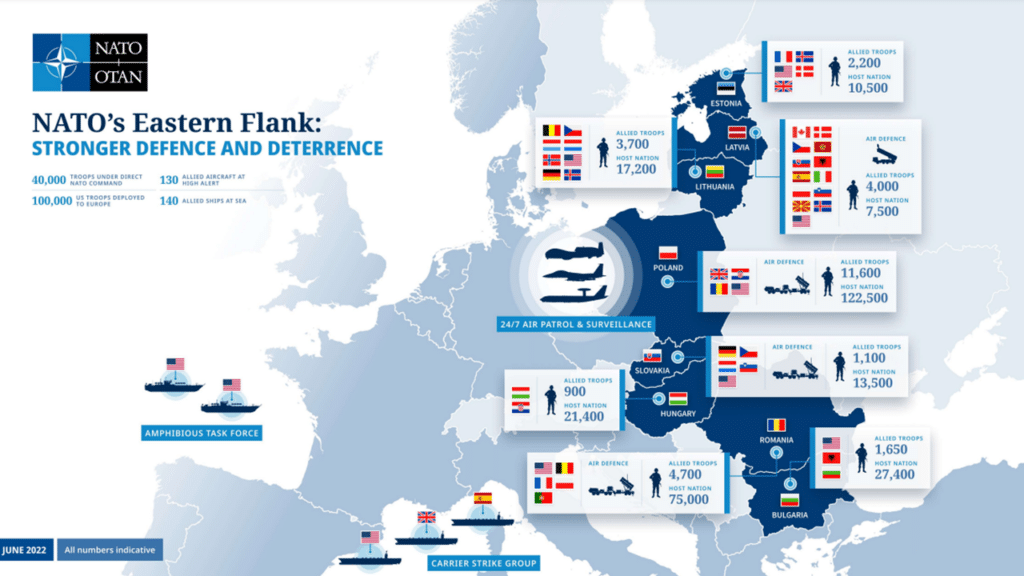 Analyst Comment: The Russian Defence Ministry has claimed on several occasions since 2021 that NATO has increased the "intensity" of its naval forces, strategic aviation and air and sea reconnaissance assets in the Black Sea, resulting in an increase in the number of reported shadowing operations carried out by Russian military forces. NATO reporting notes that Russian military aircraft do not always use transponders, maintain ATC radio contact and/or file proper flight plans during air patrols. Osprey has documented several incidents where Russian military combat aircraft have been involved in serious unsafe aerial encounters involving unplanned weapons system employment.
There have also been calls by individual NATO member states – as well as Ukrainian requests – for more capable defensive systems, such as Russian-made strategic and tactical conventional SAM systems, as well as offensive weapons such as Russian-made combat aircraft. The most high-profile of the proposed equipment has been US-made F-16 fighter jets and Poland's Russian-made MiG-29 FULCRUM fighter jets, which Ukrainian pilots are already trained to fly. Reportedly, a limited number of Ukrainian pilots are currently receiving training on the F-16 in the US. Receiving F-16s and MiG-29s could, in theory, have an immediate impact against Russian forces, and additional MiG-29s could be used to keep remaining Ukrainian jets airworthy.
Outlook
Osprey expects the Ukraine war to continue at a high intensity in the Donbass as well as southwest of that region in the months ahead, with heavy fighting expected near Bahkmut and Zaporizhzhia along the Dnieper River, especially in the wake of the Russian retreat from Kherson. Osprey assesses that significant Russian military operations – likely including the use of drones and cruise and ballistic missiles targeting Ukrainian armed forces bases and critical infrastructure sites in Ukraine, including airports/air bases – will persist through the first half of 2023.
Ongoing military air activity (including balloons and drones) and multi-type/variant missile (air defence, cruise and/or ballistic) operations by the Russian and Ukrainian armed forces have the potential to cause airspace congestion and negatively impact the safety of civil aviation flights at all altitudes over Ukrainian airspace, southern Belarus and southwest Russia. Spillover into eastern Poland and northeast/east Moldova or Romania as well as portions of airspace over the Black Sea outside of FIR Simferopol (UKFV) is a similar concern. The significant amount of air activity (including drones) and missile operations in southern Belarus, southwest Russia as well as Ukraine along with portions of the Black and Caspian seas is expected to disrupt availability of airports/air bases along with access to airspace in these areas indefinitely.
While there are no indications that Belarus, Russia or Ukraine intend to kinetically target legal civil aviation flights, Osprey assesses there is an increasing potential for miscalculation and/or misidentification. While Ukrainian airspace remains unavailable, leading civil aviation governing bodies may issue further notices in addition to those above regarding Ukrainian and neighbouring airspace.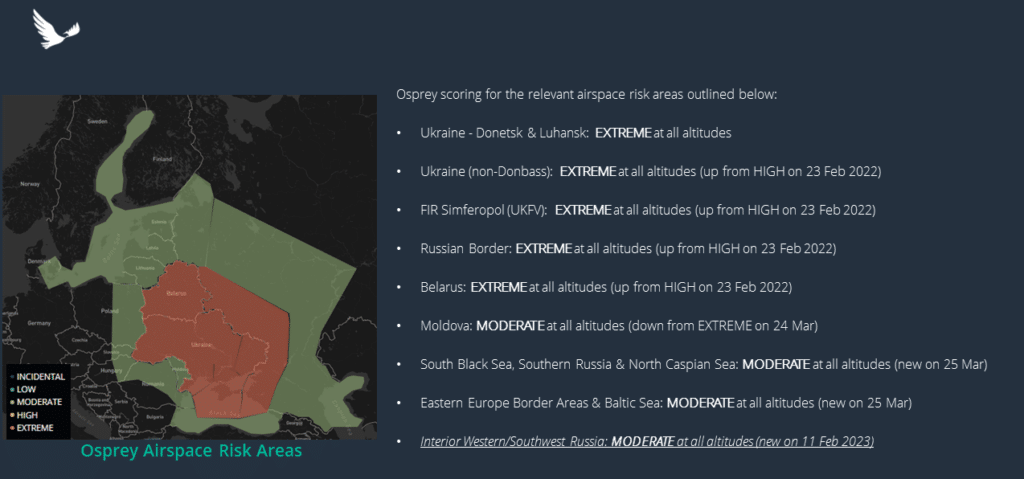 Rerouting of civil aviation over additional portions of Belarus' FIR Minsk (UMMV) as well as Russia's FIR Moscow (UUWV), FIR Samara (UWWW) and/or FIR Rostov (URRV) along with the eastern portions of Moldovan, German, Polish, Hungarian, Slovakian and/or Romanian airspace is a significant concern going forward, either by further regulatory action and/or changes in insurance coverage. More restrictive measures could be enacted at short notice by these countries as well as other leading civil aviation governing bodies.
Key Takeaways
Ukraine is an active conflict zone and the airspace is unavailable; neighbouring states are also restricting airspace
Both Russia and NATO are conducting increased levels of military air patrols over the Black Sea and Baltic Sea
GPS jamming and other forms of EMI continue to occur in the region, including over the Black Sea and Baltic Sea
Regulatory NOTAMs, circulars, publications, restrictions and/or bulletins continue to be issued at short notice
Potential changes to insurance coverage and/or access to such services for flights related to Ukraine conflict