Global conflicts rarely remain static, with risk areas and levels fluctuating as situations evolve over time. In the first six months of 2022, the conflict in Ukraine had a significant impact on the aviation industry and has justifiably garnered the majority of focus. However, with the exception of Australasia, Osprey Flight Solutions has identified and is actively monitoring airspace risk areas on every continent, many of which are driven by ongoing conflicts. These areas are characterised by a wide range of conflict risks, from conventional surface-to-air missile (SAM) activity to military interception of illegal narcotics-trafficking flights.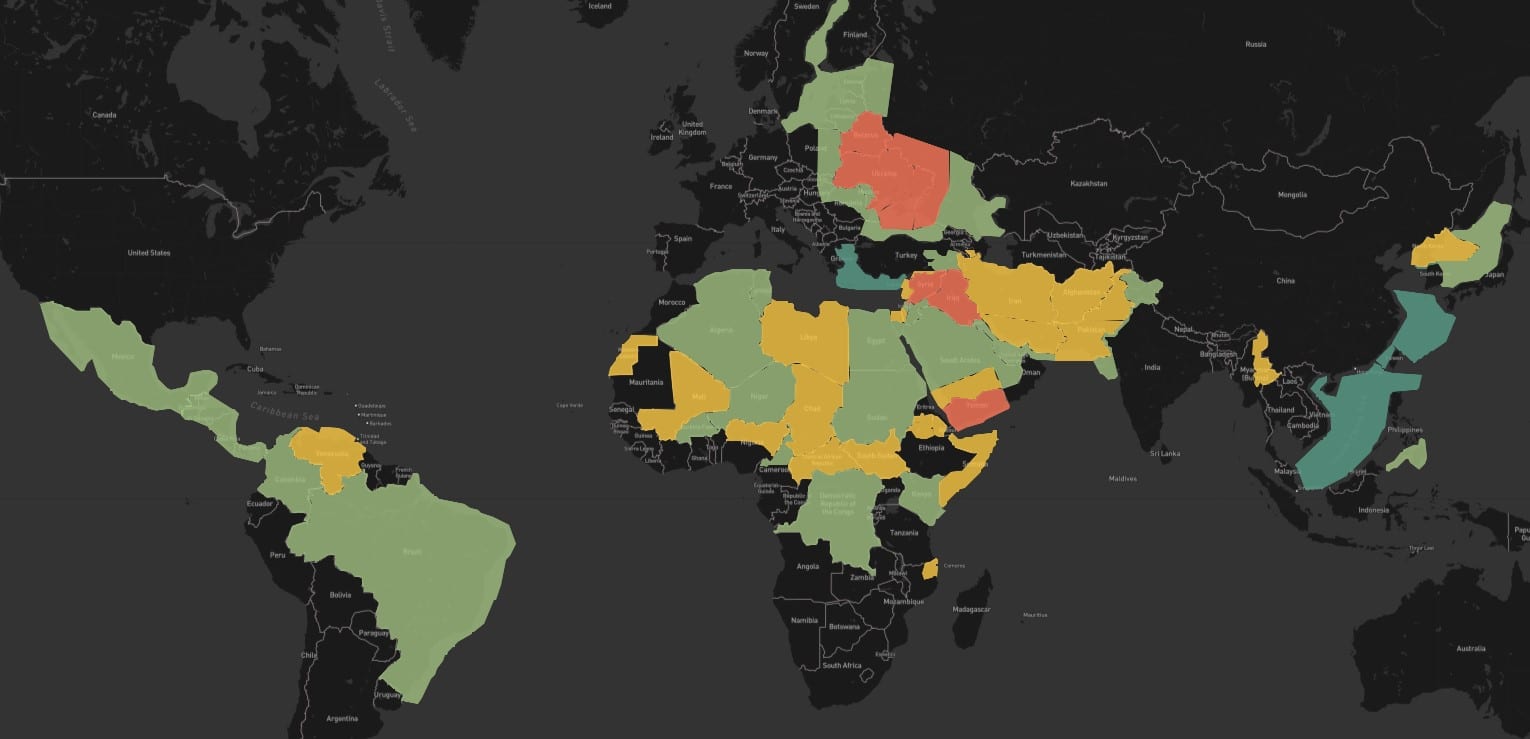 Due to the closure of Russian, Ukrainian and Belarusian airspace, airlines are now required to fly near or over numerous other conflict zones, as highlighted in a previous case study examining the impacts on flight routings from Russian airspace bans. This requires airlines to understand the risks associated with overflying even low-intensity conflict zones. Below is a summary of conflicts monitored by Osprey in the first half of 2022 and the potential risks that they pose to operators.
Middle East and North Africa (MENA)
In the first six months of 2022, the MENA region saw the greatest amount of air and air-defence activity, with multiple conflicts involving projectile events, air intercepts and drone activity. Outside Ukraine and Russia, in the first three months of 2022, Yemen saw the most conflict-related activity. During this period, Osprey issued 42 alerts regarding confirmed shoot-downs of Houthi drones and missiles over Saudi Arabia as well as conflict zone notices and several more on apparently successful Houthi attacks. We also issued a number of alerts on Houthi drone and missile attacks – and associated shoot-downs – at airports and air bases in the United Arab Emirates. Due to a ceasefire between the Saudi-led coalition and the Houthis on 2 April, there has been a significant reduction in activity; however, Osprey continues to monitor the region closely.
The first half of 2022 also saw numerous attacks, including all-altitude hazard launches, from Iran into the Iraqi Kurdistan Region. Additionally, during the same period, Osprey issued 47 alerts highlighting Iranian-backed militant group (IBMG) including Baghdad International Airport (ORBI/BGW), various military bases, diplomatic sites in Erbil and oil & gas facilities.
Further west, the Israel Defense Forces (IDF) continued to down rockets and drones that threatened urban centres and/or the economic interests in Israel via both the Iron Dome air-defence system and air-to-air intercept. Additionally, the IDF has carried out targeted strikes in Syria, including on Damascus International Airport (OSDI/DAM).
Sub-Saharan Africa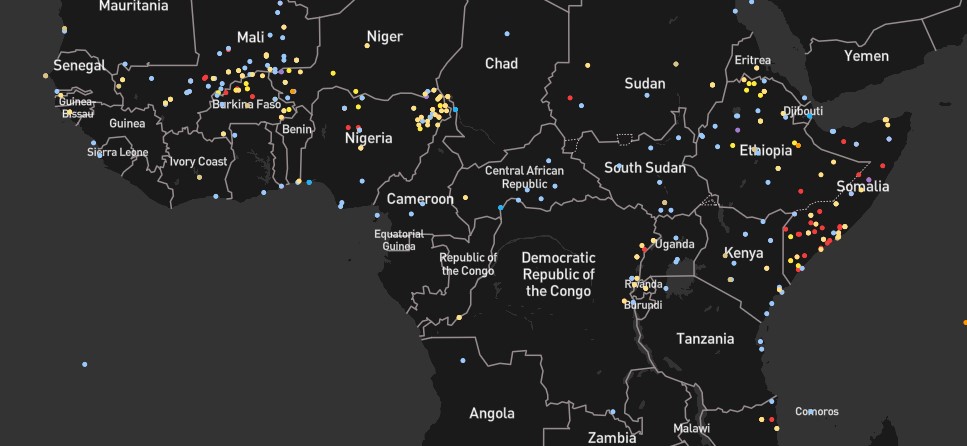 The conflicts in sub-Saharan Africa present a different challenge to operators. There are a number of ongoing conflicts in the region, many involving Islamist extremist violent non-state actors (VNSA), with the Sahel region, Somalia and Mozambique all facing extremist insurgencies. Many of these conflicts have seen conventional military airstrikes as well as VNSA attacks on aviation infrastructure. The Somali capital, Mogadishu, has been targeted on numerous occasions by al-Shabab during the drawn-out election process, and Osprey issued a total of 20 alerts during the first six months of 2022, highlighting such attacks as well as changes in airspace notifications and advice.
Osprey data highlights that the Sahel region has continued to experience high levels of violence and unrest as a result of VNSA groups in the region, with Chad, Burkina Faso, Mali, Niger and Nigeria, among others, all impacted. The situation in the Sahel region has the potential to impact aviation facilities and air assets below FL260 due to the high-impact nature of attacks.
Asia-Pacific

In Asia, there remains a number of varied risks. In the first six months of 2022, Osprey issued a total of 21 alerts highlighting North Korean test launches of a variety of weapons, including short-range and intercontinental ballistic missiles, of which there were 37 during the same period. Significantly, these tests were all carried out without the prior issuance of NOTAMs. Such test launches have the potential to impact airspace areas over the Sea of Japan, as well as South Korea's FIR Incheon (RKRR), Japan's FIR Fukuoka (RJJJ) and Russia's FIR Khabarovsk (UHHH). Recent North Korean tests have also prompted South Korea and the United States to carry out military exercises and weapons tests of their own.
In Myanmar, an ongoing insurgency has led to continued airstrikes being conducted by government forces against ethnic rebel groups. These have largely focused on the country's northern border areas, with locations close to the Thai border being targeted and airspace incursions into Thailand also being reported in early July. In an alert in May, Osprey also highlighted that a rebel group claimed to have downed a Myanmar Air Force combat helicopter.
The Americas

Operators face a different type of airspace risk in South America, with illegal flights by narcotics-trafficking aircraft using various countries' airspace and territory. In turn, counter drug-trafficking operations by military and police forces in the region are reported frequently, including air patrols, operations to locate and seize civilian aircraft suspected of narcotics trafficking, and the destruction of clandestine airstrips used by illegal flights. There was a noted increase in such operations during April and May, the majority of which occurred in Venezuela. On 2 June, Venezuela's National Bolivarian Armed Forces (FANB) announced that 17 'TANCOL' ('armed terrorists, drug traffickers from Colombia') aircraft had been 'disabled' since the start of 2022.
In response, governments of several countries in the region, such as Bolivia, Brazil, Colombia, Paraguay, Peru and Venezuela, have introduced policies to counter civil aviation flights involved in illicit activity, in some cases permitting shoot-downs and 'neutralisations' of civilian aircraft.
Conclusion
With a number of conflicts ongoing across the globe, it is vital that operators are aware of their exposure. Osprey Flight Solutions uses a data-driven approach to monitor active and emerging conflicts, allowing clients to easily visualise the risk their aircraft and personnel face. This data also allows our team of analysts to monitor conflicts and their associated risk, allowing them to provide support through the Osprey system and our alerts, which offer detailed analysis of situations as they develop.