Human trafficking, or trafficking in people (TIP), is defined by the United Nations Office on Drugs and Crime (UNODC) as the "recruitment, transportation, transfer, harbouring or receipt of people through force, fraud or deception, with the aim of exploiting them for profit" and has been an enduring concern for the aviation industry from security, social responsibility and financial perspectives. Over the last few years, airlines, airports and regulatory bodies have taken significant steps to address the issue. From public awareness campaigns, victim identification training for staff, the implementation of effective reporting methods and increased communication with government agencies, the aviation industry is becoming a significantly more hostile operating environment for those wishing to exploit it for the illegal transport of adults and children.  
Osprey Flight Solutions contributes to the global movement countering human trafficking and associated crimes through the monitoring and reporting of incidents involving aviation. Between January and December 2022, Osprey identified 564 incidents involving irregular migration by air globally, including activity relating to human trafficking, migrant smuggling and travel document fraud. In the same period, Osprey significantly increased its analytical output regarding such incidents, issuing a total of 78 alerts compared with 49 in 2021. These alerts highlight significant incidents, providing updates and analysis of regional trends and routes, as well as practical advice to assist those on the front line in identifying indicators of human trafficking in aviation operating environments.
Routes highlighted by Osprey in 2022
Osprey has been tracking developments relating to a number of trafficking and migrant smuggling routes and has issued a series of updates to our clients. Below are a few examples of the routes and activity "hotspots" that have been monitored by Osprey analysts in 2022:
Human trafficking to Cambodia, Laos and Myanmar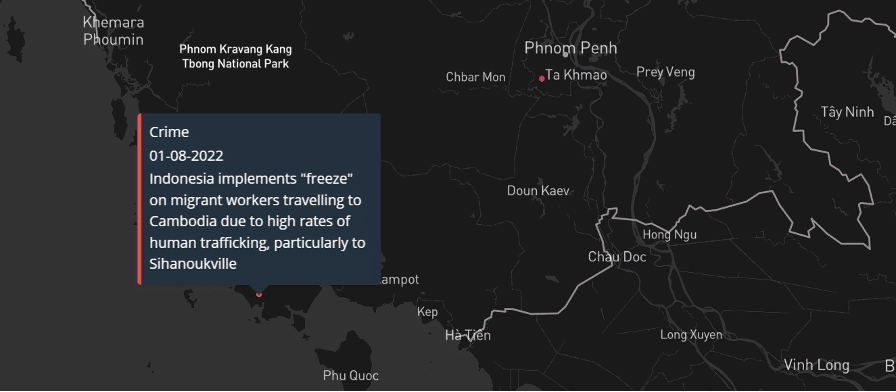 The year saw a significant increase in human trafficking to Cambodia, Laos and Myanmar, typically for the purpose of forced criminality, although unsubstantiated reports of organ trafficking also emerged. Victims were largely lured with promises of legitimate jobs from East Asian countries such as Taiwan, as well as other Southeast Asian and some African countries, including Kenya.
Irregular migration using southern European countries as transit locations

Irregular migration to the EU and UK frequently occurs via transit locations in southern European countries, including Cyprus, Greece, Italy, Spain and Portugal. Migrants travel by air, land or sea to reach these transit locations, where criminal networks facilitate further travel by air to Western Europe by supplying fraudulent documentation. Such groups are known to exploit migrants by forcing them into drug trafficking and other criminal activity.
Avión Patera: Morocco to Spain

A new and highly concerning irregular migration modus operandi emerged in 2022. Known as 'avión patera' after the boats used to carry migrants across the Mediterranean, the method involves groups of passengers engineering situations on board commercial flights in order to force diversions to Spanish airports. Upon landing, the groups storm the aircraft exit and flee onto the apron with the aim of entering Spain illegally. There have so far been three such attempts, all targeting flights from Casablanca's Mohammed V International Airport (GMMN/CMN), Morocco, to Istanbul's Sabiha Gökçen Airport (LTFJ/SAW), Turkey, with passengers manufacturing an unruly passenger situation and two medical emergencies. For more information, see Osprey's case study, Avión Patera: When irregular migration disrupts aviation.
Corruption and the facilitation of irregular migration
In addition to routes, Osprey also analyses trends in irregular migration and human trafficking methods. Use of fraudulent documentation continued to be a major concern throughout the year; however, we also recorded numerous incidents reported to have been facilitated by corrupt airport personnel, particularly immigration officials, in a range of locations, including the following:
Tribhuvan International Airport (VNKT/KTM), Kathmandu, Nepal
Kuala Lumpur International Airport (WMKK/KUL), Malaysia
Cochin International Airport (VOCI/COK), India
Tocumen International Airport (MPTO/PTY), Panama City, Panama
Jose Joaquin de Olmedo Airport (SEGU/GYE), Guayaquil, Ecuador
Various major airports in Colombia, including Bogota's El Dorado International Airport (SKBO/BOG), Cartagena's Rafael Nunez International Airport (SKCG/CTG) and Barranquilla's Ernesto Cortissoz International Airport (SKBQ/BAQ)
OR Tambo International Airport (FAOR/JNB), Johannesburg, South Africa
Lilongwe International Airport (FWKI/LLW), Malawi
Harare International Airport (FVRG/HRE), Zimbabwe
Conclusion
Osprey identified a significant increase in reports of human trafficking and irregular migration in 2022, likely due to major push factors such as the war in Ukraine and the global cost of living crisis alongside increased travel opportunities as a result of the continued recovery of the aviation industry from the COVID-19 pandemic. Since human trafficking often depends on individuals being lured by traffickers' promises of legitimate work, victims are unlikely to display behavioural stress indicators, making them difficult to identify. However, many travel under duress, often accompanied by their trafficker, and so aviation workers should be alert to individuals who display behavioural indicators of trafficking victimisation, as highlighted by IATA in its 'Eyes Open' campaign – which can be found, along with staff training resources, here.