Alerts round up 2021
During 2021, Osprey Flight Solutions issued 2,031 alerts covering aviation-centric incidents and events in over 200 countries. These alerts are divided into four main categories in the Osprey system: Aviation Safety, Aviation Security, Conflict Zone Dynamics, and Conventional Military Activity.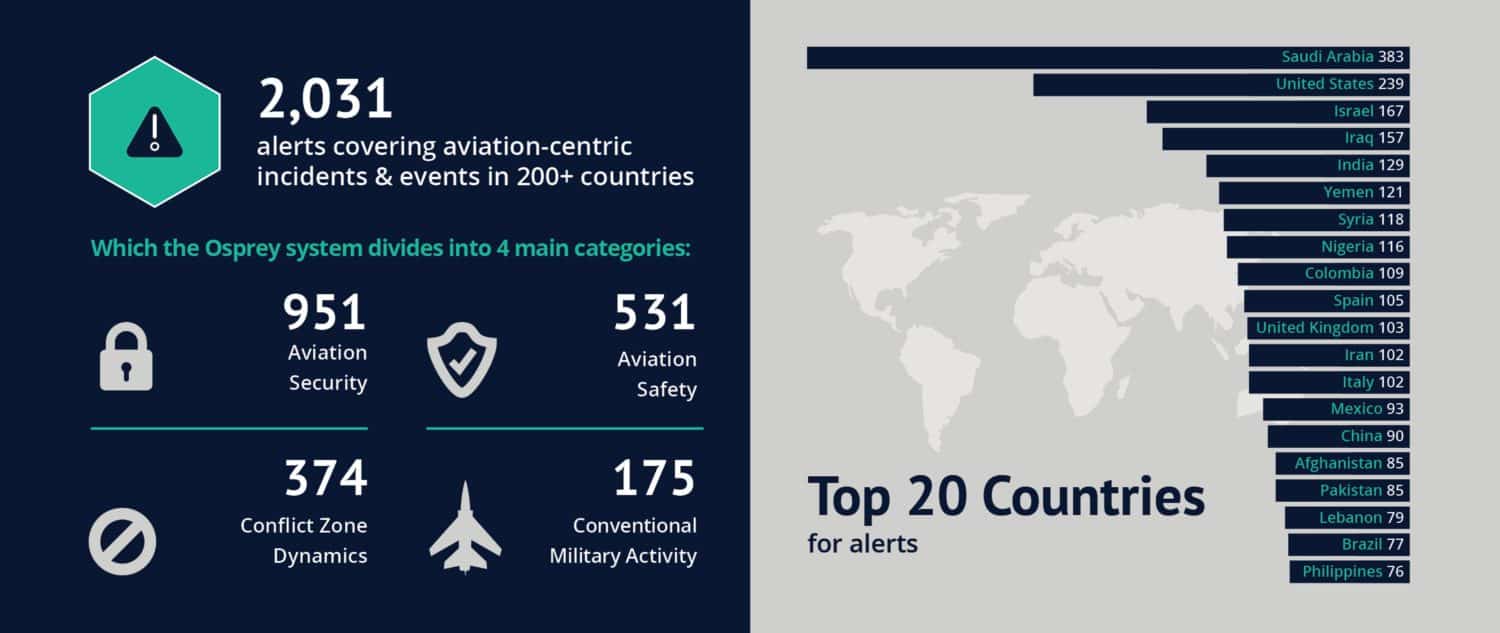 There was a marginal reduction in the number of alerts issued in 2021 in comparison to 2020, when 2,173 alerts were issued. This was largely due to the high number of alerts issued in 2020 regarding the early evolution of the COVID-19 pandemic and its impacts on aviation. Additionally, the conflict in the Nagorno-Karabakh region as well as high numbers of bomb threats targeting aviation in Russia prompted Osprey to issue regular updates, contributing to the high alert total for the year. 
More alerts were issued for Saudi Arabia in 2021 than for any other country. The majority of these alerts related to the Yemeni Houthi insurgency, including actions by Iranian-backed militant groups and associated responses by the Saudi-led coalition (SLC). The past year has seen a substantial increase in the use of weaponised drones, cruise missiles and surface-to-surface missiles, which pose a significant threat to aviation operations in the airspace over the region, with no signs of this threat decreasing as we enter 2022. Osprey's alerts feature in-depth and timely analysis of events as they occur, as well as recommendations to operators in the region. In addition, in 2021, Osprey published a full-length article analysing the threat to operators, organised a webinar to discuss the conflict, and also issued a case study highlighting Osprey's response. 
The United States (US) had the second highest number of alerts and pings in 2021 due to its large share of global aviation activity and therefore the high number of incidents and events occurring in the country annually. Most alerts issued for the US were in the aviation security category and included coverage of the unruly passenger crisis and security breach incidents. Restrictions imposed by the US in response to the COVID-19 pandemic also had far-reaching knock-on impacts globally and accounted for a high number of alerts.  
Israel appears in the top three countries for both alerts and pings due to the conflict with Gaza-based Palestinian armed groups, Lebanon-Syria border tensions and government responses to COVID-19. There was a significant escalation in the conflict with Palestinian armed groups in May when barrages of rockets were fired from Gaza, and several military-grade drones as well as incendiary balloons have also been launched into areas of Israel. In response to the escalation in May, Osprey issued an article examining the conflict and offering advice to operators in the region.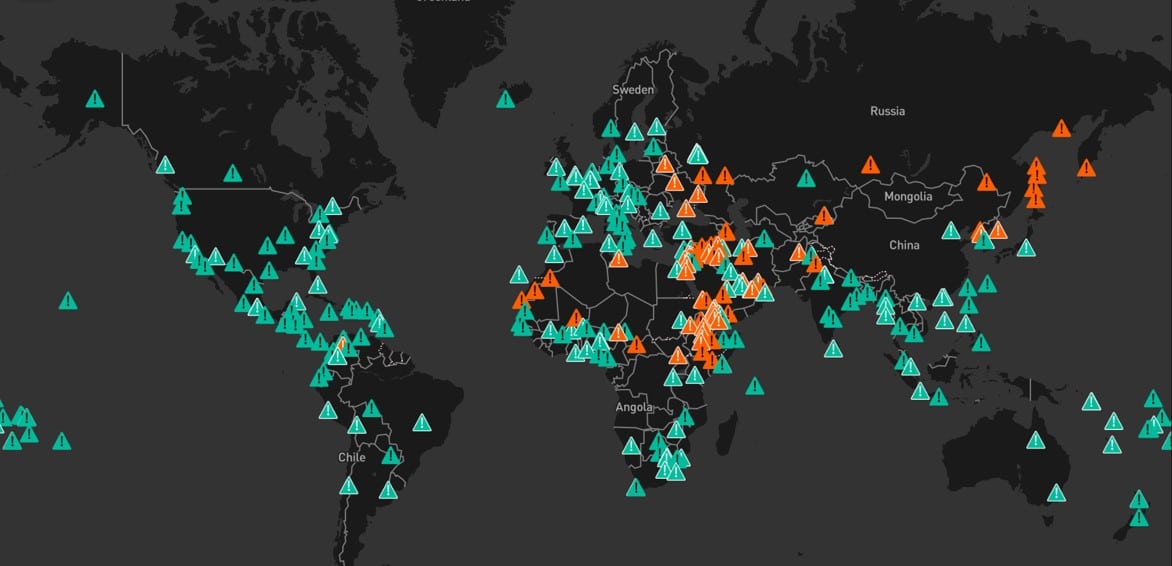 Pings round up 2021
During 2021 258,262 incidents in over 200 countries and territories were entered as "pings" into the Osprey system, an increase of 5% since 2020. Pings are recorded as sets of data points, including date, location, type of incident, actor, weapon, etc., allowing Osprey analysts and users to dynamically monitor levels of activity and their potential impacts on global aviation operations.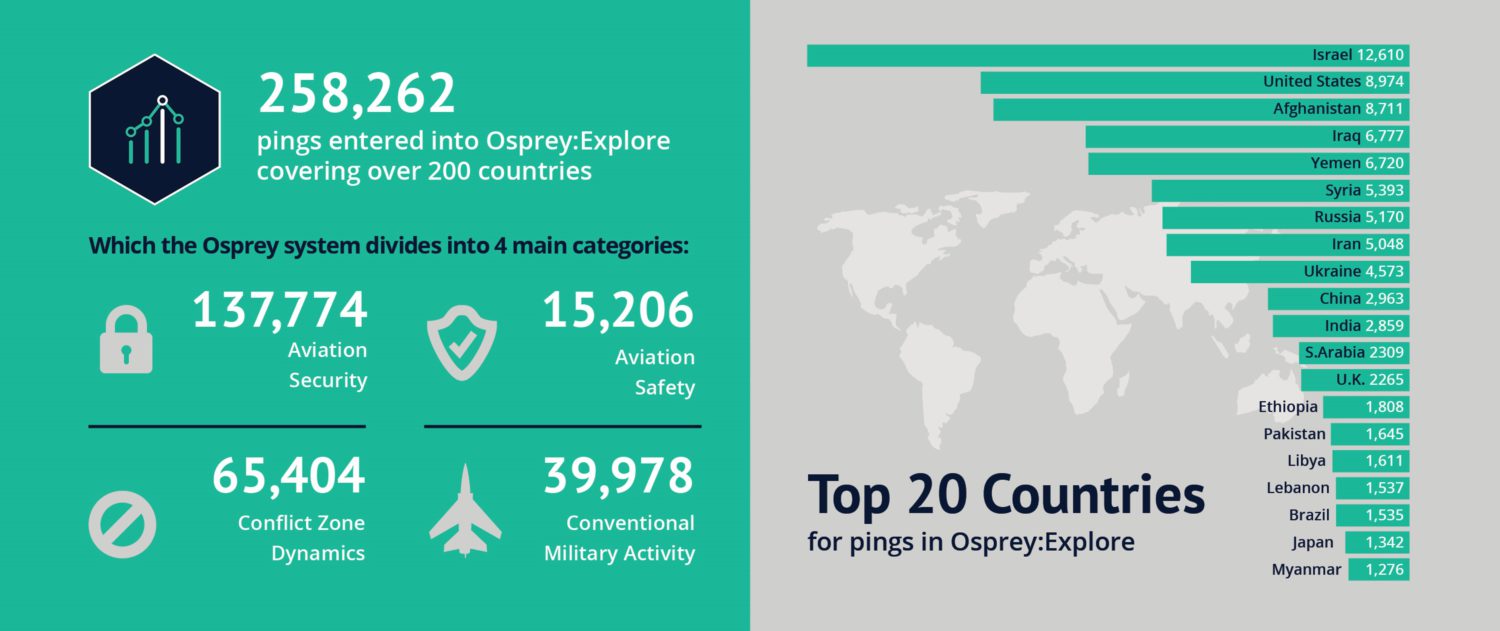 In 2021, Afghanistan had the third highest number of pings, due to a large spike in activity between June and September related to the withdrawal of US troops and subsequent Taliban insurgency. While Osprey issued regular updates on this situation, including 12 alerts in the lead-up to the escalation of the Taliban offensive in August, Afghanistan appears lower on the "Alerts" bar chart compared to other conflict zones as the period of intense activity impacting aviation was shorter and there was limited civil aviation activity to and over Afghanistan at this time. However, Osprey also issued a case study, an extended article and a special video update by Chief Intelligence Officer Matthew Borie. We also provided our full suite of services free of charge to any operator conducting evacuation operations in Afghanistan. 
In addition, Saudi Arabia appears at the top of the alerts list but lower on the pings list. This is due to the fact that the majority of the alerts issued for Saudi Arabia relate to the conflict with Yemen where there is relatively limited aviation activity. Combining the pings for Saudi Arabia and Yemen would elevate the two countries to joint second place above the US.